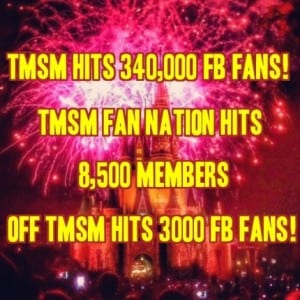 It's Thursday, which is always our day to recognize Random Acts of Kindness with a Disney twist! This weeks blog is about the day we've had, and how grateful we are to all of YOU for making it that way!!
The Main Street Mouse's Facebook page crossed over 340,000 ORGANIC Likes today! What does "organic likes" mean you ask? Simply put, we achieved this following on our own merit and hard work, not by paying for Facebook ads or buying likes (and we have the charts to prove it!). That's right, it's YOU, our Disney Family, who made us successful! We work really hard every day to bring our Main Streeters the best we can offer, and that's because you make our jobs worth it. I can't thank you all enough for that, each and every one of you, as well as my support staff, are a total blessing to me. Sigh, you're the BEST.

Our second achievement today was hitting 8,500 members in our private Facebook group, TMSM Fan Nation. Fan Nation was created last Spring when Facebook started messing with page reaches. I didn't want us to lose any of our followers or have them miss out on what we publish, so Fan Nation came to be. Not only does Fan Nation work to support our efforts on all our TMSM outlets, we have all gotten to know each other and have become a close knit group. We are family. The Nation doesn't just discuss Disney, we're actually there for each other no matter what we're needing. Support, love, prayers, pixie dust, encouragement….. you name it, you get it in TMSM Fan Nation. Thank you all for being part of our family each and every day!
Lastly, one of our sister sites, Off TMSM crossed over the 3000 fan mark on Facebook. Off TMSM focuses on ALL happenings in and around Central Florida, outside the Mouse and what's going on there. Yes, there's more to do in Orlando besides go to Disney, I promise you! We focus on attractions, restaurants, special offers, resorts, and crafting! This site has only been up for a couple of months, but we're thrilled with the response we've gotten, as well as being very grateful to the businesses in the area who have reached out to us. There are so many more great things to come, and I can't wait to share it all with you. Thanks for supporting our sister site, as well as TMSM Geek which is almost at the 2000 mark.
The Main Street Mouse and it's affiliates are a total labor of love. We created this community as a way to share our Disney passion with other like minded people, roughly 5 years ago. I never dreamed we would be at this point, surrounded by such amazing people. From the bottom of my heart, thank YOU for the acts of kindness you show us every day. You are the reason we are always striving to better ourselves and bring you more. The sky is the limit, and with the help of our amazing Main Streeters, I know we will continue to grow. Again, thank you, and God bless! Sending you all love and pixie dust till next week, take care!! ~M
To Join TMSM Fan Nation ~ https://www.facebook.com/groups/TmsmFanNation/
Follow The Main Street Mouse, Off TMSM and TMSM Geek on Facebook and Twitter
Follow us on Instagram ~ TMSM is @themainstreetmouse and OFF is @OffTMSM