I've always enjoyed reading others picks of different things.  From rides to snacks and everything in between, there is always a list floating around about picks when it comes to Disney.  The Disney Insider released a blog with their five favorite Walt Disney World Resorts.
A highlight of any Walt Disney World vacation is exploring the elaborately themed Disney Resorts. Staying at one is like a vacation within a vacation, and every Disney Parks fan has their own list of favorites. Since all of us here at Disney Insider are (naturally) rabid Disney fans, we thought it would only be right to poll our staff on their top picks. Check out what one of our writers calls her five favorite Walt Disney World resorts:
Disney's Animal Kingdom Lodge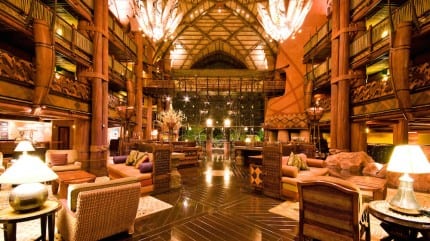 Where else on Disney property can you wake up in the morning and look out your window to see giraffes and zebras grazing on a savanna? While the animals are perhaps the most famous thing about this resort, I also love the expansive main lobby and the authentic African art adorning the walls at every turn. Great dining is another huge draw: Boma and Jiko are must-dos for dinner, and the Indian-African fusion cuisine at Sanaa (in neighboring Kidani Village) makes an excellent lunch stop. You can easily spend an entire day wandering the resort and participating in activities like the nightly campfire, watching the animals from the observation deck, and listening to the musicians outside Boma. The Lodge is a great option for both families with young kids and adults traveling alone—my parents recently stayed there for their anniversary and gushed about it afterwards like they were kids themselves.
Disney's Beach Club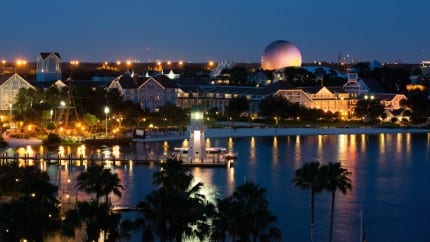 Any family with kids should seriously consider staying here, if for no other reason than Stormalong Bay, which is practically a standalone water park. There's plenty to do for adults too—my family loves the beautiful theming, the atmosphere of the Boardwalk, and nighttime activities like Atlantic Dance Hall, Jellyrolls, and dining at the Flying Fish. The Beach Club also has proximity to Epcot going for it (the International Gateway entrance is a short 15 minute stroll from the resort), and resort guests can take a leisurely boat ride to the entrance of Disney's Hollywood Studios. My favorite time to stay at the Beach Club is during the Epcot International Food and Wine Festival. There's nothing better than walking over to the World Showcase in the middle of the day to grab a quick bite at one of the Marketplaces.
The Cabins at Disney's Fort Wilderness Resort and Campgrounds
When all six members of my family are visiting Walt Disney World together, the cabins are our favorite because we can all stay in one place while still having plenty of room to stretch our legs. This resort area has the perfect setup for a big family like ours, since each cabin sleeps up to six and has its own kitchen. We love having a picnic table on our deck so that we can grill and eat outside, and the wooded surroundings always feel like the perfect reprieve after a busy day at the Magic Kingdom. We also love to take advantage of the fishing, horseback riding, and archery classes. Easy access to the Wilderness Lodge and Hoop Dee Doo Revue are just icing on the cake.
Disney's Contemporary Resort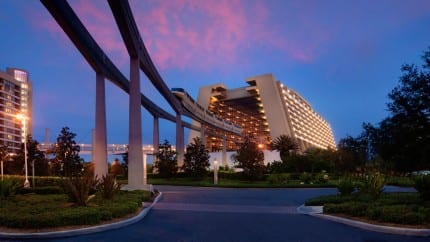 When we want our vacation to be filled with as much traditional Disney magic as possible, we always stay at the Contemporary. The resort itself is an icon. It offers amazing views, the ability to step outside your room and walk right on the monorail, and the holy grail of any Disney vacation: walking distance to the Magic Kingdom. We'll usually eat at the California Grill at least once every visit, so having that access is nice, but even better is being able to pop into the restaurant's lounge area without a reservation for a quick drink, flatbread, or sushi roll, and then step out onto the observation deck to watch Wishes from the best viewing spot in Disney World.
Disney's Polynesian Village Resort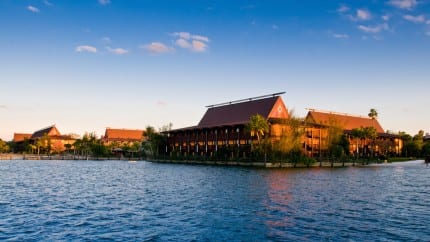 This was the very first Disney resort I stayed at when I was little, and because of that it will always feel like home. The scenery, beaches, and gorgeous tropical theming make days at the resort feel like an escape to a new place entirely. Plus, it's always nice to have dinner at 'Ohana, and then have the ability to stumble back to your room and pass out in a food coma. Tonga Toast from Kona Cafe and Dole Whips with no line at Captain Cook's are another big draw (my family loves food—can you tell?) Being on the monorail line is another huge perk for making the most of our vacations. The Cast Members at this resort are especially friendly and make you feel right at home with leis and "alohas."
What are your favorite Disney World resorts? Tell us in the comments!