On July 28th, 1998, Disney's first cruise ship the Magic is christened by Patricia Disney, Roy E. Disney's Wife.  The ship was built by  Italian shipbuilder Fincantieri. The Disney Magic can hold approximately 2,400 passengers. The ship boasts 10 expansive decks, a total length of 964 feet, a maximum width of 106 feet and an astonishing gross tonnage of 83,000.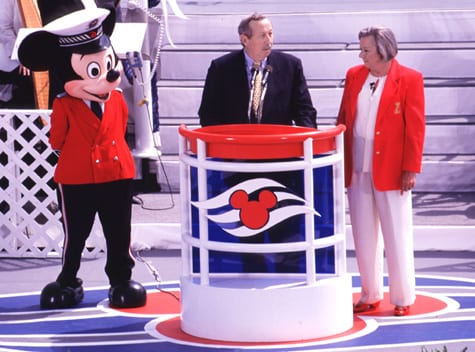 Patricia Disney christens the ship by remote control, flicking a switch that sends a 3-foot-tall bottle of champagne crashing into the ship's hull. Mrs. Disney is also the Godmother for the ship.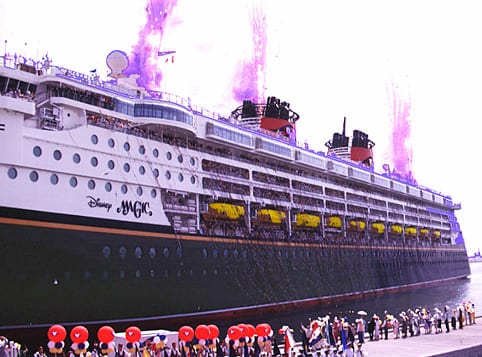 The Magic then sets sail with a star-studded manifest that includes Star Wars director George Lucas, San Antonio Spurs center David Robinson and country singer Travis Tritt, on a two-day trip to Disney's private island in the Bahamas. The ship's last test run, it will embark on its official maiden voyage two days later.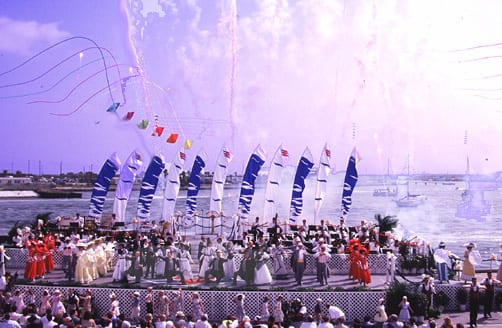 ***Photos are not the property of The Main Street Mouse.  They belong to ©1998 Alese & Morton Pechter All Rights Reserved.