Were you able to attend Star Wars Weekends, this weekend and see Mark Hamil?  The only Jedi after Return of the Jedi made his Disney Star Wars Weekends Debut yesterday at Disney's Hollywood Studios.  Gary Buchanan, Social Media Managing Editor talked about the special appearance.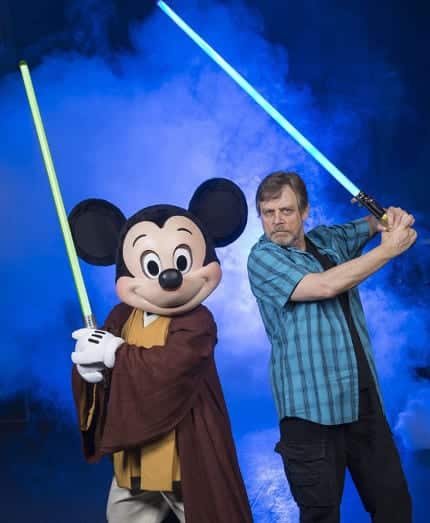 Activities where guests can see the acclaimed actor include the "Legends of the Force" motorcade and a star conversation about his career and role in the original Star Wars trilogy. To enable more guests to see and hear this special edition talk show, entitled "A Conversation with Mark Hamill," the Star Wars Weekends event team has made arrangements for a simulcast at various locations throughout the park. Be sure to ask a cast member when you arrive for viewing locations.

We caught up with Mark at the theme park while he was doing final walk-throughs with the Disney ParksEntertainment team. After posing for a few photos with Jedi Mickey Mouse, he spoke with us about the Star Warslegacy, his childhood visits to Disneyland and what makes Star Wars fans special to him.
For more info. about Star Wars Weekends and to download an event guide, head to disneyworld.com/starwarsweekends. Also, join the conversation online by using the event's hashtag, #SWW2014.