Mike Larson, Disneyland Cast Member for 50 Years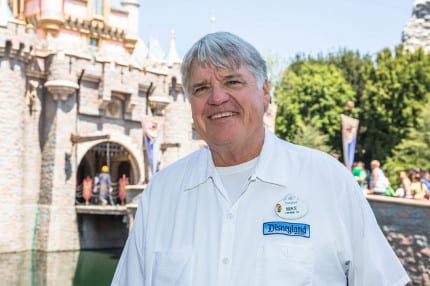 The Disney Parks blog, Kevin Rafferty, Jr., Communications Specialist, Disneyland Resort, put out this blog about Mike Larson.  Mike  has worked at Disneyland for 50 years and still counting each day.  Congratulations to Mike on such an accomplishment.  Cast Members like Mike are the reason Disney is so loved.  He performs his role everyday and interacts with guests daily.
For 50 years, Mike Larson has worked in Disneyland Resort Custodial Guest Services – with no plans to retire. Mike's gentle, friendly approach to guest service is anchored by his enthusiastic admiration for Walt Disney. I recently met up with Mike to journey down memory lane.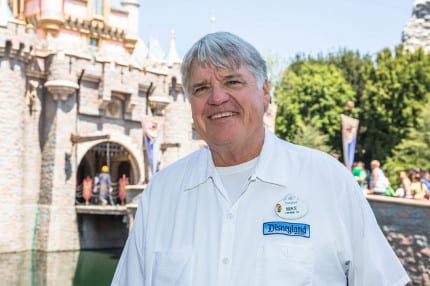 What was it like to work at Disneyland while Walt Disney was alive?
"He was on television every week, but he also was the CEO of the company and my boss. It was like working for the first rock star. I take a lot of pride in working here, and I still tip my hat to Walt every day."
Did you ever see Walt Disney at work?
"I saw him three or four times while he was walking down Main Street, U.S.A. He was always on Main Street because he would park his car behind City Hall and walk into Disneyland from his apartment. When I think about all of his awards and accomplishments, it's remarkable to know that I saw him in person, and it was so exciting because all the cast members would know when Walt was in the park."
Can you share a special experience you've had as a cast member?
"I've had many, though the one that stands out is working at the 1995 premiere of "Pocahontas" at the Great Lawn in Central Park in New York. I joined a team of custodial cast members all hand-picked by our peers to keep the event clean. Working there felt like we brought Disneyland to Central Park, which was fascinating."
What has kept you at Disneyland Resort for the past 50 years?
"What really keeps me going is a sense of laughter when interacting with guests and fellow cast members. I think you have to have a good sense of humor to work here, and the people here have kept me laughing. If I am having a bad day, a quick chat with a guest will turn it all around."
Co-Owner / Webmaster / Business Relations / PT Writer
As co-owner and co-creator of The Main Street Mouse. Working in a technical support position for 18 years, it was time for a change. As the Webmaster and Project Planner, I spend most of my time researching everything from the latest Disney News, technology advances and of course keeping up on all the Marvel news that comes out. I never considered myself a writer but I've come to like blogging and sharing news with all. I feel blessed everyday that I get to spend my days working with my best friend and love of my life while we continue to grow and expand what started as a hobby all those years ago.