Yesterday, March 11, was the anniversary of day the Sherman Brothers received their window honoring their work, on Main Street, U.S.A. in Disneyland.
It's no secret that I'm a huge fan of the Sherman Brothers.  I think they are one of the best song writing teams of all time.  They had such a large impact on society and also on the songs that they brought to us through movies, television and attractions.

Richard and Robert Sherman are responsible for some of the most famous Disney songs you've ever heard, from classic Disney movies and park rides: "It's a Small World," "The Tiki, Tiki, Tiki Room," "The Wonderful World of Color," Mary Poppins' "A Spoonful of Sugar," The Jungle Book's "I Wanna Be Like You," and the theme song for the iconic Winnie the Pooh television series.
Take a look at this clip in which Julie Andrews and Dick Van Dyke discuss the song "Supercalifragilisticexpialidocious":
About their Disney career, Richard has said, "There's a line in Mary Poppins that says, 'A man has dreams of walking with giants to carve his niche in the edifice of time.' At Disney, we walked with giants."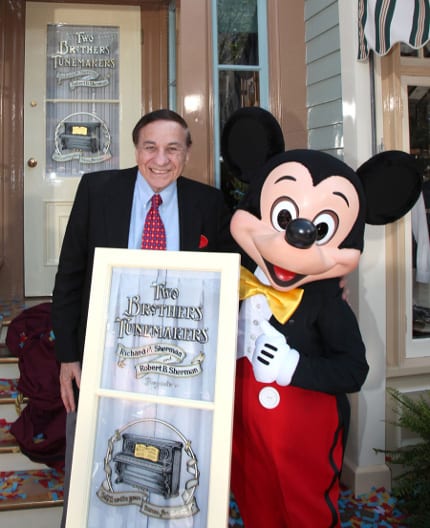 Want to learn more about the Sherman Brothers and their Disney legacy? Go watch the documentary, The Boys: The Sherman Brothers Story. The documentary was produced by the brothers sons.
And in honor of the brothers, share a song or two with a friend today.