10 Facts About Disney and the Oscars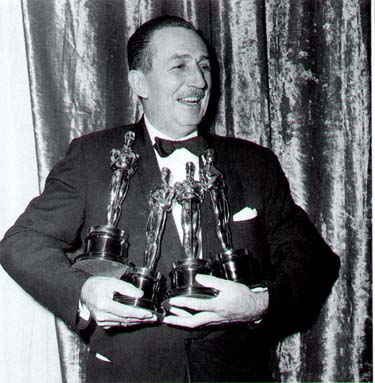 From the Disney Insider Blog. The Oscars are almost upon us and there's a lot to be excited about. As we all know, though, the 86th Annual Academy Awards this year certainly isn't the beginning of the story when it comes to Disney and this particular awards show. Here are 10 facts you might not know about Disney and its relationship with the one and only Oscar: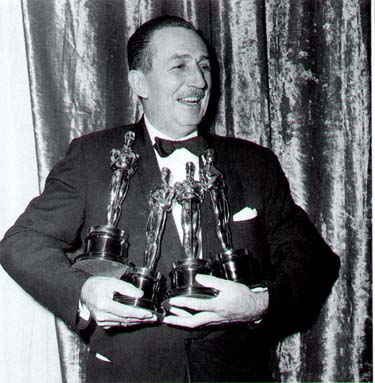 1.  Walt Disney won a total of 32 Academy Awards.
2.  Walt Disney received most of his Awards for his role as a producer.
3.  Disney won its first "Best Original Song" Academy Award in 1940. The song was "When You Wish Upon a Star" from Pinocchio.
4.  Walt Disney was given a special award for Snow White and the Seven Dwarfs in 1939. It was presented by Shirley Temple and had seven smaller Oscars in addition to the larger statue.
5.  Mickey received his first Academy Award nomination in 1932.
6.  Julie Andrews took home the Oscar for Best Actress for her role in Mary Poppins. She also had a second (much smaller) part in that movie, providing the whistling for the Audio-Animatronic bird in her Spoonful of Sugar scene.
7.  Walt Disney won his first Oscar for the short "Flowers and Trees."
8.  After "Flowers and Trees" won the Oscar for Best Cartoon in 1932, Disney won that category every year in that decade.
9.  Walt Disney won a posthumous Academy Award for "Winnie the Pooh and the Blustery Day.
10. Last year, Walt Disney Animation Studios took home the Oscar for Best Short for Paperman and Pixar took home the Oscar for Best Animated Feature for Brave.
Now that you know a little more about Disney's history with the Oscars, review this year's nominees and get ready for the show this Sunday at 7e|4p on ABC.
Co-Owner / Webmaster / Business Relations / PT Writer
As co-owner and co-creator of The Main Street Mouse. Working in a technical support position for 18 years, it was time for a change. As the Webmaster and Project Planner, I spend most of my time researching everything from the latest Disney News, technology advances and of course keeping up on all the Marvel news that comes out. I never considered myself a writer but I've come to like blogging and sharing news with all. I feel blessed everyday that I get to spend my days working with my best friend and love of my life while we continue to grow and expand what started as a hobby all those years ago.