'Frozen' Fun at Disney Parks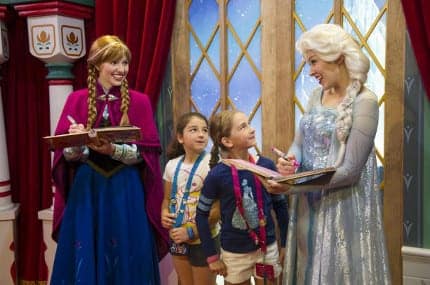 From our friends at the Disney Parks Blog
How many times have you seen "Frozen?"

Audiences around the world have fallen in love with the movie and its music, making "Frozen" one of Disney's biggest hits of all time! And today I have an update for you on Anna and Elsa, the royal sisters from the film, who have been spotted at Disney Parks since November.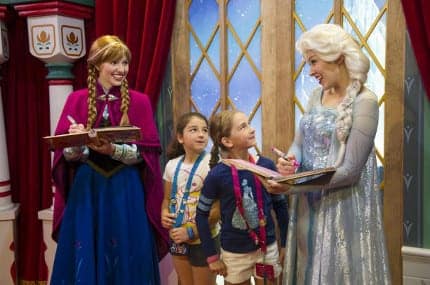 With things in Arendelle well in hand, Anna and Elsa plan to continue visiting guests at the parks for the foreseeable future. When at Disneyland Resort, they can be found in Fantasyland in Disneyland park, and you can meet them in Norway at Epcot when they make their way to Walt Disney World Resort. While you're in Norway, be sure to check out the new "Norsk Kultur" gallery, with an exhibit exploring how the culture and beauty of Norway inspired the filmmakers in the creation of "Frozen."
Over at Magic Kingdom Park, Anna and Elsa will be joining the new daytime spectacular, "Disney Festival of Fantasy Parade," next month as part of the Princess Garden, along with fellow Disney Royals Belle, Cinderella, and Tiana. And in the evening, you can take in a performance of "Celebrate the Magic," the nighttime projection show that transforms Cinderella Castle with eye-popping visuals from Disney animated classics, including "Frozen."
So you may not be able to build any snowmen on your next Disney Parks vacation, but you can definitely count on warm hugs and lots of "Frozen" fun!
Co-Owner / Webmaster / Business Relations / PT Writer
As co-owner and co-creator of The Main Street Mouse. Working in a technical support position for 18 years, it was time for a change. As the Webmaster and Project Planner, I spend most of my time researching everything from the latest Disney News, technology advances and of course keeping up on all the Marvel news that comes out. I never considered myself a writer but I've come to like blogging and sharing news with all. I feel blessed everyday that I get to spend my days working with my best friend and love of my life while we continue to grow and expand what started as a hobby all those years ago.