What's a Weenie?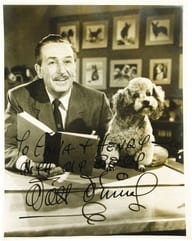 When you arrive at Walt Disney World there are many different things that trigger the feeling that you've finally arrived.  To some it may be the sight of the Monorail track when arriving on property, for others it may be arriving at the resort they are staying in during their vacation or maybe it's the sight of Cinderella's Castle or seeing Spaceship Earth in all its glory when you pull into the parking lot.  But do you know what Walt called these things that drew people in?  Just sit back and I'll fill you in.
When Walt was developing DisneyLand in the early fifties he would frequently arrive home late in the evenings and would often enter his house through the kitchen to see what Thelma, his housekeeper, was preparing for dinner that evening.  Walt would sometimes grab a "weenie" from the refrigerator as he made his way through the kitchen and would share the hot dog with his dog Lady.  He realized that she would follow him wherever he went when he was holding the hot dog because she knew he was going to share it with her.

While developing the new theme park Walt remembered that he could lead the dog wherever he wanted with a "weenie", so this is the term he coined for describing to his Imagineers how to get the guests to go to certain places and directions.  Unfortunately Lady died while at a vet visit around the time DisneyLand was opening of a blood clot.
All the parks have what is referred to as a "weenie".  Magic Kingdom of course has Cinderella Castle while Epcot has Spaceship Earth.  The Animal Kingdom has the Tree of Life and Hollywood Studios has the Sorcerers Hat.  But those are only the big ones, there are many more located throughout the parks to find and explore.  What are some of your favorite "weenies"?
Author:
ctucker773
Corey Tucker has been a writer, moderator, and an admin, amongst various other roles with the TMSM for over 8 years. When he's not playing with radiation at his day job at a nuclear plant, he can be found hanging out with friends and family and possibly planning another trip to Walt Disney World. If you frequent the site very often (or at least on Tuesdays) then you've probably heard of the world famous blog posting "Tuesdays with Corey", that's him. Every Tuesday he has a blog about foods, history of the parks or whatever he feels is pertinent at the moment. So if you don't currently read his blogs, please start. It's been known to change lives…really it has.