E-ticket Series Part 3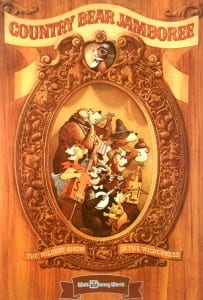 Part 3 of our series with Guest Blogger Ariel1236
E-Tickets Series
This is the third of my articles are about the E-Ticket rides. For those of us too young to remember, the E-Ticket was the most coveted ticket in the ticket book a guest would buy. E-Tickets were for the biggest and best rides in the park. In June 1982 the 'ticket' system was replaced with the current system.
E-Tickets: The Wildest Show
Jane knew her boys would never understand, but she was a fan of the County Bear Jamboree from the start. She actually felt a kind of pride that the jamboree was the first attraction that had its start at Walt Disney World, her home away from home, and was then added to Disneyland. Later it was added to Tokyo Disney as a D-Ticket attraction. Jane also knew there were two seasonal versions; Christmas and Vacation (summer).
Jane found out that the attraction was originally supposed to be part of a ski lodge just north of Disneyland. Some of the things she didn't know were that the songs were written first then the character created around them. There are a total of 18 bears, a raccoon, a buffalo, a stag, and a moose.*
Unlike more Disney attractions Country Bear has only had two renovations in its 42 years. One in 2008 and the other in 2012, Jane didn't notice the changes in 2008. They were mostly cosmetic changes and an audio update. Jane really noticed the 2012 update; there were two songs missing and some of the great punch lines, making to about 3 minutes shorter. She chalks this up to an attempt to appeal to a younger generation, like her sons.
As Sammy says, "Y'all come back, ya here?"
*I found some conflicting information here, some says there are as few as 20 AA and others as many as 24.
Next: Music from Somewhere Beyond with Molly, Jane's oldest daughter.