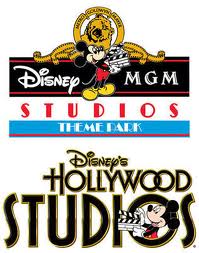 How many of us still call Disney's Hollywood Studios "MGM"? Today is the anniversary of last day of existence for Disney-MGM Studios. January 6, 2008 was it for MGM. As of tomorrow, the Disney World park will be called Disney's Hollywood Studios. Not much else changed when the name of the park was switched, so why bother changing it? I'll give you the best explanation that I can!
Back when the theme park was first thought of, Disney wanted to capture the Golden Age of Hollywood. It was supposed to be all about film nostalgia, and MGM was a pretty significant part of early motion pictures. MGM was also built to somewhat compete with Univeral Studios, Florida. Attractions like the Great Movie Ride really signify what MGM was supposed to be about. As time went on, MGM Studios actually left the movie business, and sold to Sony. What did that mean for the partnering of Disney and MGM, if MGM was no longer? Instead of changing things up right away, it took quite a few years for the name change to take place. In the meantime, new attractions were added that incorporated more than just movies.

As the park changed, it really didn't fit it's original mold. The idea of early Hollywood sort of took a backseat to what was happening in modern times. Because of all the changes, and due to the end of the contract years before, January 6, 2008 was a perfect time to take the jump and switch from Disney-MGM Studios to Disney's Hollywood Studios. The new name fit much better. The name flowed with the current state of the park, focusing on not only movies, but music, television, and other forms of entertainment.
So, even though it's been since 2008, some die hard Disney Fans still call Disney's Hollywood Studios "MGM". Just like the fans, old habits die hard too. Don't worry though, you're not alone, change is hard. Call it what you want, it was still the same park on January 7, 2008. Disney has continued to add new updates to the park since the name change. I personally feel they need to add even more attractions now, as some changes are good. What do you think of DHS? Do they need to do more to keep our attention? Feel free to share your opinions!