Figment Release, Signing & Pre-Order Opportunity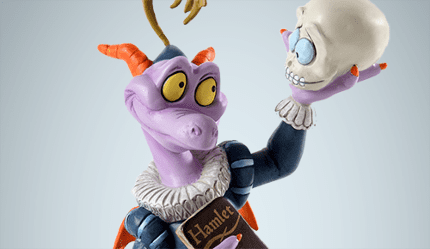 Now, All the World is Figment's Stage!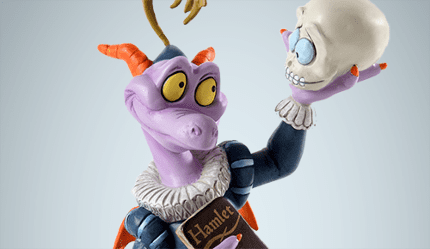 To celebrate the launch of this new, limited edition figurine, sculptor Jacqueline Perreault will be on hand from 11a.m. – 1p.m. and 3 – 4p.m. on June 28 at Art of Disney in Epcot®.
Figment's boundless creativity and unfettered imagination run free upon the well-trod boards of theaters everywhere, and what better way to celebrate the 450th birthday of William Shakespeare than with this whimsical ode to actors and playwrights everywhere!  This character-authentic polystone bust is designed by Patrick Romandy-Simmons and sculpted by Jacqueline Perreault.  Standing 7" tall, Figment comes painted and ready to display.
Pre-Order began for the Figment figurine on June 25, 2014!
********
Let your imagination run wild! Artist Kevin-John will also be on hand to sign his watercolor piece, 'Flowers and Figment' from 1 – 3p.m.
Appearance Schedule
Jacqueline Perreault, 11:00a.m.-1:00p.m., 3:00-4:00p.m.
Kevin-John, 1:00-3:00p.m.
Limit TWO (2) items signed per Guest.  We ask that you bring no personal items to be signed.  Appearances are subject to time and availability and are not guaranteed. Restrictions apply. Event and information are subject to cancellation or change without notice including but not limited to dates, times, release dates, appearances and retails. A valid Walt Disney World® Resort receipt may be required.
Co-Owner / Webmaster / Business Relations / PT Writer
As co-owner and co-creator of The Main Street Mouse. Working in a technical support position for 18 years, it was time for a change. As the Webmaster and Project Planner, I spend most of my time researching everything from the latest Disney News, technology advances and of course keeping up on all the Marvel news that comes out. I never considered myself a writer but I've come to like blogging and sharing news with all. I feel blessed everyday that I get to spend my days working with my best friend and love of my life while we continue to grow and expand what started as a hobby all those years ago.