Walt Disney World's Star Wars: Galactic Starcruiser is officially closing this week after being open for just shy of two years. The Star Wars-themed hotel officially closes with its last voyage taking place the 28th-30th of September.
The immersive experience from a galaxy far, far away first opened in March 2022. The hotel boasted taking guests on a 2-night live-action, choose-your-own-adventure experience aboard a simulated cruise in outer space within the Star Wars galaxy. The experience sat right behind Disney's Hollywood Studios and featured 100 rooms.
When the hotel first opened in 2022, guests were only allowed to stay for two nights, and the minimum room rate was $4,800 for two people. As one can imagine, many fans were surprised at the hefty price of the experience.

Bob Chapek, then-chairman of Walt Disney Parks & Resorts, said the Star Wars hotel would be Disney's "most experiential concept ever." He described the hotel as an "100% immersive" experience that "will culminate in a unique journey for every person who visits."
From the time of its opening the hotel struggled to maintain a fully booked status. In November of 2022, Disney announced discounts of up to 30% for Disney Vacation Club Members. In another attempt to bring guests to the hotel, Disney announced a discount to non-DVC members: Guests with a reservation for the Starcruiser could get a discount up to $700 if they also booked accommodations before or after at another participating Walt Disney World hotel. This discount was the second time the company reduced the cost of the experience in an attempt to get more traction.
Disney announced the closure of the hotel in May. In an official media statement, Disney said "Star Wars: Galactic Starcruiser is one of our most creative projects ever and has been praised by our guests and recognized for setting a new bar for innovation and immersive entertainment."
"This premium, boutique experience gave us the opportunity to try new things on a smaller scale of 100 rooms, and as we prepare for its final voyage, we will take what we've learned to create future experiences that can reach more of our guests and fans."
What are your thoughts on the Star Wars: Galactic Starcruiser officially closing at Walt Disney World after being open for less than two years? Did you ever get to experience the highly themed hotel for yourself? Let us know in the comments!  
Galactic Starcruiser Sends Surveys to Final Guests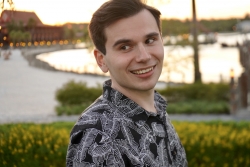 Latest posts by Sean Sposato
(see all)