Unless you've been living under a rock, you're probably aware that Disney's newest attraction, Journey of Water, Inspired by Moana, is now under preview. Disney originally had plans of using only a standby queue. However, it seems things have changed!
Due to excessive wait times and long lines, Disney has changed from only utilizing a standby queue for guests to experience the new attraction to a virtual queue, at times of high demand. The virtual queue can be accessed through the My Disney Experience app.

Here are the terms of the preview, as shared by Disney:
Registration is not required to attend this preview. However, you must have a theme park reservation for EPCOT on the day of the preview.
A standby queue will be in place for this experience. To ensure the best Guest experience, a virtual queue may open for eligible Annual Passholders during periods of high demand. When a virtual queue is available, Guests may join after entering EPCOT, using the My Disney Experience app.
An eligible, activated Annual Pass is required to attend this preview. You must show your Annual Pass card, Disney MagicMobile pass, MagicBand or MagicBand+—along with valid photo identification—when checking in.
Everyone in your party must be an Annual Passholder to attend this preview experience.
Passholder previews will take place at EPCOT from park open to park close on the following dates:
September 24 to September 29, 2023
October 1 to October 4, 2023
The attraction opens to the public beginning October 16.
Here are even more details about the new experience at EPCOT, per the Disney website:
Where Water Comes to Life
Stroll along a self-guided outdoor trail where you can play with water as it travels from the sky to the oceans and back again. Along the way, you'll find that:

Water Is a Friend: Moana befriended the ocean… and you can, too! Enjoy magical encounters with water and discover its playful personality, just as Moana did on her heroic voyage.
Water Connects Us All: All water is connected—and it connects us to one another. As you traverse this trail, you'll connect and interact with water in new ways. And you'll learn about the global water cycle, which takes water on a wondrous adventure around our planet.
Water Needs Protection: Throughout your journey, you'll learn how you can help protect this precious natural resource and make a positive impact on the world.

Journey of Water, Inspired by Moana is scheduled to open October 16, 2023within World Nature—the EPCOT neighborhood dedicated to understanding and preserving the beauty and balance of the natural world.
Make a Splash… or Stay Dry!

You can choose to get wet—or take the dry path instead—as you explore this whimsical, watery world.

Know Before You Go

Some aspects of this experience may close during inclement weather.
Wheelchair access is available on the dry path only.
Service animals are permitted with caution in some areas; service animals must remain on the dry path.

Meet Moana in World Nature

Moana is an adventurous explorer, and her voyages may bring her to World Nature from time to time. Be on the lookout for this wayfinder from Motunui near the entrance to Journey of Water, Inspired by Moana—and enjoy a special visit with her.
Do you plan to preview Journey of Water, Inspired by Moana at EPCOT before it opens to the general public? Let us know in the comments!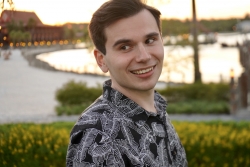 Latest posts by Sean Sposato
(see all)