During the Q3 earnings call a few weeks ago, The Walt Disney Company revealed the opening dates and times of some of its highly anticipated attractions and experiences coming to its Disney Parks around the world and Disney Cruise Line. Here's a look at the full list!
The List:
August 31, 2023 – San Fransokyo Square at Disney California Adventure Park
Fall 2023 – Journey of Water, Inspired by Moana at EPCOT
September 28, 2023 – The Villas at Disneyland Hotel, a new Disney Vacation Club Resort
October 28, 2023 – Australia and New Zealand sailings (Disney Cruise Line)
November 2023 – World of Frozen in Hong Kong Disneyland
Late 2023 – Zootopia-themed land at Shanghai Disney
2023 – Adventureland Treehouse at Disneyland
2023 – Pixar Place Hotel at Disneyland
Spring 2024 – Fantasy Springs at Tokyo Disney
June 2024 – Lighthouse Point, a Disney Cruise Line attraction
2024 – Tiana's Bayou Adventure in Disneyland and WDW
2024 – Disneyland Hotel Royal Transformation at Disneyland Paris
2024 – Disney Vacation Club at Polyneysian resort at WDW
FY 2025 – Disney Treasure and another acquisition ship, Disney Cruise Line
FY 2026 – Third Wish-class ship

Missing from the list is Tiana's Bayou Adventure, the re-themed experience to take over for the Splash Mountain attractions at the Disney Parks. The Walt Disney Company has not yet spoken about a timeline for these attractions, which are set to premiere at both Magic Kingdom at Walt Disney World and at Disneyland Park. Continue to follow along with us as we eagerly await more information and a potential release date for the attraction.
Which of these Disney experiences are you most excited for? Do you happen to have plans already to visit one of them? Let us know the comments!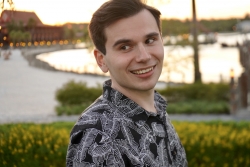 Latest posts by Sean Sposato
(see all)