Over at Disney's Fort Wilderness Resort & Campground, there are two locations that will be opening their doors once again to feed hungry patrons with mouthwatering delights. On July 27, Trail's End Restaurant and Crockett's Tavern reopen with refreshing new looks and delicious bites you are definitely going to want to try.
From sleeping under the stars to exploring the woodland trails, Disney's Fort Wilderness Resort & Campground reminds us how beautiful it is to experience the magic of the great outdoors together. These new menus at Trail's End Restaurant and Crockett's Tavern complement the resort's signature laid-back style and offer the dining flexibility our guests are looking for, no matter how they plan to enjoy their day at Walt Disney World.

Both dining locations will have a fresh, new look that enhances the resort's quaint charm and honors its heritage at the heart of the Walt Disney World Resort, with warm wooden furnishings, beamed ceilings, and rustic accents.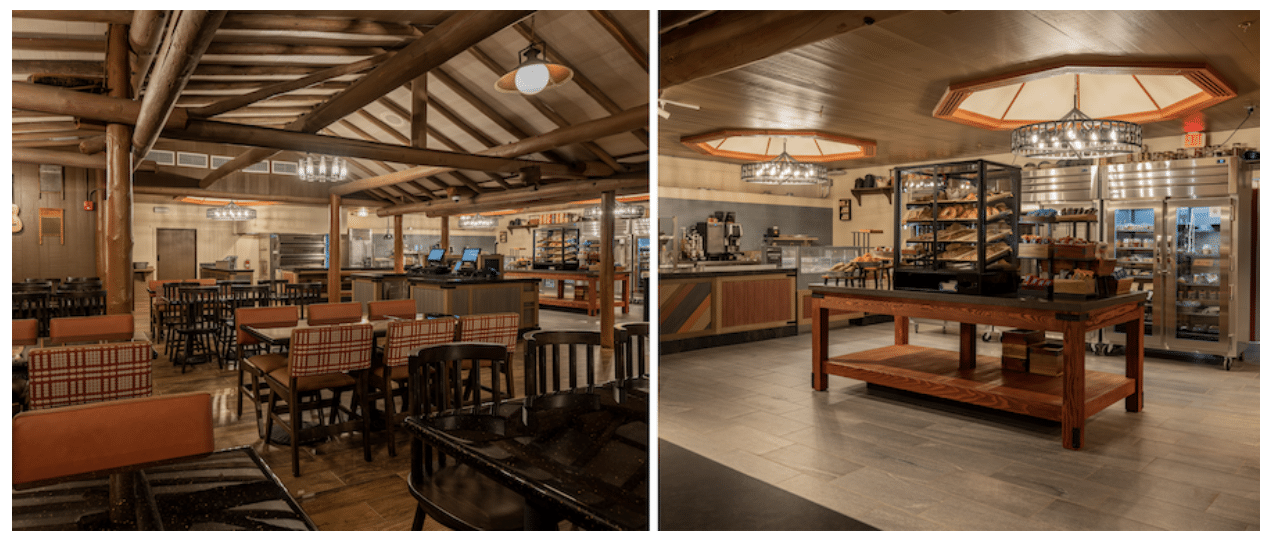 Now, onto Trail's End Restaurant. This spot has been reimagined to a quick-service restaurant filled with tasty items to fill your belly. Whether you're looking for family-sized entrees and sides to bring back to your cabin or campsite, or freshly prepared individual-sized entrees to feast on inside the restaurant's casual seating area, there are plenty of tasty options to choose from.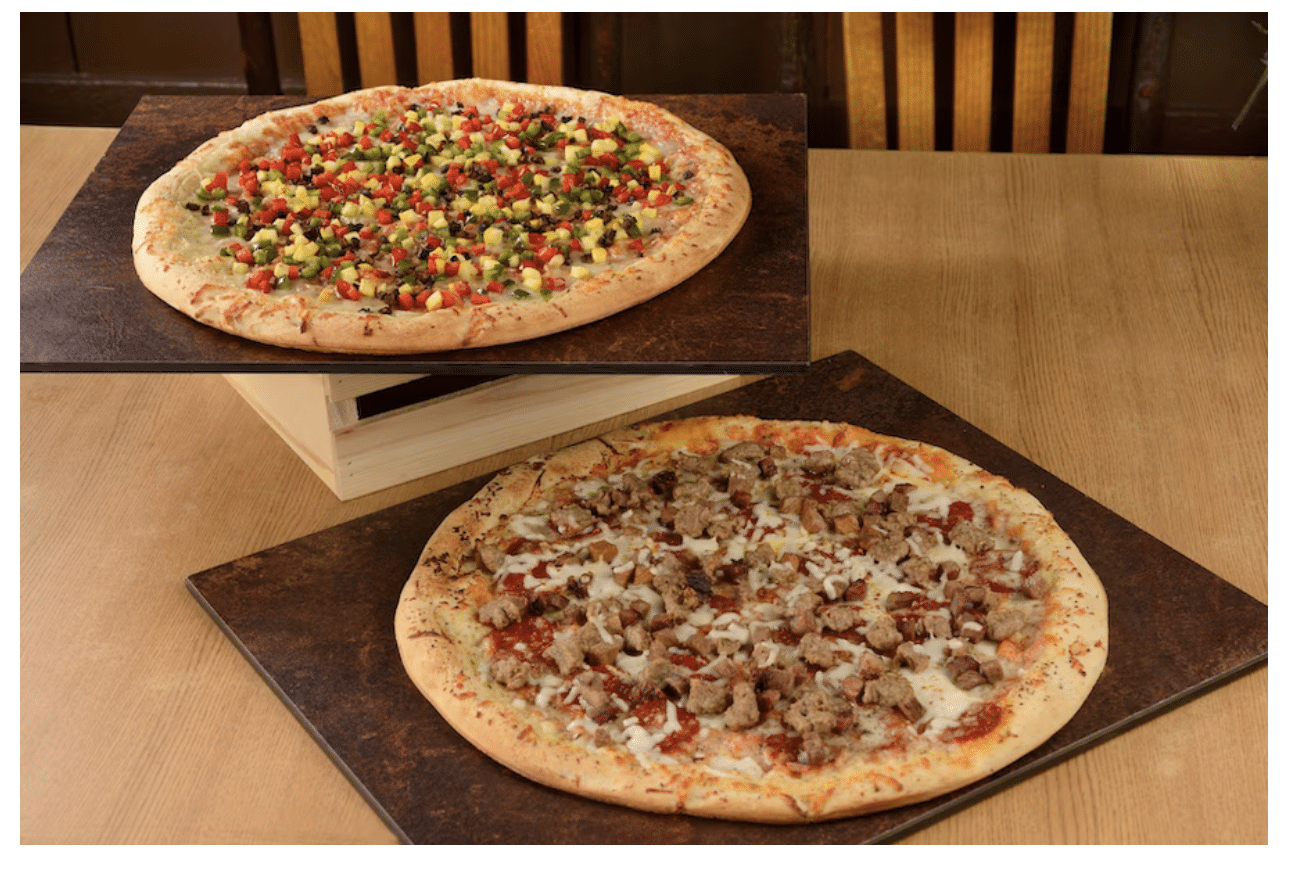 The refreshed marketplace concept now includes an on-stage pizza station where you can satisfy your appetite with a slice or the entire pie. There will be two new options available. A smokehouse-style pizza topped with house-smoked brisket, sausage, and pepperoni and a delicious roasted vegetable pie. And yes, classic pepperoni and cheese are still available.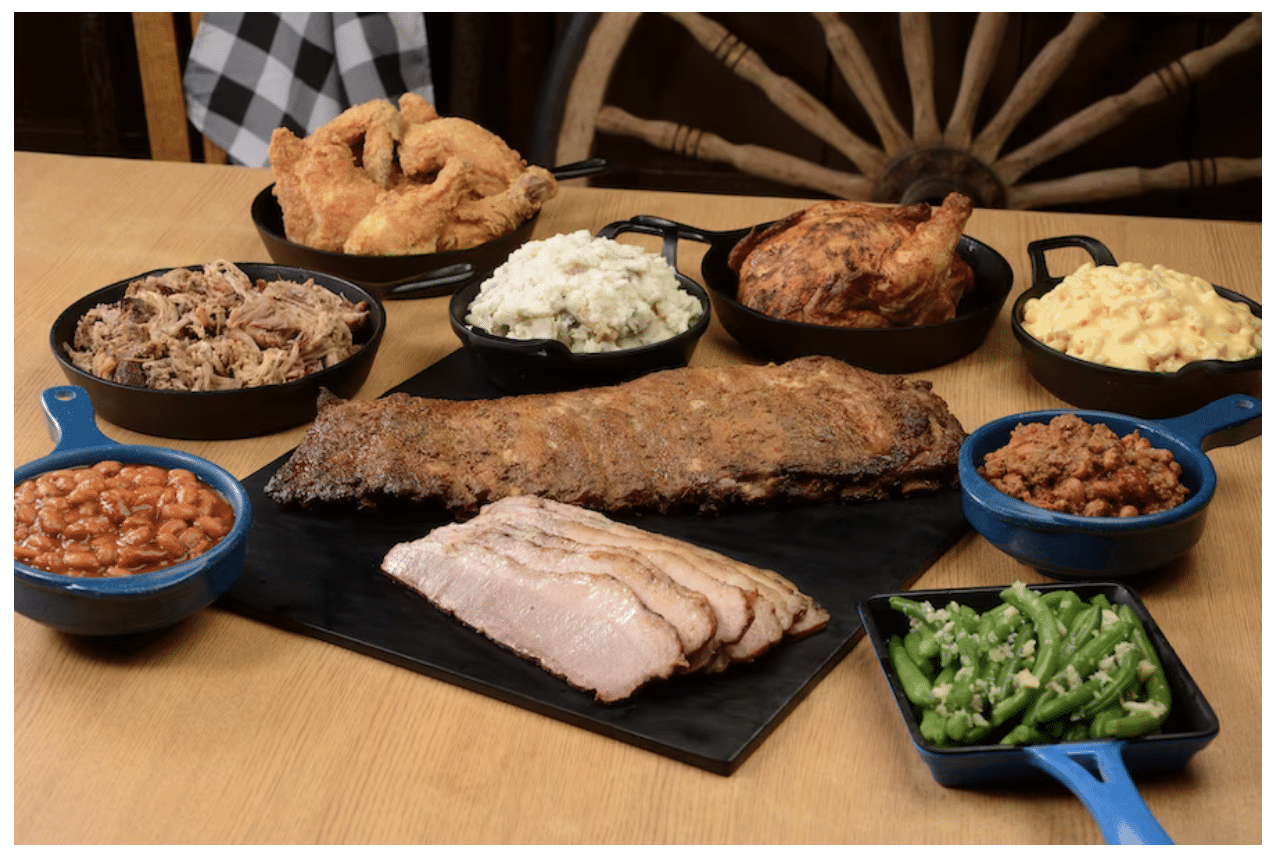 In addition to these tasty offerings the Market-style Selections are filled with a variety of items with all the fixin's to fit your fancy. Before heading back to your campsite, mosey on up to the Hot Grab and Go section where you can pick from the proteins. This area features pecan-smoked whole chicken or brisket, and a rack of pork ribs. And, of course, no trip to Fort Wilderness is complete without fried chicken! Sides will be available by the pound including macaroni & cheese, plant-based cowboy beans, and mashed potatoes.
These aren't the only bites to be had. You can order classics like cheeseburgers, plant-based vegetable burgers, chicken nuggets, and french fries. For some comfort food, the Homestyle Meals feature cornbread, coleslaw, and mashed potatoes with gravy and your choice of half a slab of barbecued ribs or two pieces of fried chicken. You can also treat yourself to hand-scooped ice cream and specialty coffees, like the Wilderness Latte with flavors of chocolate and hazelnut.
To keep refreshed, there are also a variety of beverages and snacks on the go, like the new Chicken Wrap featuring the new house-made blueberry BBQ sauce or the returning favorite Pioneer Berry Salad.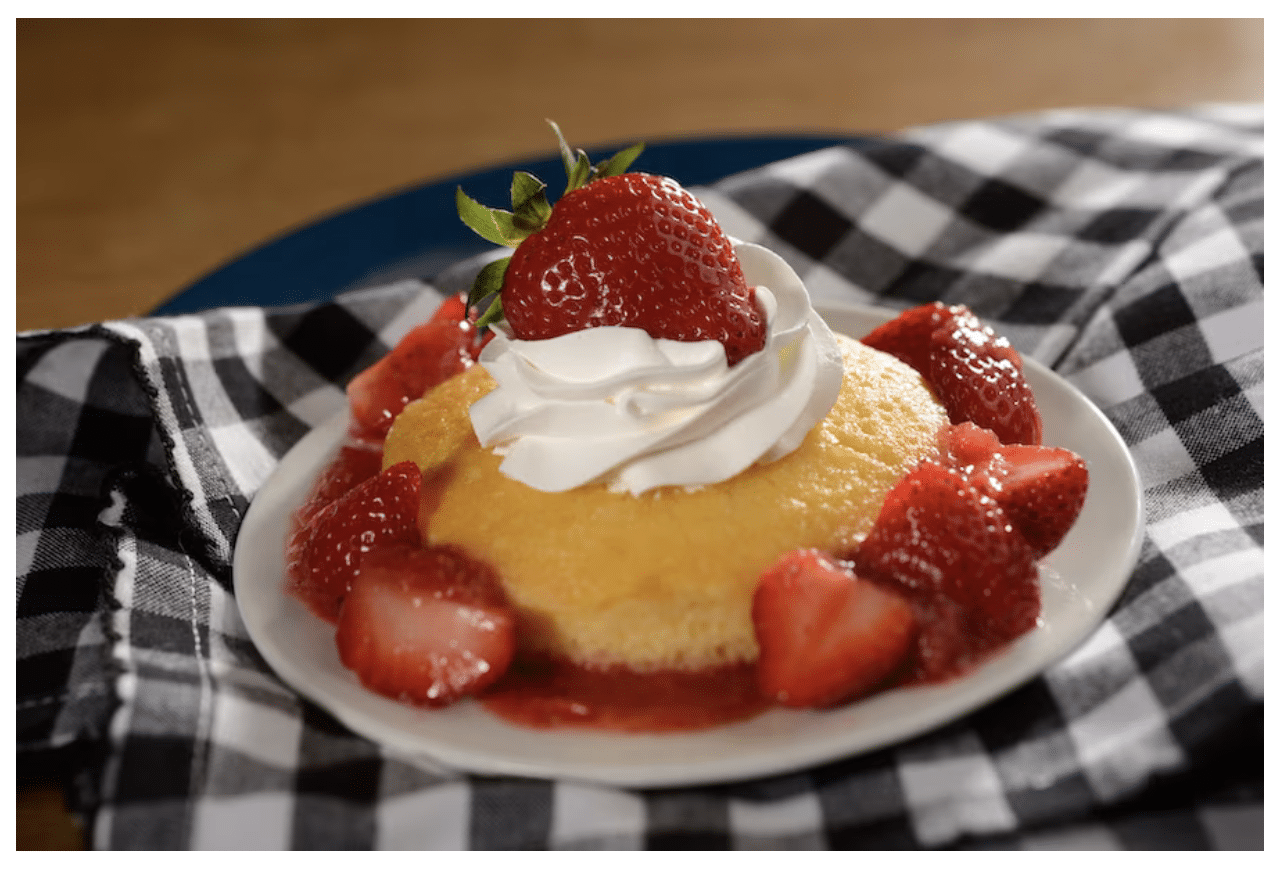 The true star of the show is the lineup of new and returning sweets to be featured in the market, a house-made bakery. The pastry team dusted off old favorite recipes from years past like the Banana Pudding, Carrot Cake Cupcake, Blueberry Bread Pudding, and the legendary Strawberry Shortcake from Hoop-Dee-Doo Musical Revue, which will be available in a single serve portion! The plant-based Lemon-Blueberry Trifle is filled with layers of lemon curd, fresh blueberries, and whipped 'cream.'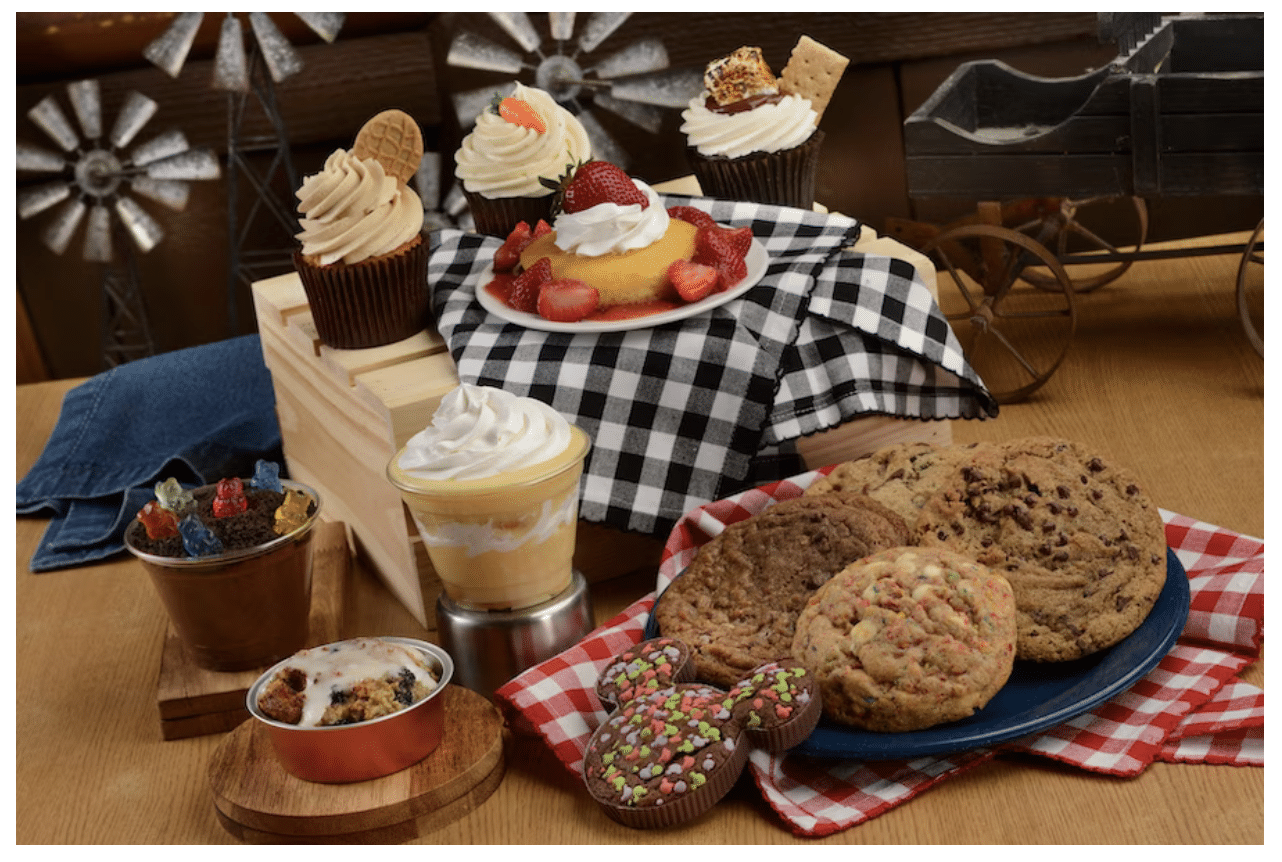 Also new, the pastry team has created some brand-new recipes that are sure to please (and become instant favorites) like the Fort Fruity Cookie featuring fruity cereal and white chocolate chips or the Peanut Butter and Jelly Cupcake. Since no camping trip is complete without roasting marshmallows over the campfire, there will be two sweets inspired by those classic flavors – the S'more Cupcake and the S'mores Cookie.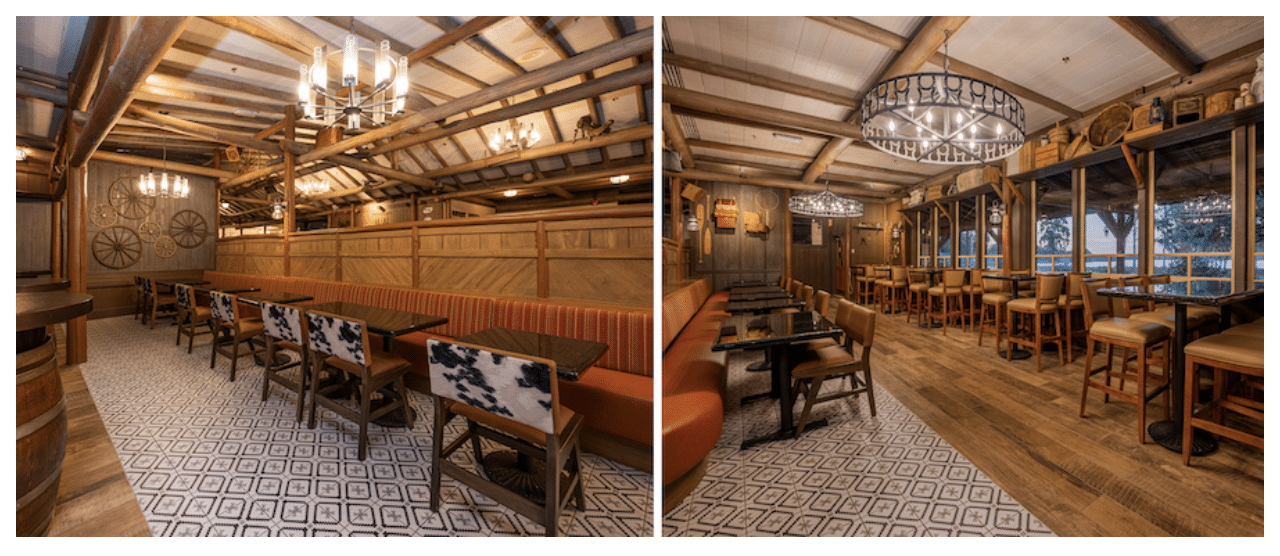 Next, let's head over to Crockett's Tavern, which has been refreshed as a lounge with expanded seating, both indoors and outside, to give you a beautiful view of Bay Lake. Conveniently located near Trail's End Restaurant, this guest favorite has been enhanced with a collection of elevated lounge-style snacks to accompany the array of new and returning beverages and specialty cocktails.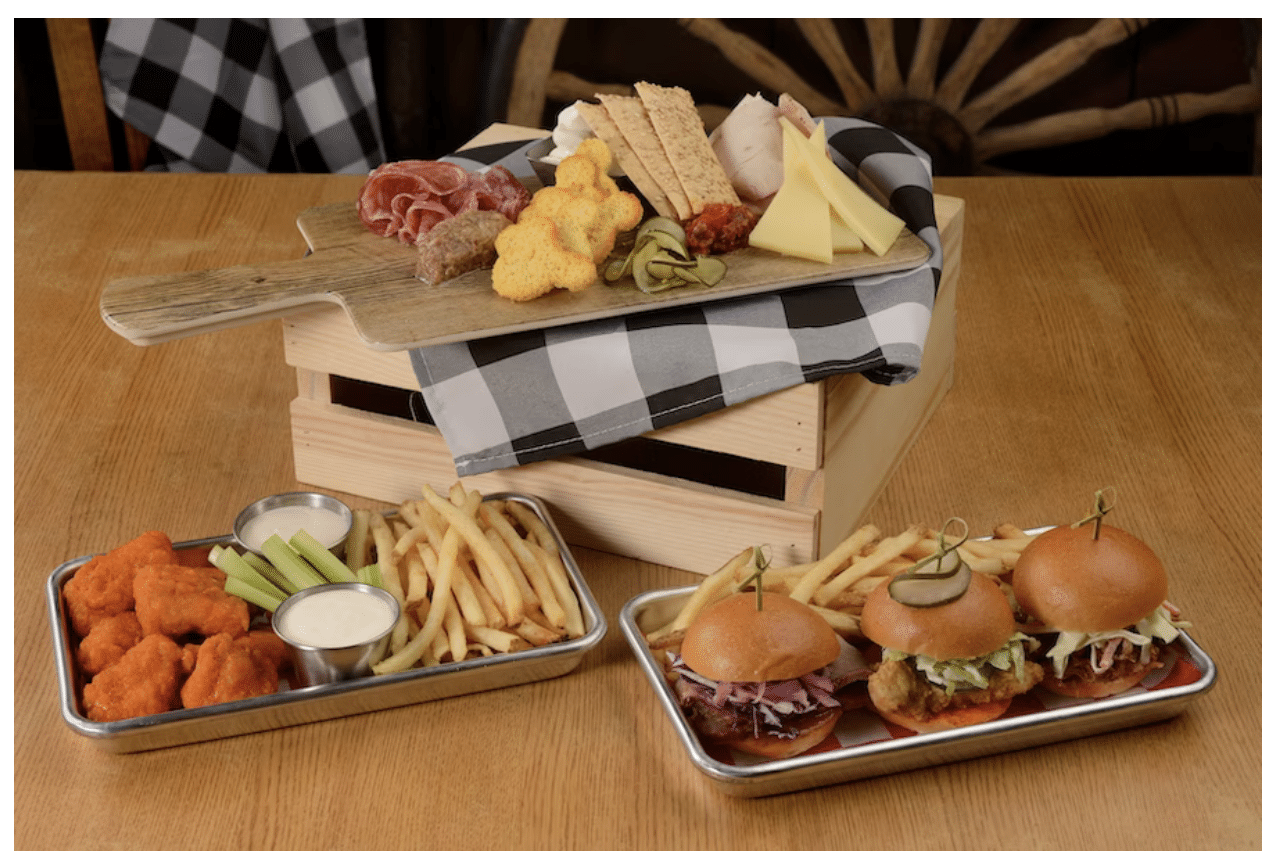 This reimagined menu was designed by our talented culinary team with new bites and sips paying tribute to the heritage of the resort and its inspiration from the American frontier. But don't worry, there will still be a 'to-go' window for those looking for a libation or mocktail to enjoy before experiencing the Hoop-Dee-Doo Musical Revue!
If you love trying different flavors, then you're in luck because new to the menu is A Trio of Sliders.This features a pulled pork slider with BBQ sauce and coleslaw, brisket slider with Carolina BBQ and pickled onions, and a buffalo chicken slider with house-made blue cheese dressing and dill pickles served with seasoned french fries.
The new Chicken Bites are going to satisfy you and your taste buds. Pick your favorite sauce among buffalo, garlic-parmesan, or blueberry BBQ. These bites are also served with celery, house-made ranch, blue cheese, and seasoned french fries. Fun fact – the new blueberry BBQ sauce was developed by Chef Julie Hrywnak and the culinary team. The can't-miss Charcuterie Board addition features a selection of meats and cheeses with house-made bread and butter pickles, tomato jam, cornbread crostini, and sesame lavash.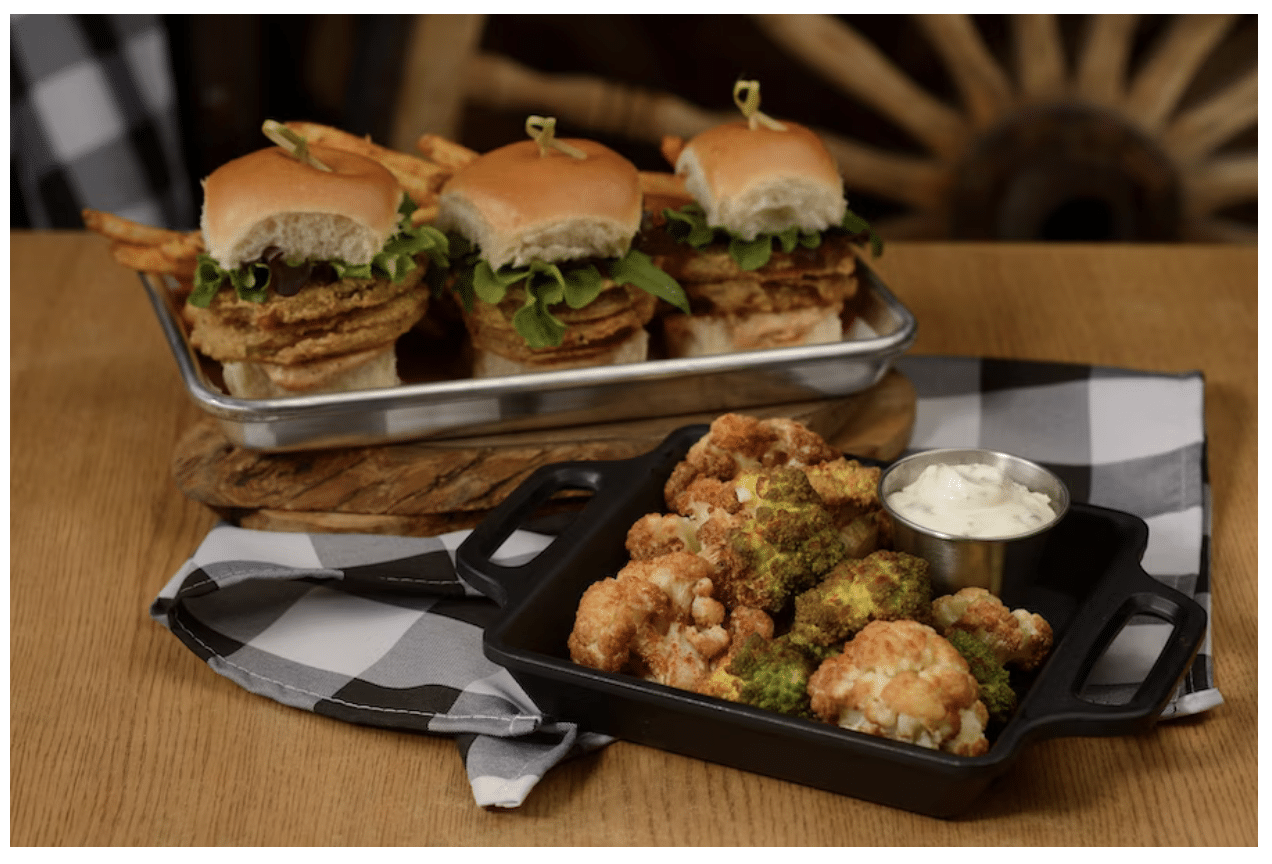 Some delicious new plant-based offerings include the Crispy Cauliflower paired with a tasty garlic aïoli. This fan-favorite from the Hoop-Dee-Doo Musical Revue plant-based menu is also gluten/wheat friendly! Also be sure to try the plant-based fried green tomato sliders featuring a southern remoulade and citrus greens served with seasoned french fries.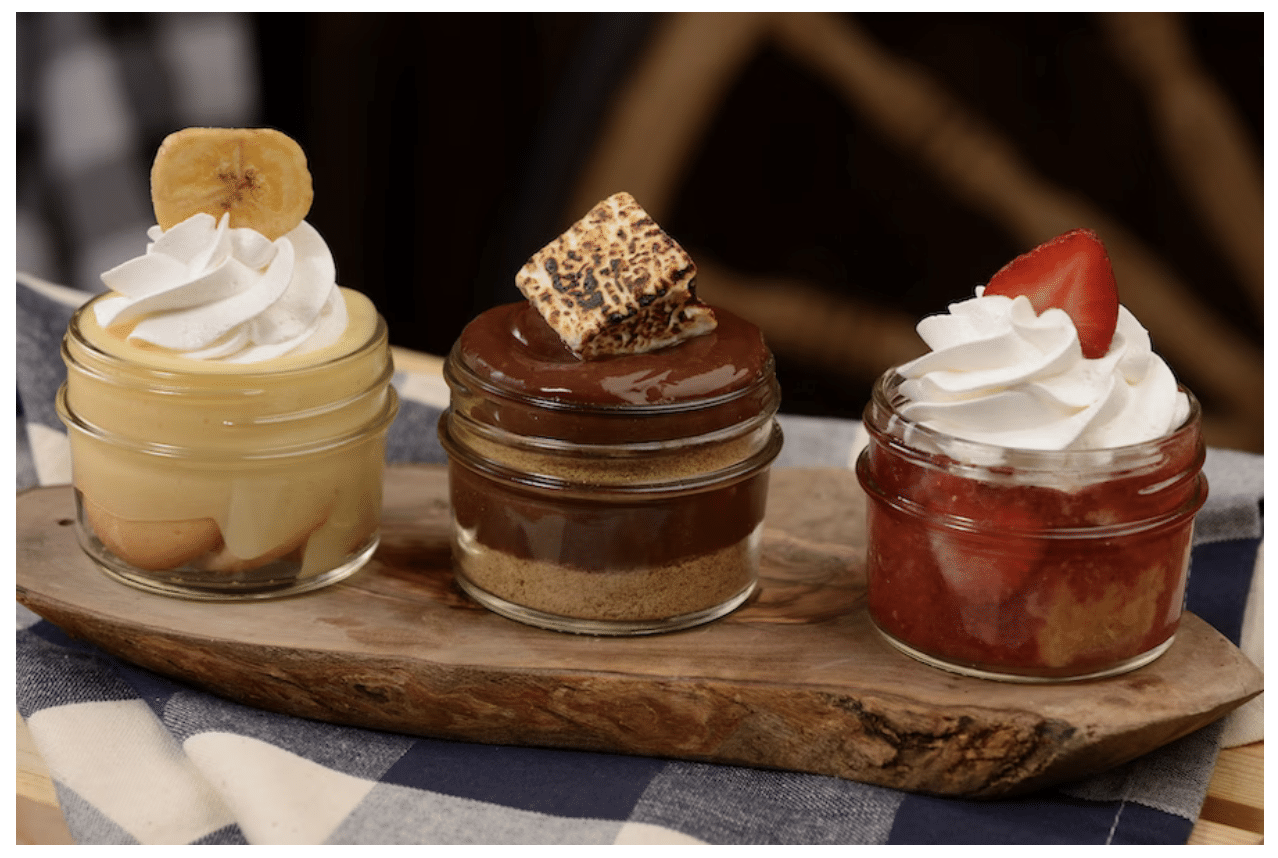 For a sweet finish, the Trailblazin' Dessert Trio is sure to please. This delightful dish features a s'more with chocolate pudding, graham cracker crumbs, and house-made marshmallow, a strawberry shortcake with strawberries and whipped cream, and a banana pudding with vanilla wafers, whipped cream, and a banana chip.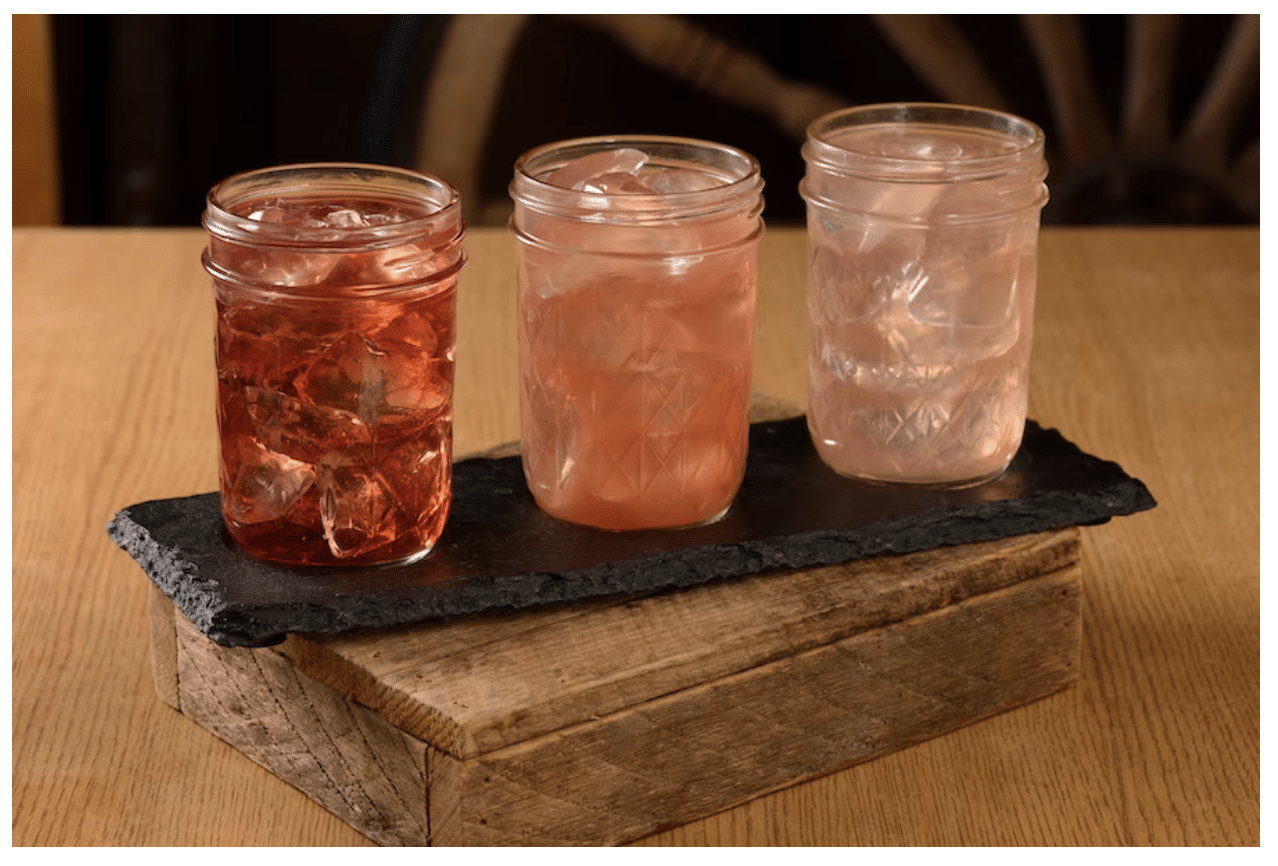 For those looking for an adult beverage to accompany their meal, Crockett's Tavern has multiple options to choose from with their heritage cocktail program curated by Guest Experience Managers Hunter Bernreuter and Eric Borgsmiller to pay homage to the resort's over 50-year history. Inspired by the Fort Wilderness Railroad that once ran throughout the resort, the All Aboard! Moonshine Cocktail Flight is a sampling of our favorite moonshine cocktails featuring the Gullywhumper, Blackberry Lightning, and Spiced Appleberry Shine.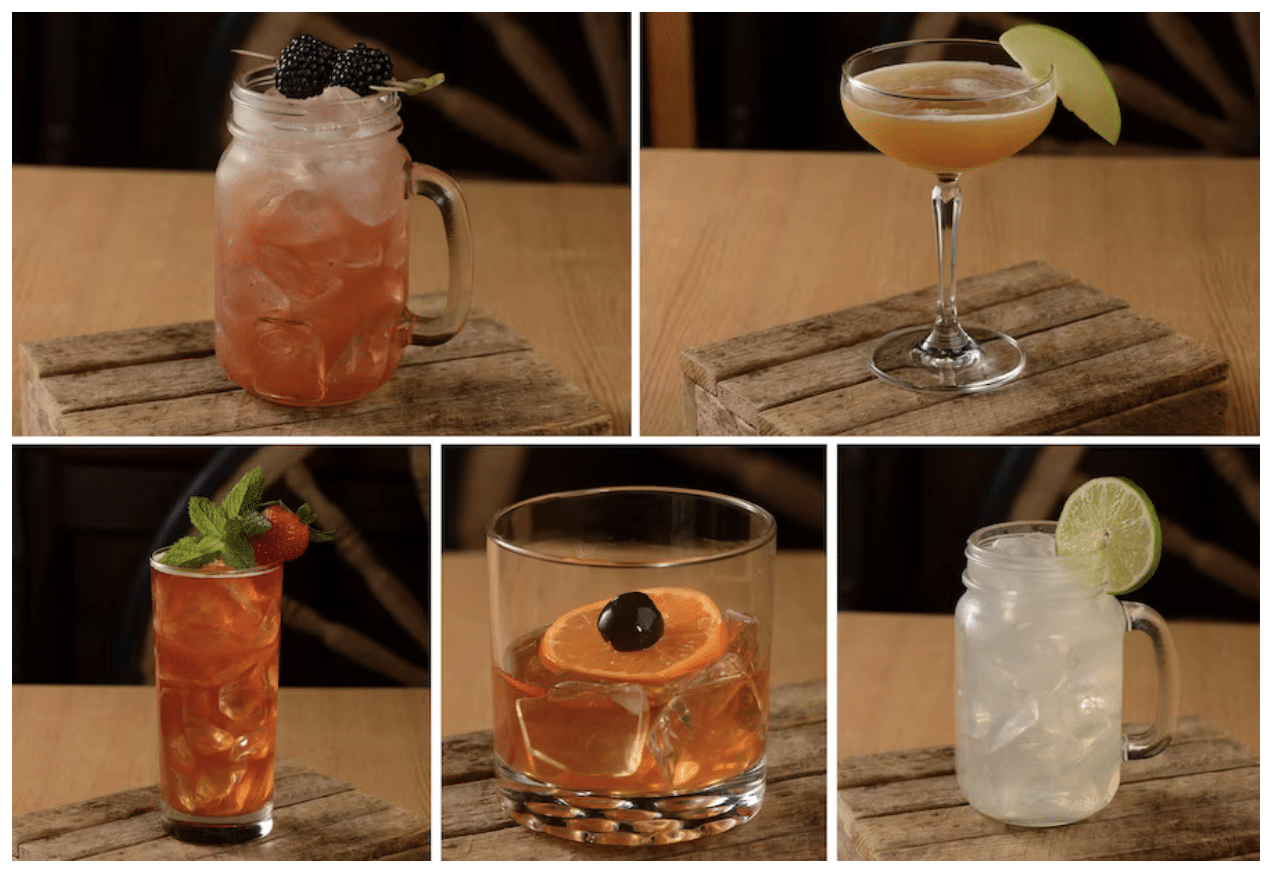 The Bear-y Buckle combines Uncle Nearest 1884 Small Batch Whiskey, pure cane sugar, lemon juice, bitters, Fever-Tree Ginger Beer, and muddled blackberries for a touch of sweetness in this cocktail. The team is pleased to be serving Uncle Nearest 1884 Small Batch Whiskey, which honors the world's first-known African American master distiller, Nearest Green.
If you've ever wanted to try America's first spirit, Laird's Applejack Brandy, then the Camper's Coupe is for you. This sip features Laird's Applejack Brandy, orange and lemon juices, and a hint of maple syrup.
Those who prefer bright and refreshing flavors will love the Meadows Cup. Settle in and enjoy this twist on a classic cocktail with Pimm's No. 1 Liqueur Cup, Hendrick's Gin, Minute Maid Premium Lemonade, and strawberry.
Any old fashioned fans out there? Our barkeep will be serving up a rotating selection of old fashioned cocktails to wet your whistle. The summer version will be a Clementine Old Fashioned with Angel's Envy Bourbon, Hella Cocktail Co. Orange Bitters, and cane syrup garnished with a clementine wheel and Luxardo cherry. This sip is a nod to Clementine Beach at the resort.
Tequila fans will be pleased to try two beverages on the menu. A nod to one of the historic camping loops at Fort Wilderness, the Quail Trail Paloma serves up Teremana Blanco Tequila with Hella Cocktail Co. Smoked Chili Bitters, grapefruit soda, and a chili-lime rim. And, of course, you'll still be able to enjoy your porch sippin' favorite – the Moonshine Margarita with Ole Smoky White Lightnin' Moonshine, Triple Sec Liqueur, sweet-and-sour mix, and lime juice.
I hope you're ready for all these exciting and delicious updates coming to Disney's Fort Wilderness Resort & Campground! There is no limit to the fun, and tasty, adventures to be had at Disney Parks.
If you want to stay up to date on the latest foodie news coming to Disney Parks, check out our Disney Eats topics page and follow us @DisneyEats on Instagram and Facebook!
(Note: All offerings are subject to change and availability.)