Bier Fest at Busch Gardens Tampa Bay Celebrates Six Years of Oktoberfest Inspired Festivities with Longest Run of Event and All-New Bites, Brews
Guests can raise a stein to 15 newly created menu items inspired by classic German flavors, enjoy 60 brews from regions near and far, live music fromrising local artists and more
Event takes place every Friday, Saturday and Sunday from July 21 through Sept. 4, including Labor Day
Annual Passes as low as $15/month offer unlimited admission and the chance to experience everything Bier Fest at Busch Gardens Tampa Bay has to offer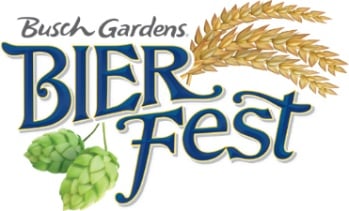 A slice of Bavaria returns to Busch Gardens Tampa Bay as the park celebrates its fan-favorite Bier Fest event, every Friday, Saturday and Sunday from July 21 through Sept. 4, including Labor Day. Commemorating six years of Oktoberfest inspired festivities, Bier Fest returns for its longest event run with 15 newly created menu items inspired by classic German flavors and 60 brews from regions near and far.

This popular event, included with park admission and now in its sixth consecutive year, allows guests to sip, sample and savor classic German flavors while enjoying tunes from rising local artists. Beyond the festival area, guests can enjoy family-friendly activities, up-close encounters with amazing animals and top-off a day of festive fun with Florida's most thrilling rides including the all-new Serengeti Flyer and the award-winning hybrid coaster, Iron Gwazi.
All-NEW Oktoberfest Menu Includes Array of Delicious Bites
The menu for this year's Bier Fest is a match made in heaven for all the foodies at heart. Guests can pair their brew of choice with all-new Oktoberfest-inspired menu offerings that include:
New – Bierwurst with Pickled Red Cabbage on a Pretzel Roll
New – Braised Pork Shank
New – Bratwurst on a Pretzel Roll with Spicy Mustard
New – Chicken Schnitzel with Brown Butter Spätzle
New – Currywurst
New – Egg Noodle Kugel
New – German Potato Salad
New – Goulash
New – Kielbasa and Sauerkraut
New – Savory Onion Pie
New – Cupcakes (German Chocolate, Black Forrest, Gingerbread, Caramel Popcorn)
New – Dark Beer Donut
Refreshing Drink Options
From lagers, ales and hefeweizens to non-beer options such as ciders, sours, bourbons and wines, an array of more than 60 types of drink offerings await all Bier Fest guests. Featured new additions include:
3 Daughters Raspberry Lemonade (Cider)
Marker 48 Red Right Return (Red Ale)
Samuel Adams Oktoberfest (Marzen)
Terrapin Hopsecutioner (IPA)
Wicked Weed – Strawberry Kiwi Burst (Session Sour)
Those wanting to delight and indulge should know that the best way to get a taste of all the flavors at this year's event is with a Bier Fest Sampler, which can be redeemed for any food or beverage item offered throughout the festival area. Offering the best value for guests, Samplers start at $35 and are available in quantities of five, eight and 12. Pass Members have access to an exclusive 15-item Sampler for the same price as a 12-item Sampler. Guests must be 21 years of age or older to consume alcoholic beverages.
Best Way to Play
Bier Fest is included with park admission and one of the best ways to experience this year's event is by becoming an Annual Pass Member for $15/month + tax with no down payment. With an Annual Pass, guests will enjoy 12 months of visits with special benefits like free parking, free guest tickets, access to special VIP events, savings on merchandise and more! Guests visiting the park to enjoy Bier Fest are encouraged to join the conversation using #ThrillsOnTap on Facebook, Instagram, TikTok, and Twitter.
About Busch Gardens Tampa Bay
Busch Gardens® Tampa Bay is the ultimate family adventure, offering 300 acres of fascinating attractions based on exotic explorations around the world. Busch Gardens is a unique blend of thrilling rides, an AZA accredited zoo with thousands of animals representing more than 200 species, and exciting seasonal events all year providing unrivaled experiences for guests of every age. For more information, visit www.BuschGardensTampa.com. Busch Gardens is owned by SeaWorld Entertainment, Inc. (NYSE: SEAS), a leading theme park and entertainment company providing experiences that matter and inspiring guests to protect animals and the wild wonders of our world.