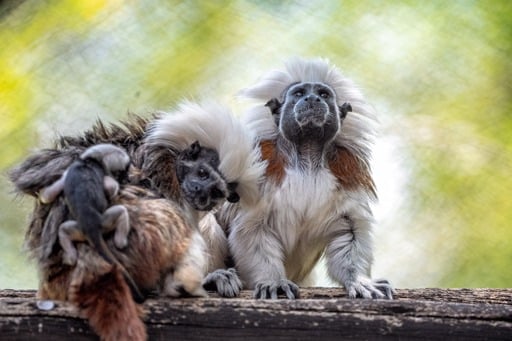 An adorable set of tiny, critically endangered twins were just born at Walt Disney World, doubling the size of the cotton-top tamarin population at Disney's Animal Kingdom Theme Park. Weighing about as much as a common chicken egg, and measuring approximately four inches long, these pint-sized newborns cling tightly to their parents as both mom and dad acrobatically leap from branch to branch in their habitat on Discovery Island.
These cotton-top tamarins are just one week old and are the first born at Disney's Animal Kingdom since 2001!

Although cotton-top tamarins are a critically endangered species native to Colombia, and there are fewer than 7,500 remaining in the wild. The birth of these primates is just one example of how we work with the Association of Zoos and Aquariums' (AZA) Species Survival Plan to help ensure the responsible breeding of threatened species in managed care and help create healthy and genetically diverse populations of animals for years to come.