It seems the Wizarding World of Harry Potter at the Universal theme parks and the old Harry Potter films will no longer be the only places to get your fix of magic as it's been confirmed a Harry Potter TV reboot is now in the works at HBO.
According to Bloomberg, HBO's parent company Warner Bros. is in the process of finalizing a deal for a television series based on the book series by JK Rowling. Reportedly, the series to be set for both cable and streaming. As shared in the report, each season will be based on one book in the series, which would make us assume the series could run as long as seven seasons.
Additionally, the report reveals that Rowling will be involved with the project to make sure it "remains loyal to her original material." However, Rowling is not expected to show run or serve as a primary creator.

As exciting as this news is, it's not completely unprecedented as only last month did Warner Bros. Discovery CFO Gunnar Wiedenfels speak on the idea that more Harry Potter could be in the future for the company.
"Take Harry Potter as an example, the Wizarding World, the fact that we are enjoying this massive success with the Hogwarts Legacy launch, 12 years after the last film came out, shows that there is so much opportunity and we're only just starting to expand that," Wiedenfels shared while speaking about the studio's upcoming projects during a panel at Morgan Stanley's investor conference, per Variety. "We've got the new Harry Potter tour coming up in Tokyo in the middle of the year. Long story short, I think this one-company approach, great leadership in the individual business units, but coordinated franchise management is probably one of the biggest opportunities the company has."
What are your thoughts on a Harry Potter TV series? Let us know in the comments!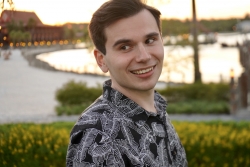 Latest posts by Sean Sposato
(see all)