Looking to rock your Disney style on family picnics? Well, look no further than this ONIVA Disney Minnie Mouse Topanga Tote Cooler Bag, now available on Amazon!
It all started with Gustavo Cosaro and Mario Tagliati. In 1975, Woodland Hills, Calif., Gustavo and Mario opened "Two Gentlemen from Verona" Their goal was to provide great wine, quality cheese, and fun. Picnic Time had a simple mission: sell traditional European-style picnic baskets that everyone could afford. Everyone on their team is committed to your satisfaction, and they know they must earn the right to your business every day.
Personally, we can say from the epic style of this picnic bag–which perfectly captures the essence of everyone's favorite style icon–Oniva knows how to make quality items! It's worth noting that this bag comes in a variety of different Disney styles, including a Cinderella design!

About this item
Disney Classics Minnie Mouse Topanga insulated cooler tote by Picnic Time, perfect for grocery shopping, picnics, the beach or day trips

Durable polyester construction with complementary stitching accents, and Minnie Mouse character logo

Lined interior is heat-sealed PVC, insuring no leaking; Insulated for temperature retention

Generous size great for carrying food and drinks to the beach or pool; Features a separate exterior pocket perfect size for wallet or keys
To purchase this bag for yourself, be sure to head over to Amazon by clicking HERE. Currently, this bag is available for the price of $38.99! Additionally, it's worth noting that this item is available for Prime shipping if you are an Amazon Prime member.
At the writing of this blog, we'd like to mention that the bag features a 25% discount–bringing the price of the bag down from its typical price of $51.95.
Will you be purchasing this bag for yourself or a loved one? Let us know in the comments!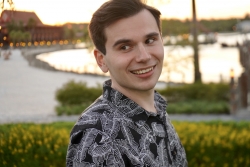 Latest posts by Sean Sposato
(see all)