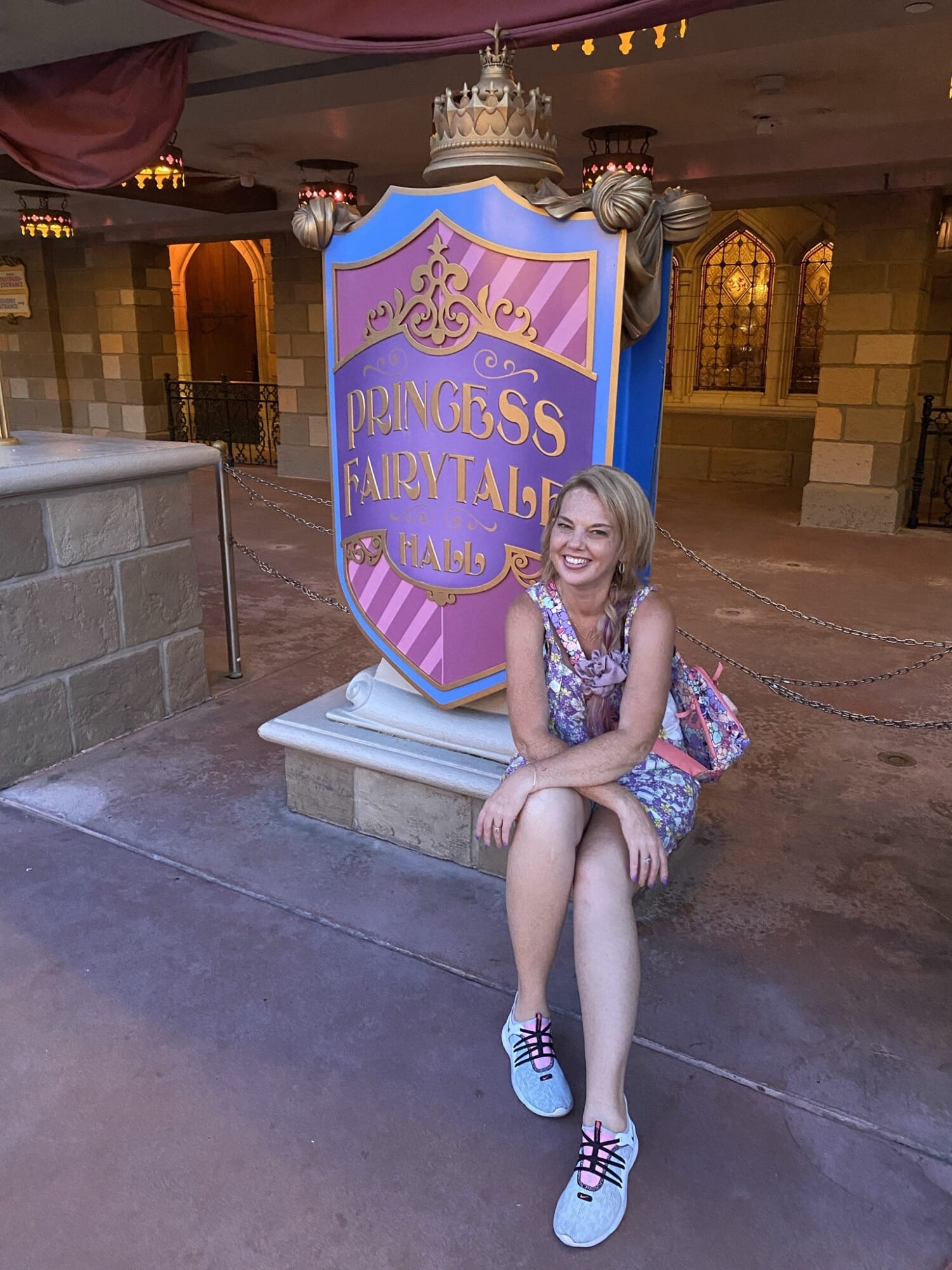 I'm a girl of a particular age. I go to Disney. A lot. When I'm at the Parks, I still look at all the Princess style merchandise and swoon, wanting all things glitter and frills. When I was a little girl, we never had Disney Boutiques and fancy dresses to help with our festive looks for Disney going. We got mouse ears, that was about it. Nowadays it's all about crowns, dresses, pixie dust sparkles and general fancy attire. So, what age does that stop? When is "too old" to be wearing Disney duds and expressing our inner Princess? It's a question I struggle with truthfully. Plus, there are age limits at the Bibbidi Bobbidi Boutique, right?
When I give myself a dose of reality, I remind myself that I'm not a teenager anymore. Looking at my boys is a huge reminder of course, they aren't babies anymore. But here's the thing, I don't FEEL older. I still feel like a kid, and Disney helps with that. Sometimes I see something in the store and think "oh gosh, that is SO cute, I'd love to have it." Then the downer side creeps in and says "Michele, you're too old for that." Boo, hiss!! I hate that voice. Sure, it comes in my size but that doesn't necessarily mean I should wear it. However…. when it comes to Disney, does that apply? Maybe not.

Walt Disney had this vision and philosophy that age is just a number, that we are all still kids, regardless of what our birth dates are. So, maybe there's no cut off as far as what is and isn't age appropriate, especially at Disney. Wouldn't the world be pretty cool if people could feel the way they do at Disney, out in "reality" so to speak? If we just let our cares go, just a little bit more? I think so. However, it might be strange to see people in church or at the grocery store wearing Mouse Ears, but I digress. There's a line there, I realize that. I just know that for me, age really IS a number, and one I try not to think about whenever possible.
So, maybe the next time you're at Disney, and you see a crown or maybe a super glittery shirt that you'd just love to have, but aren't sure about, you'll think about this. You're not the only one who worries about what you should or shouldn't wear or do, I'm that way too. I relate. But, go ahead, grab your tiara or whatever it is that you love, put it on and wear it with pride. You're never top old to be a Disney Princess (or prince or mouse)! Don't let anyone tell you different. You only live once, live it with Disney Magic to the fullest! ~M