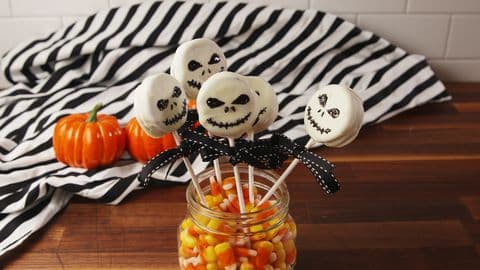 Halloween is this weekend and parties will definitely be happening! If you're looking for something festive to make, these Jack Skellington Oreo Pops may do the trick! Here's the instructions from Delish!
INGREDIENTS

12 Halloween Oreos
2 c. white chocolate, melted
2 tsp. coconut oil
Black icing
12 lollipop sticks
Black ribbon
DIRECTIONS
Line a medium baking sheet with parchment paper.
Stick the lollipop sticks into the cream of the Oreos.
Mix coconut oil into white chocolate and dip Oreos into chocolate until completely coated. Place in refrigerator to harden, 5 to 10 minutes.
Using the black icing, draw Jack's face on the Oreos and let cool slightly. Tie black ribbon in a bow at the bottom of the Oreo and serve.
Happy Halloween Everyone!