From the Walt Disney World News and written by: Jeremy
Virtual experience takes guests 220 miles above the Earth
Prix Fixe menus focus on upscale, contemporary fare 
Collectible space trading cards available
Aspiring astronauts, gastronomes, and space enthusiasts can suit up and prepare for liftoff because Patina Restaurant Group's highly anticipated Space 220 Restaurant in EPCOT® at Walt Disney World® Resort is now open. The first-of-its-kind restaurant concept promises to virtually lift guests to a new "height of dining." Reservations are now available to book with seating beginning on September 27.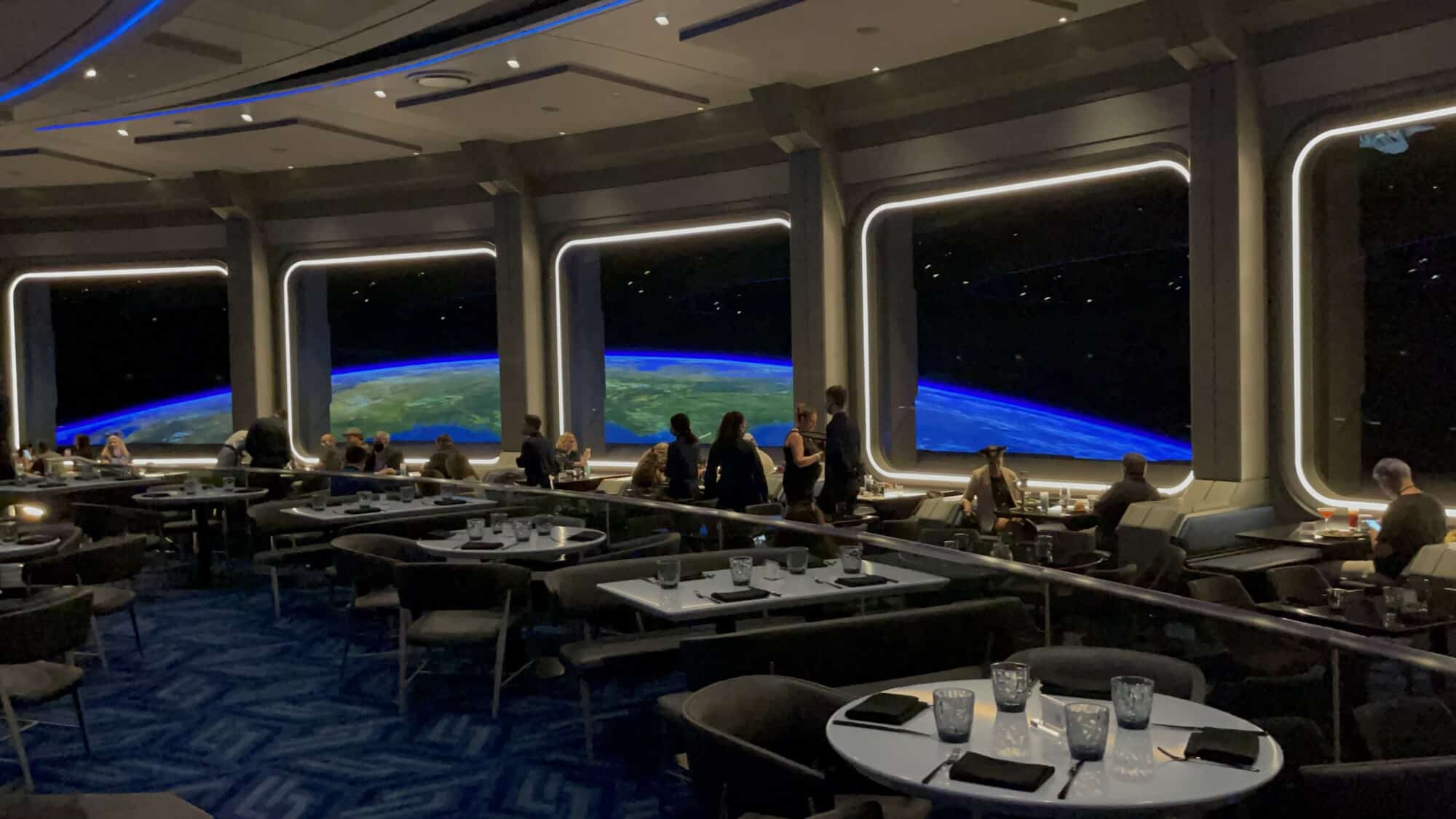 Celebrating its inaugural mission today, a dedication ceremony featured executives from Patina Restaurant Group, Delaware North (Patina Restaurant Group's parent company), Disney, and very special guests Mickey Mouse and Minnie Mouse. Mickey and Minnie helped wish travelers a magical "flight" during their maiden voyage to Space 220. Following the ribbon-cutting, media guests were given a tour of the restaurant and the opportunity to sample signature menu items.
"At Space 220, we hope to take guests on a culinary journey with our signature prix fixe menu that will let them customize the perfect meals for their crew and expedite their trip to space and back, allowing them ample time to enjoy all that EPCOT has to offer," said Patina Restaurant Group Marketing Director Kyle Collins.
"With Space 220, we now have a fine dining experience in our World Discovery neighborhood of the Park – and a chance for our EPCOT guests to experience a restaurant that is truly out of this world!" added Walt Disney Imagineering Creative Portfolio Executive Tom Fitzgerald.
When visiting one of the country's most anticipated restaurants to open this year, guests will feel as if they are transported 220 miles above Earth to the Centauri Space Station – they will see EPCOT drop away under their feet and look up to see the rapidly approaching station. The scenic journey is fun for the whole family and phase one of Space 220's immersive dining experience, providing guests with stellar views of Earth by day and night. Phase two begins once they step off the space elevator, walking past a Grow Zone of spinning produce representing the fresh ingredients on the menu, while they're guided to their table by a Space 220 crew member. Once seated, all guests will have panoramic views of Earth as the backdrop to an out-of-this-world dining experience.
A supernova of flavors awaits diners daily for lunch and dinner at Space 220 beginning at 11:30 a.m. With Executive Chef Marc Kusche at the helm, the restaurant serves upscale, contemporary fare, featuring a two-course prix fixe menu for lunch and a three-course prix fixe menu for dinner. Guests will enjoy a selection of lift-off appetizers, star course main entrees, and a choice of supernova sweets for dessert. Satellite sides will also be available a la carte, and visitors can expect unique beverages with a colorful lineup of atmospheric spirits, zero proof (non-alcoholic) cocktails, big dipper brews, and worldly wines. Some crew favorites include the following signature menu items:
Two-Course Lunch – $55
Includes one Lift-Off appetizer and one Star Course entrée
Lift-Offs
Big Bang Burrata
Starry Calamari
Blue Moon Cauliflower
Neptuna Tartare
Space Greens
Star Course
Bluehouse Salmon
Centauri Burger
Flat Iron Steak
Seared Tuna
Baked Maccheroni
Three-Course Dinner – $79
Includes one Lift-Off appetizer, one Star Course entrée, and one Supernova Sweet
Lift-Offs
Big Bang Burrata
Starry Calamari
Blue Moon Cauliflower
Neptuna Tartare
Space Greens
Star Course
8 oz. Filet Mignon
Slow Rotation Short Rib
Florida Red Snapper
X2 Duck
Terra-Bolognese
Roasted Free-Range Chicken
Supernova Sweets
Lemon Mousse
Sticky Toffee Pudding Cake
Chocolate Cheesecake
Drinks
Atmospheric Spirits 
Stargarita
Atmospritz – Served with a cotton candy cloud
The Big Tang – Served with "Astronaut Ice Cream"
Planetary Punch – Served over dry ice
Celestial Cosmopolitan
Zero Proof Cocktails
These drinks come in a special Space 220 collectible cup
Lightyear Lemonade – Made with butterfly pea tea
The Milky Way – Served with a fun-size "Milky Way" garnish
Moon Rocks – Served with a pack of popping candy garnish
With the purchase of any zero proof (non-alcoholic) cocktail or children's meal, guests will receive a pack of Space 220 Collectible Trading Cards. Designed exclusively for and only distributed at Space 220, these limited-edition packs of cards feature custom illustrations and trivia facts about space exploration, food in space, and the sky-high innovations at Space 220.
Stay in the know about all the latest interstellar news regarding Space 220 by visiting www.space220restaurant.comand by following along on their social media platforms @Space220Fla on Facebook, Twitter, and Instagram.
About EPCOT
EPCOT is a theme park at Walt Disney World Resort in Lake Buena Vista, Fla., that features exciting attractions, international pavilions and seasonal special events, where the impossible becomes possible through the power of human imagination and the magic of Disney. World Showcase provides immersive experiences that explore the architecture, culture and cuisine of 11 countries throughout the world. Attractions such as Frozen Ever After and Soarin' Around the World show the wonder of the real world, while The Seas with Nemo & Friends, Test Track and Mission: SPACE spark curiosity. EPCOT seasonal festivals feature the arts, florals, holidays and culinary magic. EPCOT is in the midst of a multi-year transformation adding new excitement and stories to the park, including attractions such as Remy's Ratatouille Adventure and Guardians of the Galaxy: Cosmic Rewind, and the new nighttime spectacular, "Harmonious."
About Patina Restaurant Group
Patina Restaurant Group is a bicoastal collection of 40+ restaurants in the premium segment of the hospitality industry. The esteemed group is known for its unique and impeccable market-driven menus, modern design and décor, exemplary service culture, and outstanding beverage programs across all locations—offering numerous distinctive, one-of-a-kind dining destinations.
On the East Coast, fan-favorite concepts include restaurants such as Morimoto Asia, Maria & Enzo's, Pizza Ponte, Enzo's Hideaway, and The Edison at Disney Springs® in Orlando along with the Italy Pavilion in EPCOT® World Showcase at Walt Disney World Resort® which encompasses Via Napoli Ristorante e Pizzeria, Tutto Italia Ristorante, Tutto Gusto Wine Cellar, and La Gelateria Toscana. Farther north, it operates iconic venues in New York City such as Lincoln Ristorante at Lincoln Center, Stella 34 Trattoria & Bar at Macy's Herald Square, STATE Grill and Bar in the Empire State Building, and Banners Kitchen & Tap next to TD Garden in Boston.
On the West Coast, its portfolio is comprised of Downtown Disney® District staples such as Naples Ristorante e Bar, Napolini, Tortilla Jo's, Catal Restaurant, and Uva Bar & Cafe. Additional venues throughout Los Angeles, many of which are surrounded by celebrated cultural institutions, include Nick & Stef's Steakhouse, The Kitchen at Descanso Gardens, Leatherby's Café Rouge at Segerstrom Center for the Arts, Ray's & Stark Bar at the Los Angeles County Museum of Art (LACMA), Tangata Restaurant at the Bowers Museum and a world-class catering division servicing high-profile events across the country. Learn more at www.patinagroup.com.
# # #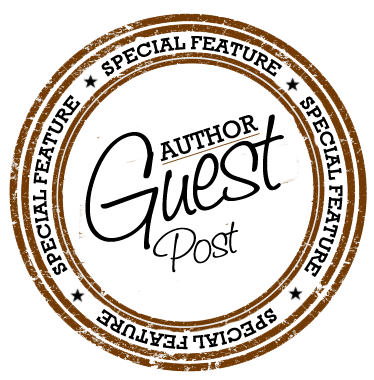 Latest posts by Guest Blog
(see all)