Most Marvel Comics and movie fans know that Hugh Jackman, most famous for his portrayal of Wolverine on the big screen, hung up his claws officially in 2017 with Logan. However, after seeing a recent post on Jackman's Instagram story, some have wondered if The Greatest Showman star may be reprising the role one more time–possibly in the MCU?
For those of you who are reading this in complete disbelief–we would like to point out that all of this mischief came about on account of Jackman after he posted a photo of himself and Marvel Studios exec Kevin Feige on his Instagram story. For those who are not familiar, Kevin Feige is in charge of all of the Marvel Cinematic Universe films we know and love and can move mountains in the movie industry.
Hugh Jackman posted a photo of him and Kevin Feige to his story and boss logic also posted a Wolverine pic 👀👀👀👀

Probably nothing but could you imagine….#marvel pic.twitter.com/cCNYxNJsti

— Warren Thompson "Cosmic Wonder" (@CosmicWonderYT) July 5, 2021

Now, it's true to also say that this could have just been a simple post of Jackman and Feige. Although, following the image in his story, Jackman then posted an image of Wolverine's claw, which he got from a tagged post by @bosslogic.
It's worth mentioning that there has been very little of crossover between the Fox-owned Marvel mutants and Disney's MCU. But, in the past, Feige has mentioned that this would be something for fans to look out for. Especially, due to the fact that MCU is becoming more of a Marvel Cinematic Multiverse through the Loki Disney+ series and the upcoming Spider-Man: No Way Home film.
Of course, at this time we're making massive assumptions from a few images on Hugh Jackman's Instagram story with little to no merit. But again, on the flip side, it can be said that crazier things have happened in the MCU and the return of Wolverine, portrayed by Jackman, even for just a cameo, may not be the most insane thing and could have some plausibility!
At this time, there are no official plans of Jackman having any involvement in the MCU–but we are still hopeful!
What are your thoughts on these cryptic Instagram story posts by Jackman? Let us know in the comments!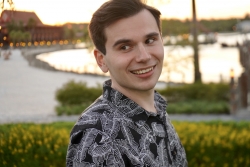 Latest posts by Sean Sposato
(see all)