From the Disney Parks Blog and written by: Laurel Slater
Throughout Women's History Month, we have been sharing the voices and achievements of many inspirational and iconic women who are paving the way for others across The Walt Disney Company. And today, I'm proud to introduce you to five more incredible female leaders who are making history. For the first time, all four of Walt Disney World's theme parks are led and protected by women!
Vice Presidents Jackie Swisher, Kartika Rodriguez, Melissa Valiquette, and Sarah Riles are now behind the magic leading our four theme parks, all featuring careers grown through Disney, often crossing paths in different roles over the years. And their fellow Cast Member, Linda Reid, is an integral partner as the vice president of Security, protecting the magic in our parks and resorts each and every day.

These five women are breaking barriers and encouraging so many women at Walt Disney World to follow their dreams—myself included! Let me introduce you to my version of the "Fab Five":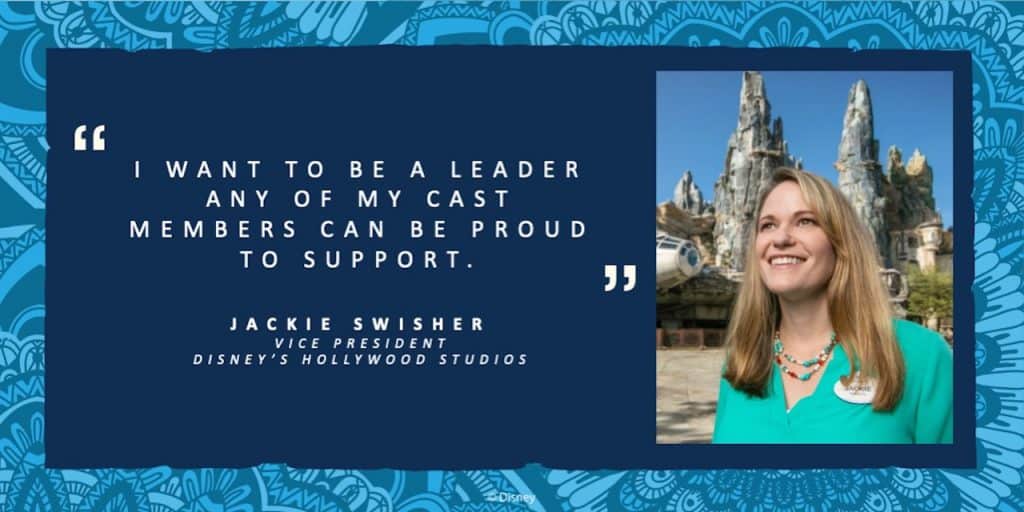 Last summer, Jackie brought more than 15 years of leadership experience to Disney's Hollywood Studios from vice president, Worldwide Safety Services – proving to be a critical role to play as we began navigating the pandemic.
The importance of being part of this historic milestone and progressive representation is not lost on her as she is focused on creating an inclusive environment for her team. Having the courage to seek out the dissenting opinions is a top priority for Jackie, which always gives her new perspective. "I think it's important to learn from women (and men) who don't look like me or who have an opinion that is different than mine."
When women doubt their abilities, Jackie believes it's the small actions to lift up other women that are often the most impactful ways to support and celebrate them this month, and beyond.
"Recognizing other women in a positive way can help build them up and grow self-confidence," said Jackie. "You never know when you have said something that makes a real difference in someone's life."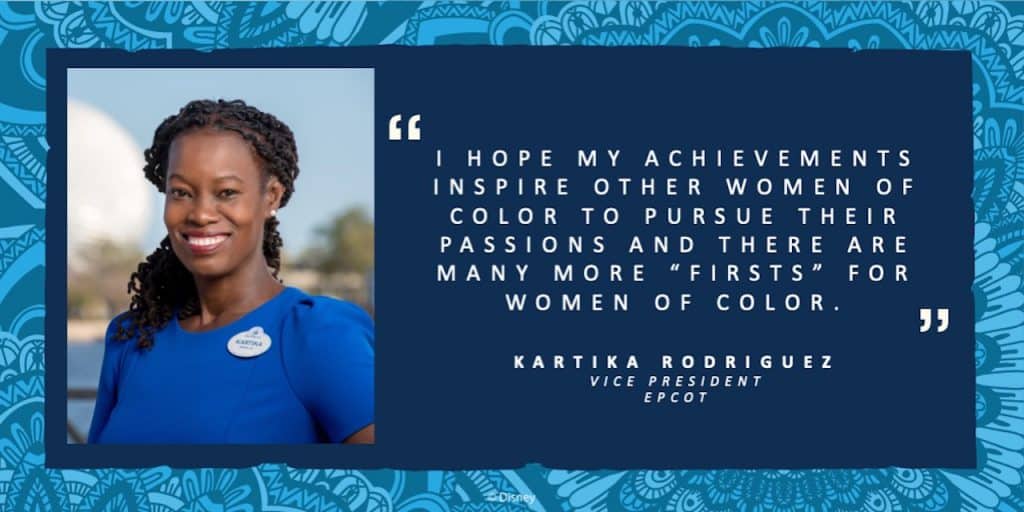 In her recent promotion after five years as General Manager, EPCOT Operations, Kartika is also making history as the first Black, female vice president to lead a Walt Disney World theme park.
Looking back over her 21-year Disney career, she recalls being impressed with the number of women in leadership roles who paved the way before her. "I remember thinking 'I too, could have the opportunity to one day be a senior leader in this organization.'" Now, she's leading one of the most significant transformations at EPCOT that is taking us into the next evolution of Walt Disney World Resort.
As a way to celebrate Women's History Month, she encourages others to become a mentor as it often has just as much benefit to your development and growth as it does the mentee.
"Sharing knowledge can feel empowering, and as you coach someone, you will likely collect knowledge as well."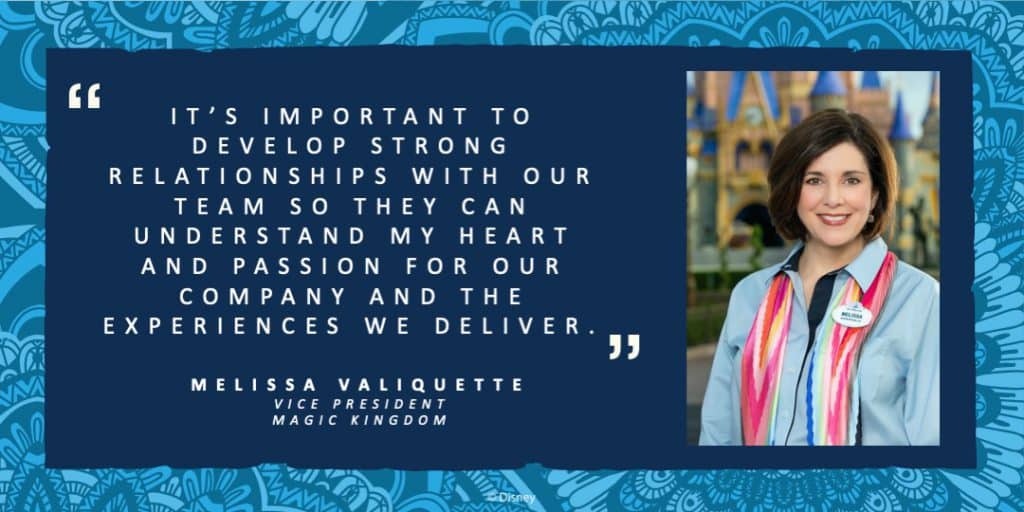 Melissa just recently transitioned to lead Magic Kingdom Park after previously overseeing EPCOT for six years – both an exciting move as we approach our park's 50th anniversary, and a nostalgic one as her first role with Disney more than 25 years ago was a Guest Relations Hostess at City Hall.
Over the course of her career, Melissa recalls looking up to her male peers, trying to emulate their leadership styles, which brought awareness to some of the challenges of being a woman in leadership.
"Being of small stature, I often felt I needed to demonstrate more 'command', take up more room at the table, even speak a little deeper," Melissa said. Former Walt Disney World President, Meg Crofton, was a valuable role model for Melissa in her leadership journey and she remembers, "Through her example, I learned that leadership shines through, regardless of size, volume, or gender. I began to embrace my own inherent style that allowed me to grow and feel comfortable in my own skin."
To the next generation of leaders, Melissa's advice is to "work hard, be humble and genuine, build strong relationships at every opportunity and aim high!"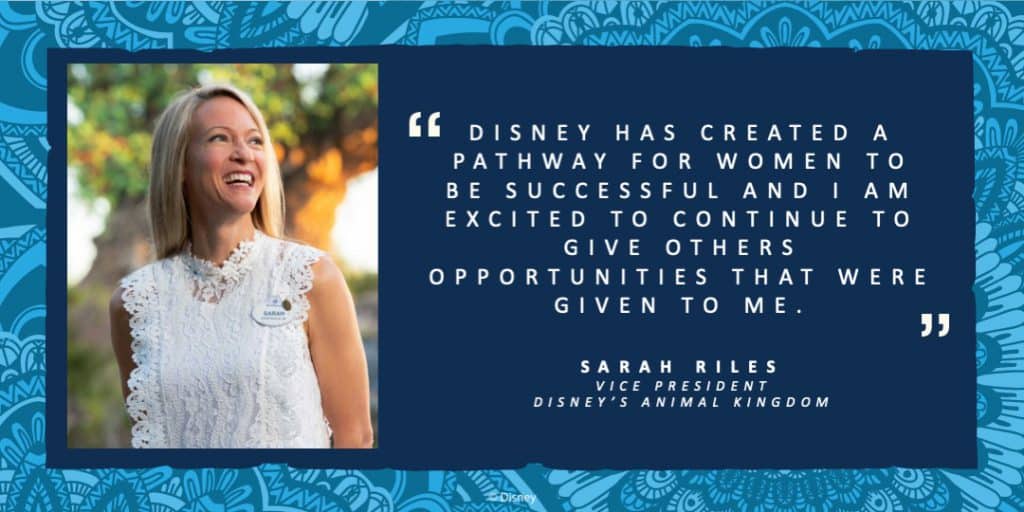 Sarah brings valuable and unique perspectives to the theme parks as she has held a diverse number of leadership roles within Industrial Engineering, Operations, Business Optimization and more.
She is proud to serve in this new role alongside other strong female role models. She, Kartika, Jackie and Melissa have grown together in their long tenures with the company – at one point even sharing office spaces – and now share a special camaraderie and genuine connection with each other.
Sarah's admiration for the women in her life goes beyond her peers and superiors, but is found most within those who have confidence in their values, lead from the heart and find opportunities to serve others. Her most recent inspiration came after meeting a leader who left her family and friends back home in Taiwan to work for Disney.
"When she came here, she didn't know how to do a lot of the things we take for granted. Now she is a successful leader with an inspiring story of bravery, risk-taking and following your dreams. Those are the types of courageous women that I admire most!"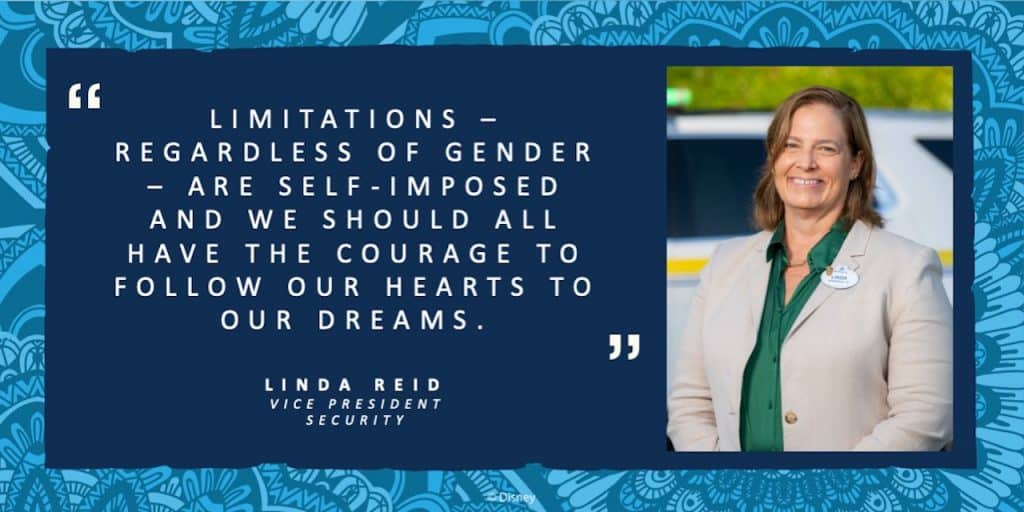 Linda's impressive background leading other service and security teams outside of Disney has made Linda the perfect fit to protect the magic and lead the Walt Disney World Security team – a great honor for Linda.
As a female leader in her often male-dominated field, she's optimistic that her position gives other women hope and confidence to follow their dreams and aspire to be whatever they want to be, no matter what. Realizing just how much her unique role inspires others, she's equally inspired by fellow women who have also broken barriers.
"Other women inspire me by their stories of overcoming their own obstacles. Every one of us has a story of resilience and endurance—having the courage to be vulnerable and share these stories is powerful social medicine for our time."
One piece of advice that has shaped Linda as a leader that she passes on to others beginning their careers is, "do not allow anyone or anything to tell you that it's not possible. If the goal is righteous, then never ever give it up."
I've had the great opportunity to work with these women for much of my career who I look up to as leaders, friends and even fellow moms. They are driving forces for our company, and I already know the future of Walt Disney World is bright with them leading and protecting the magic.
For more stories about phenomenal women, follow along on Disney Parks, Experiences and Products social handles; Instagram: @DisneyParksBlog, Twitter: @DisneyParks, and Facebook: @DisneyParksBlog.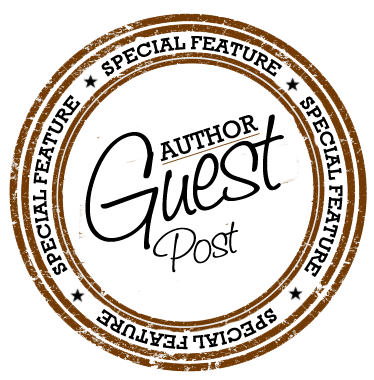 Latest posts by Guest Blog
(see all)