Let's talk about Disney's Pop Century Resort!
First, a little background. Somewhere in the last few years, our family decided that we are going to try and stay at every single Disney Resort before our oldest daughter graduates High School. She is currently 15 so yes, not a ton of time but we are always up for a challenge.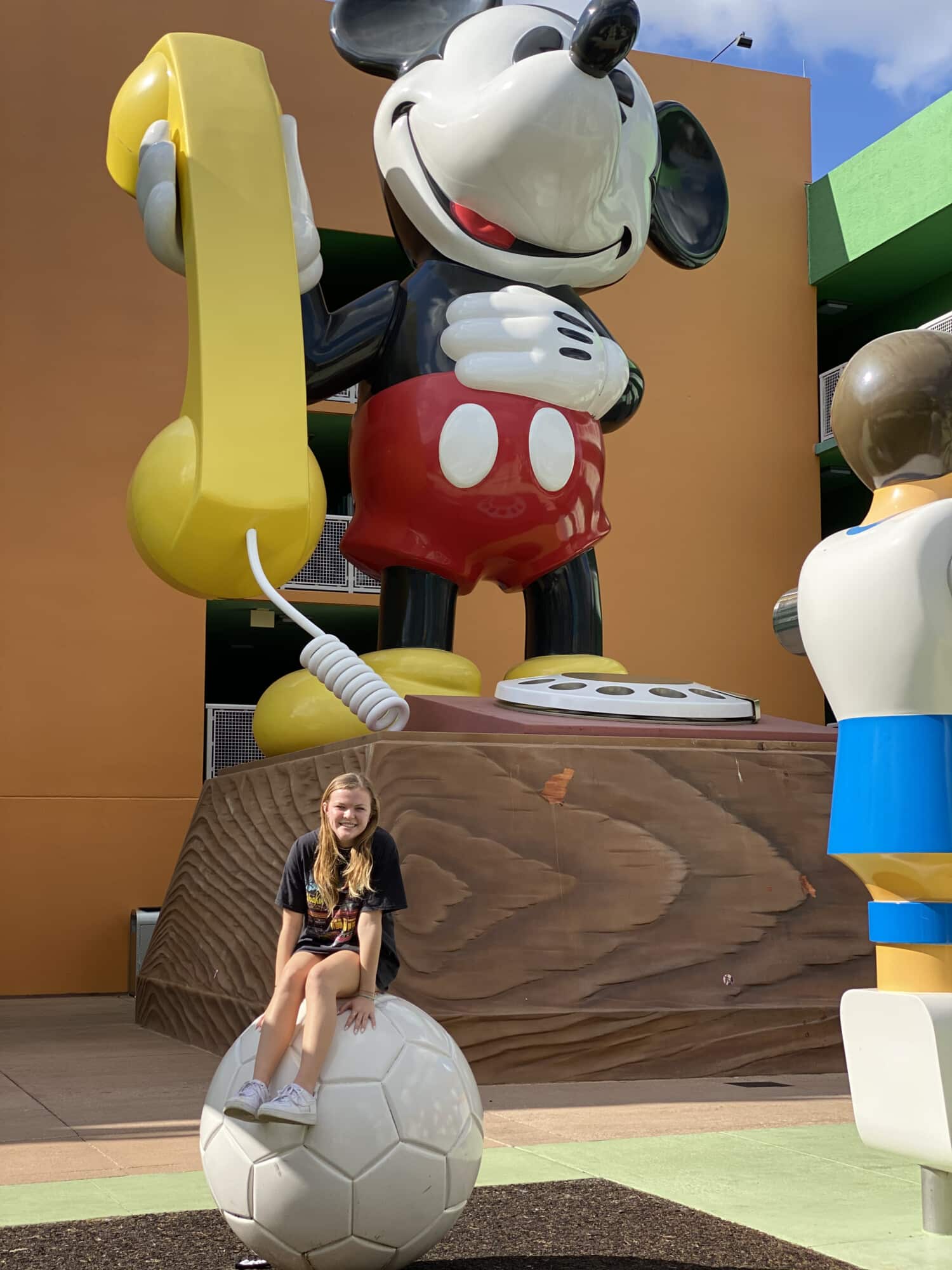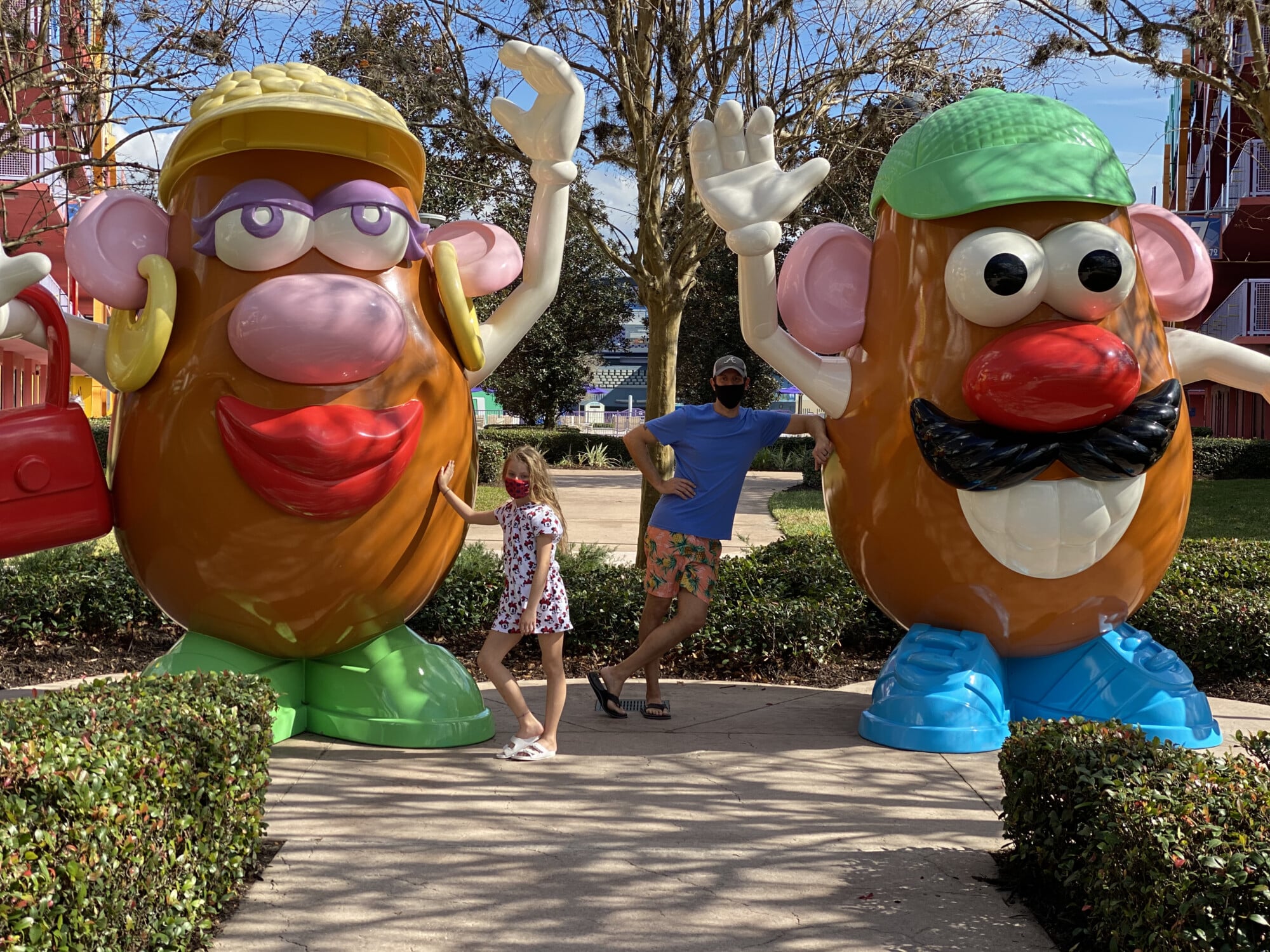 For some reference, we have stayed at many different Disney Resorts. From Disney's Riviera Resort to Disney's All-Star Sports Resort and many in between. We've done some in every category…luxury, moderate, and value but we haven't done them all, yet. When we chose Disney's Pop Century Resort, it was solely based on price. Thanks to COVID and 2020, like many of us, there have been some financial adjustments needed so we thought we would stay focused on a value property for this trip.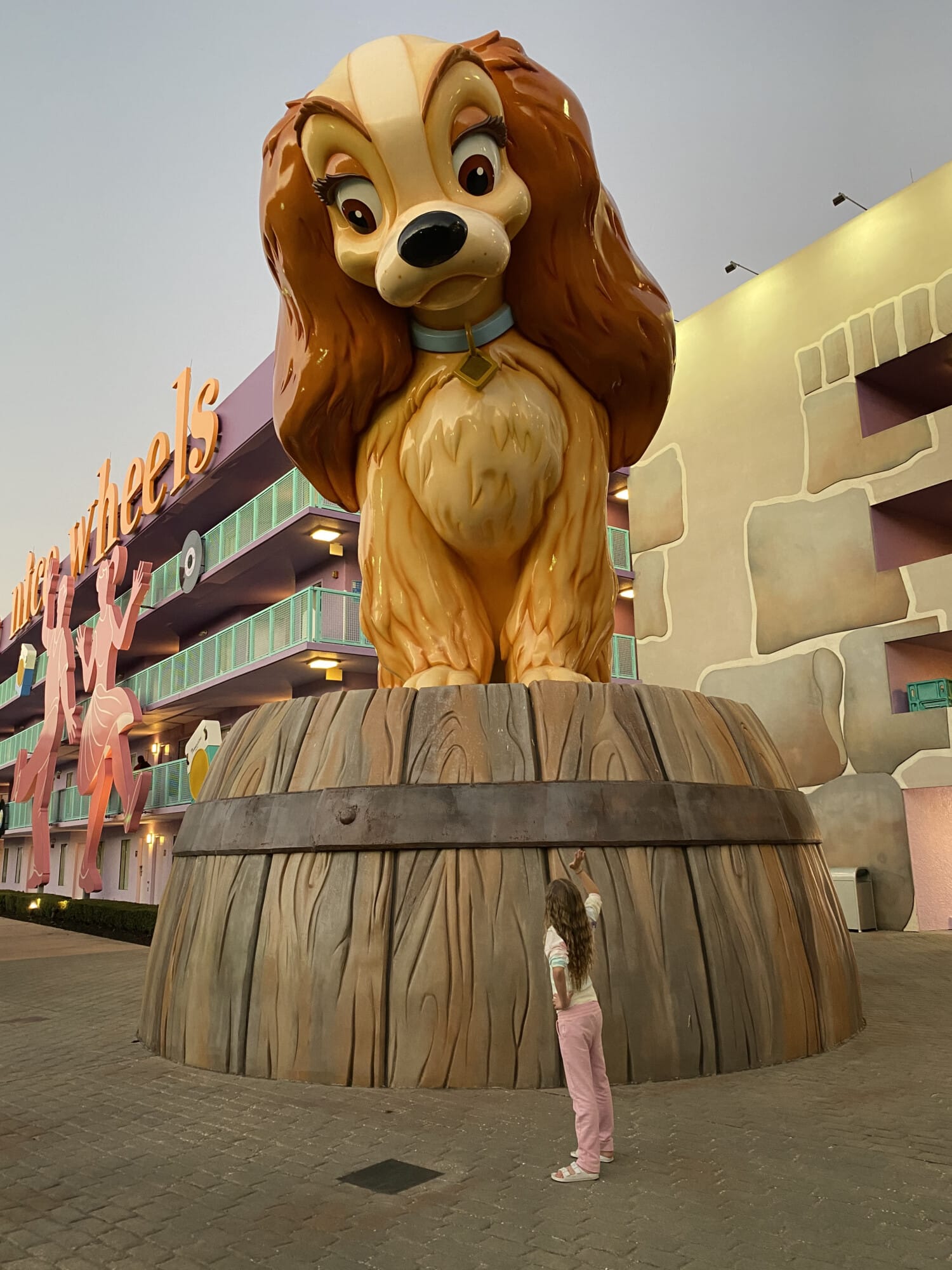 When we arrived to Disney's Pop Century Resort, we were immediately impressed! And value shmalue, in our opinion this Disney resort rivals those in the luxury category. Disney's Pop Century Resort is themed from every decade from the 1950s through the 1990s. At check-in, we were asked by a Disney castmember if we'd like the 1950's or the 1980's side. Without hesitation, I said 1980's because I love me some 80's!!!! But then I started thinking, well I know our two daughters are fully aware that Mommy loves the 1980's, so maybe I should switch it up so I did and I chose the 1950's.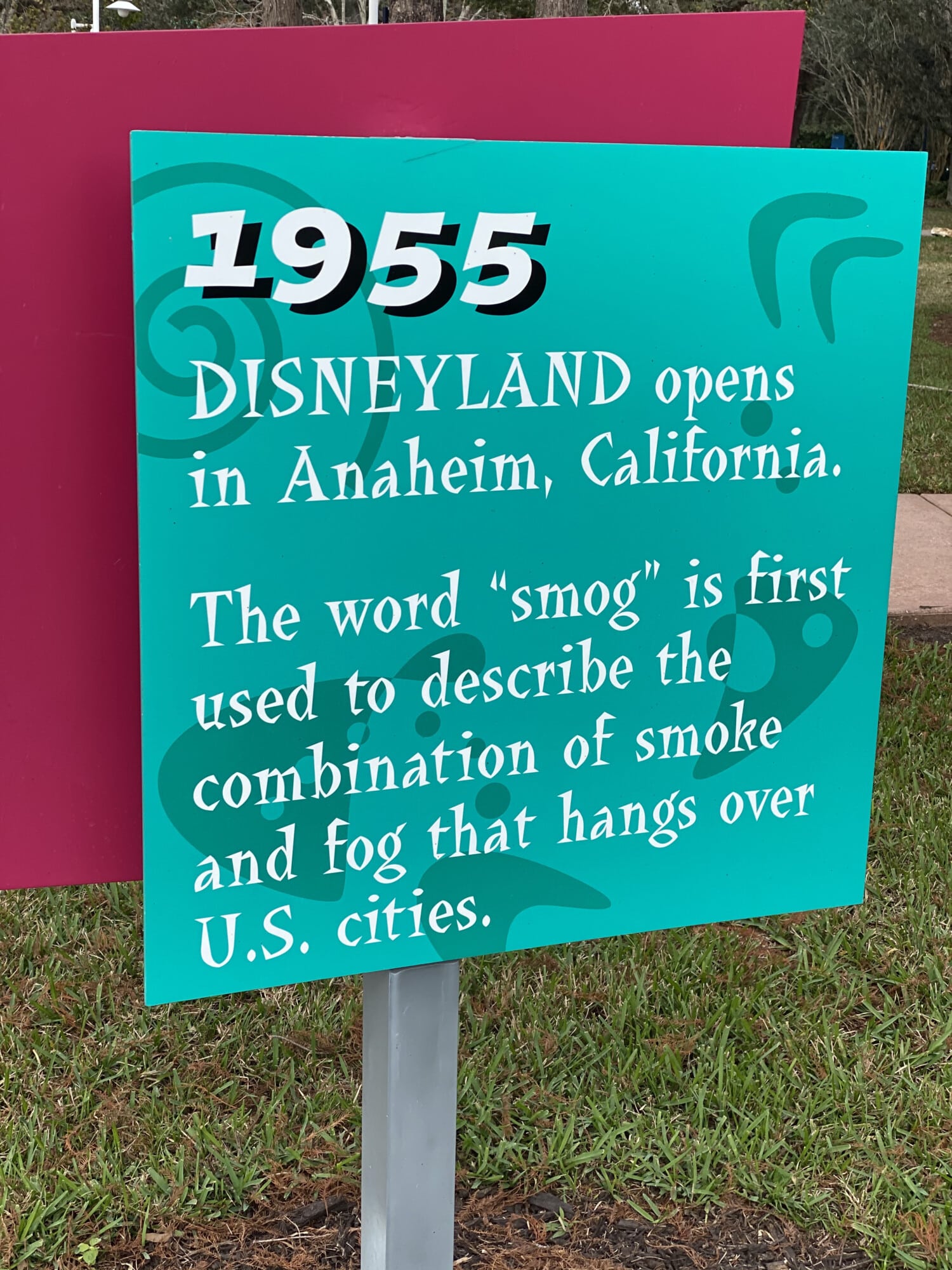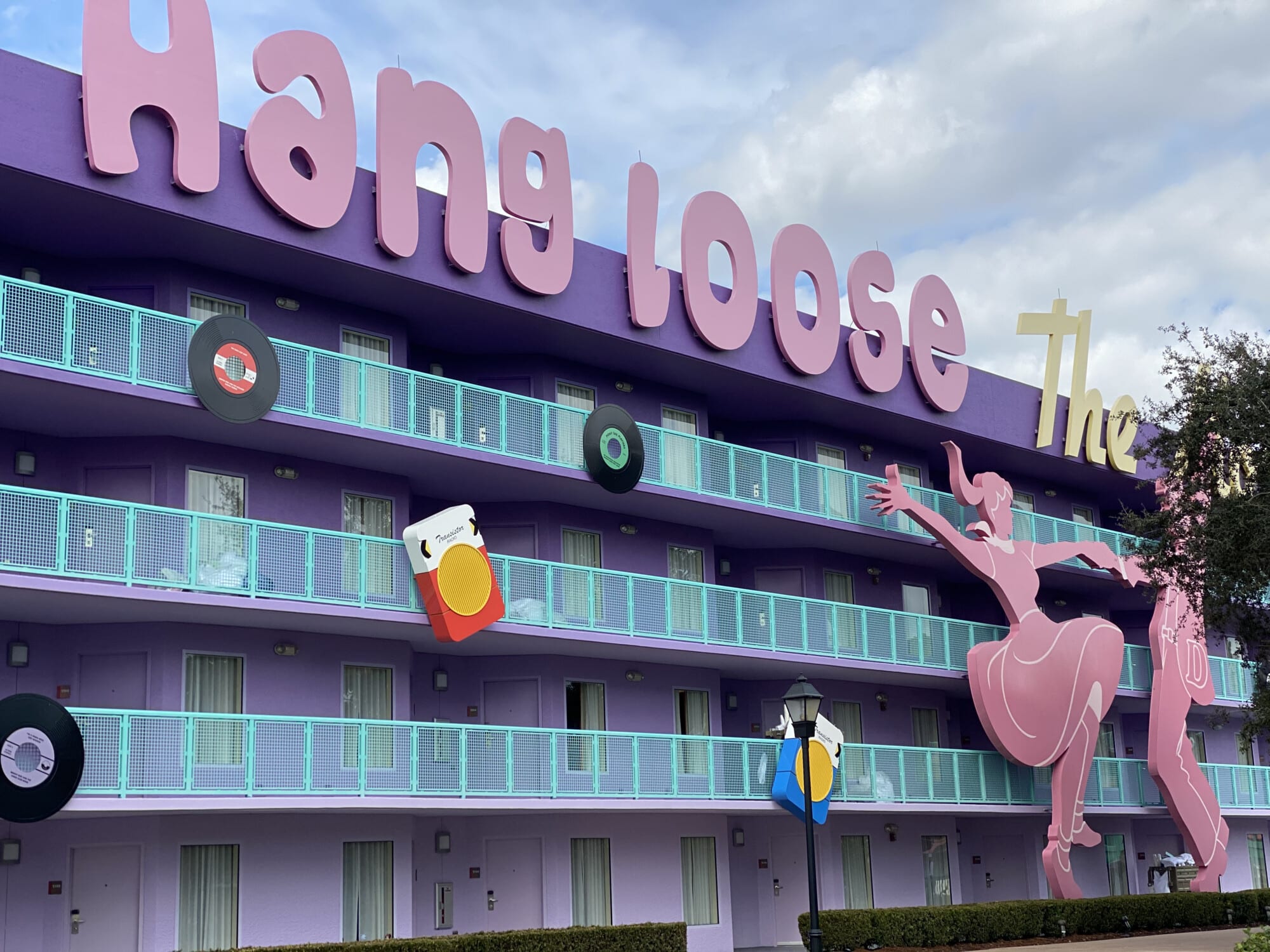 From every Disney castmember encounter from start to finish, the customer service was amazing! But duh, we kind of already know that about Disney castmembers right?! So let's talk about the property. Because we are Florida locals, we drove to Disney's Pop Century Resort and were able to park fairly close to our room which was located on the fourth floor overlooking the bowling pool. Each decade of buildings is so beautifully decorated for each decade's theme in the LARGEST and most amazing photo-op way! And speaking of pools, there are three, the 1960's Hippy Dippy Pool, which features flower-shaped water jets, and right near this pool, a kiddie pool area with a pop-jet water fountain. Next up the smaller 1950's Bowling Pool and the 1990's Computer Pool. All heated!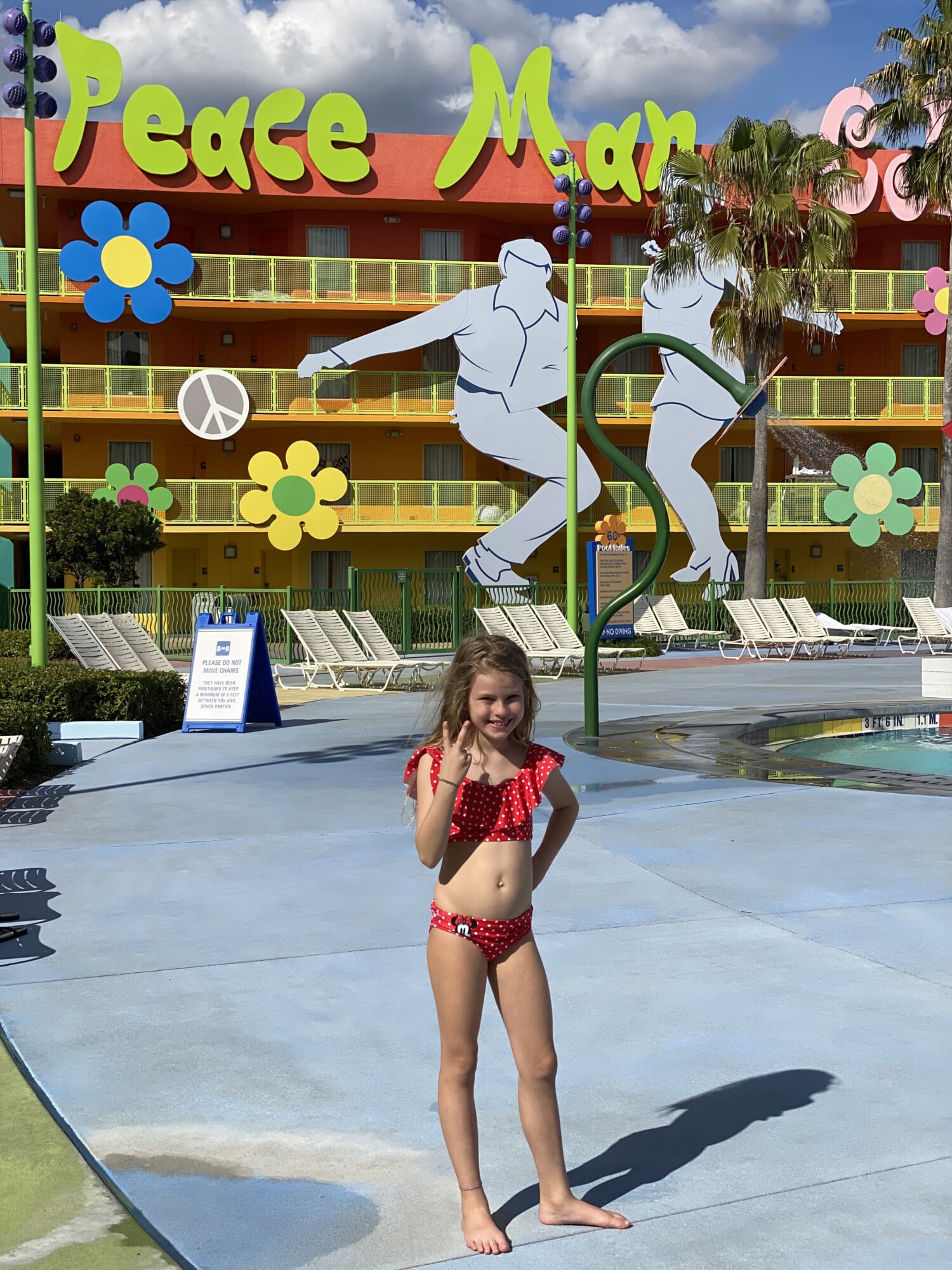 The two modes of Disney transportation available are the buses to all of the Walt Disney World theme parks and the newer Disney Skyliner which takes you to Disney's Hollywood Studios, EPCOT, and a few other Disney Resorts.
The rooms are so adorable too! Ours had one queen-sized bed and one pull-down queen size. I was so pleasantly surprised by how much space and storage was in each room. You can stow away your suitcases right under the bed. There's also a small refrigerator, a coffee pot with plenty of Joffrey's coffee, a small closet with plenty of hangers, an iron with ironing board and, a blow dryer…just to name a few. There were four of us traveling and we never felt like we were all on top of each other. Plus, if you wanna see your kids excited? Book a room with a pull-down Murphey bed…heck, even I get excited about that!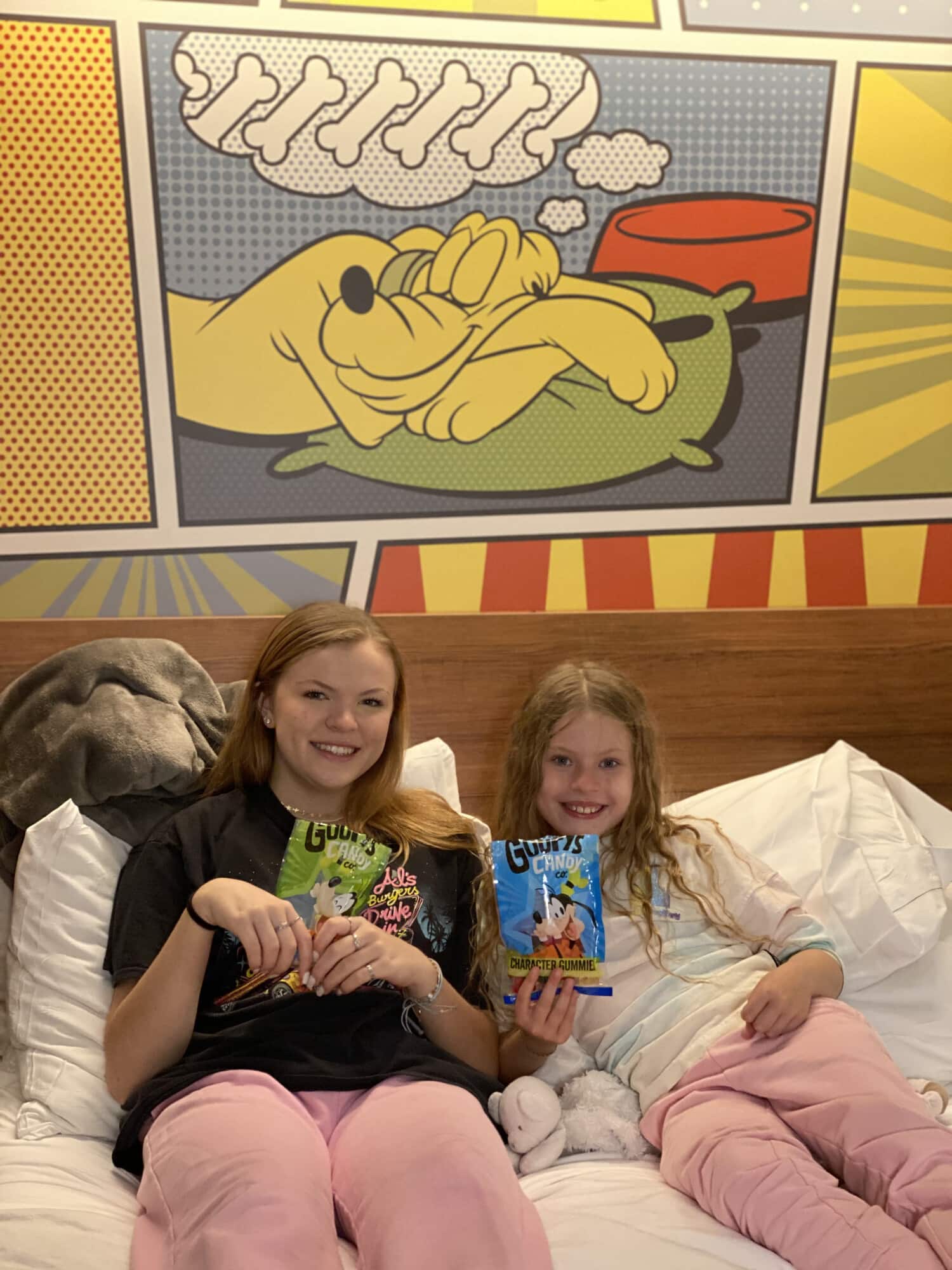 As far as Dining and Shopping, check out Everything Pop Shopping and Dining. You can shop Disney merchandise before or after you eat at this food court that of course has Mickey waffles, plus pasta, salads, pizzas, etc. Right now, only mobile ordering is available but there are usually seven different food stations!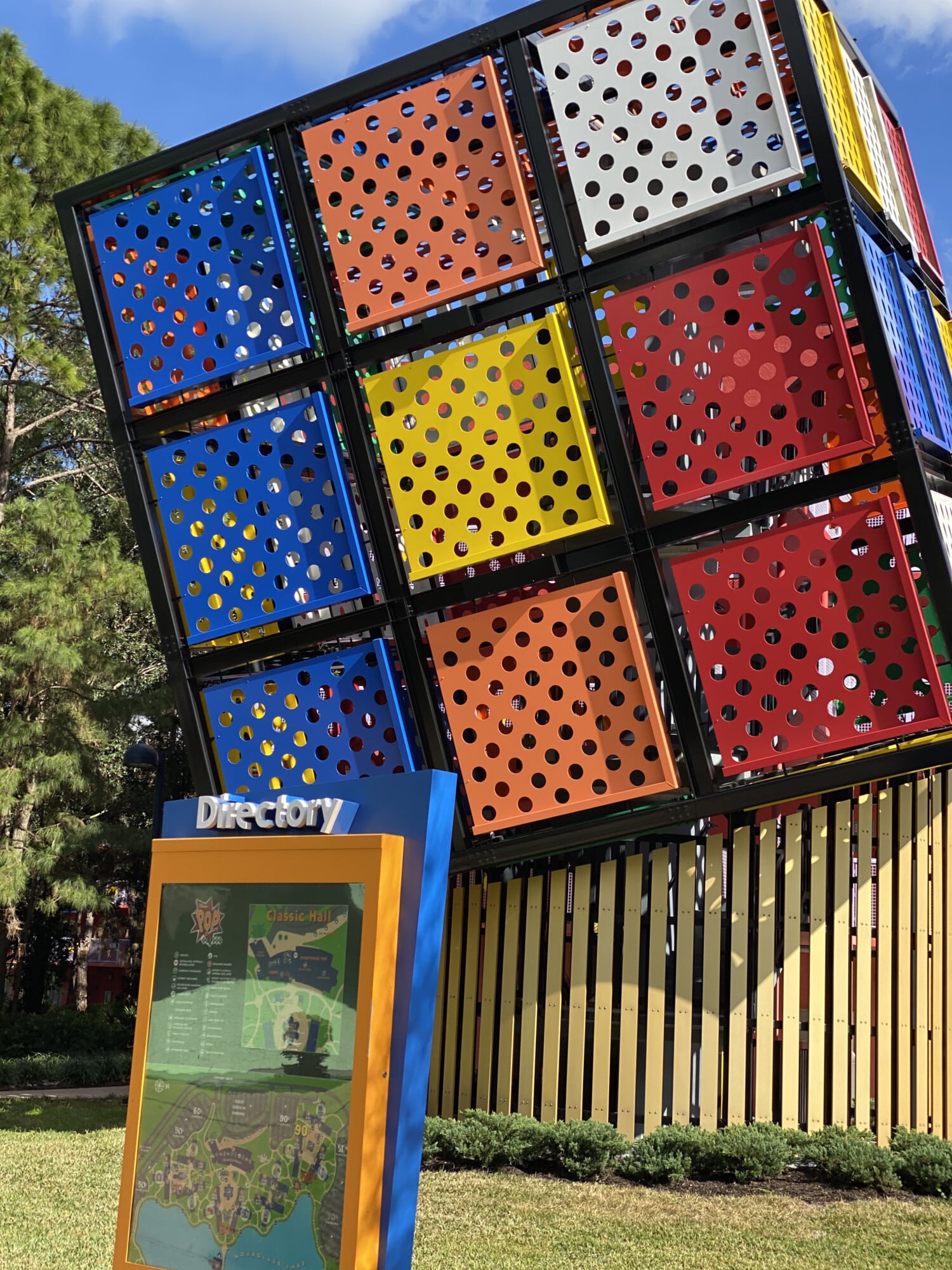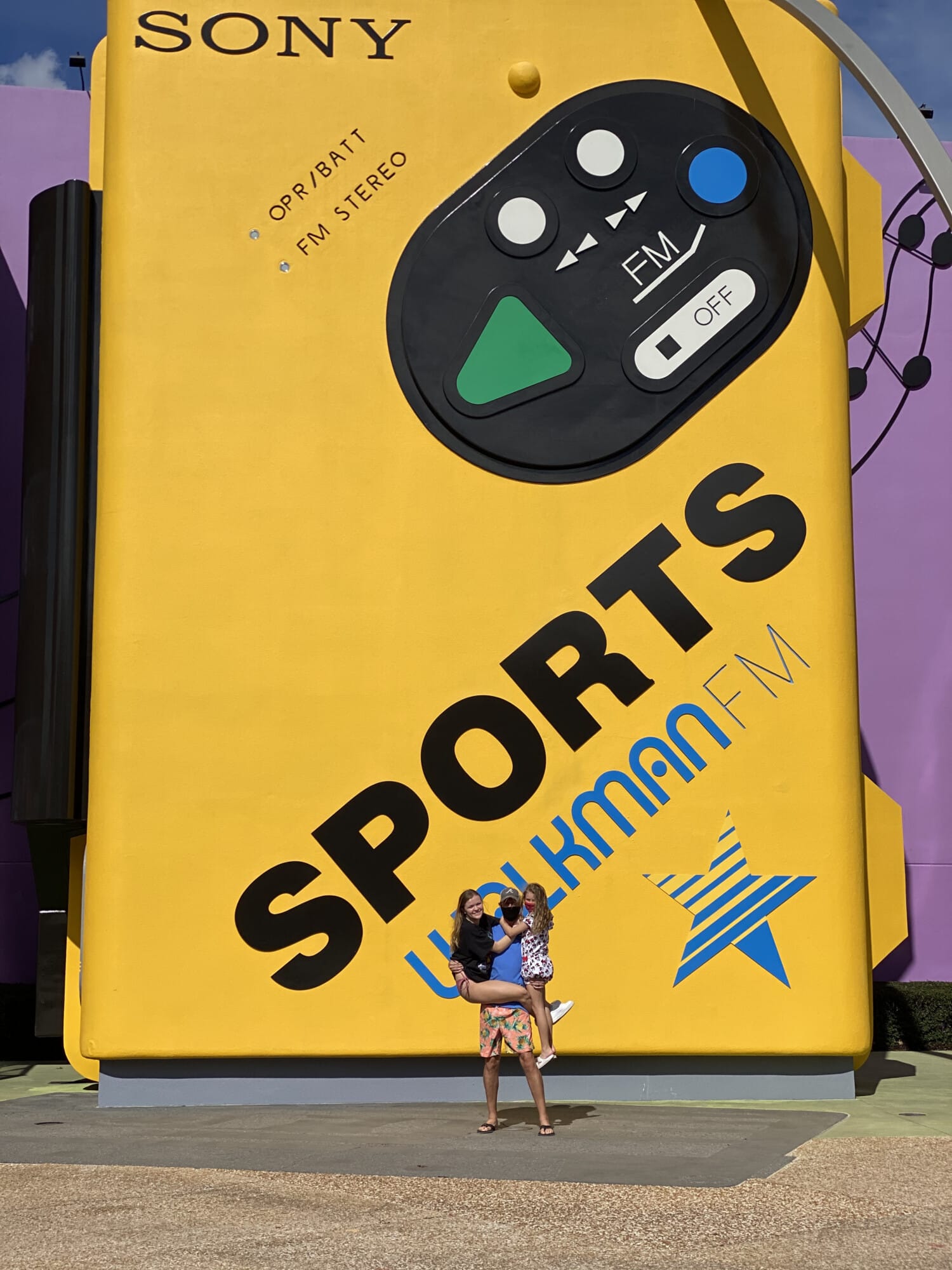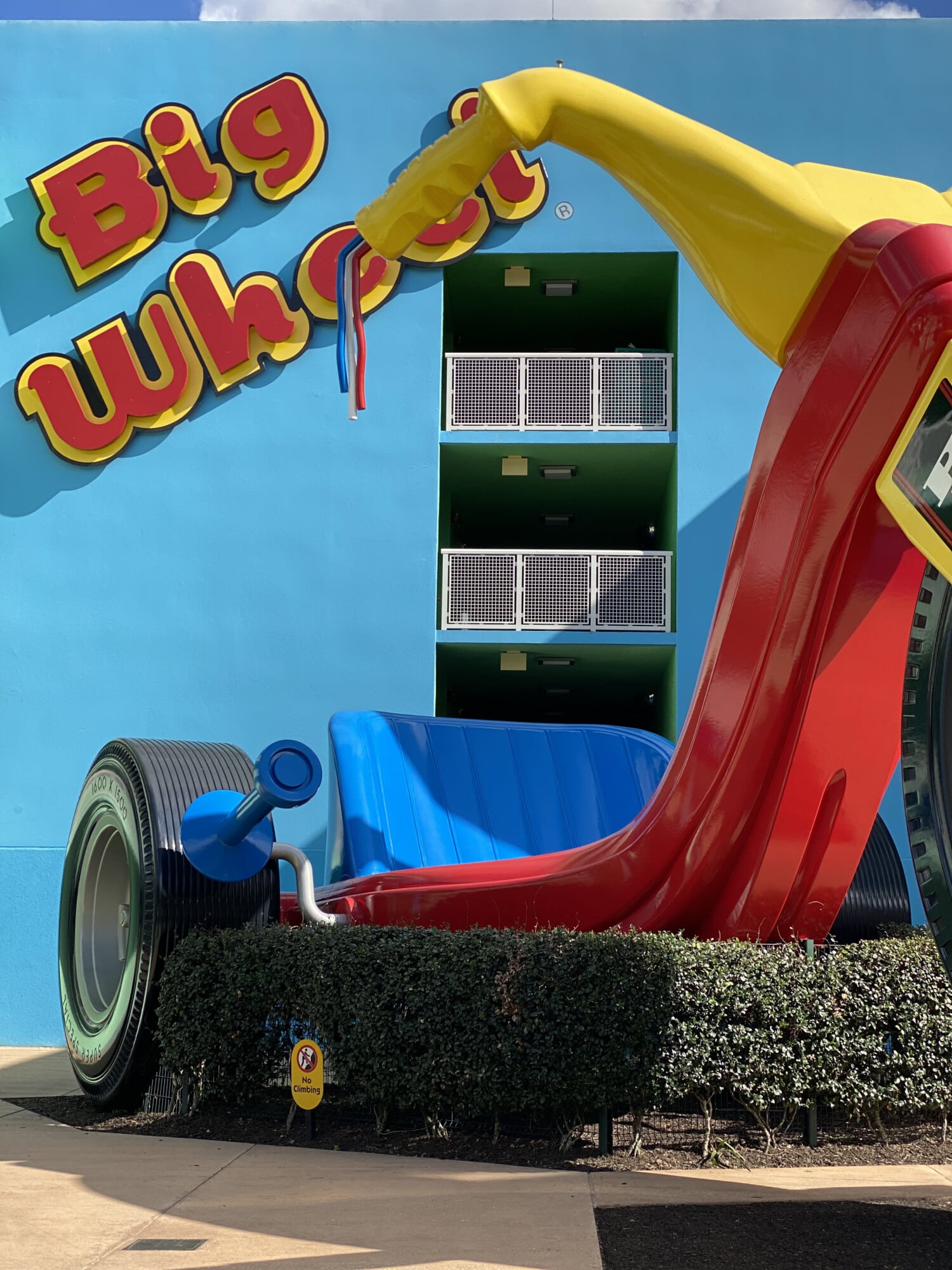 We walked the property, we swam in two of the three pools, we rode the Disney Skyliner, we hit up Magic Kingdom and EPCOT. We absolutely loved our stay at Disney's Pop Century Resort, it is officially one of our new favorites!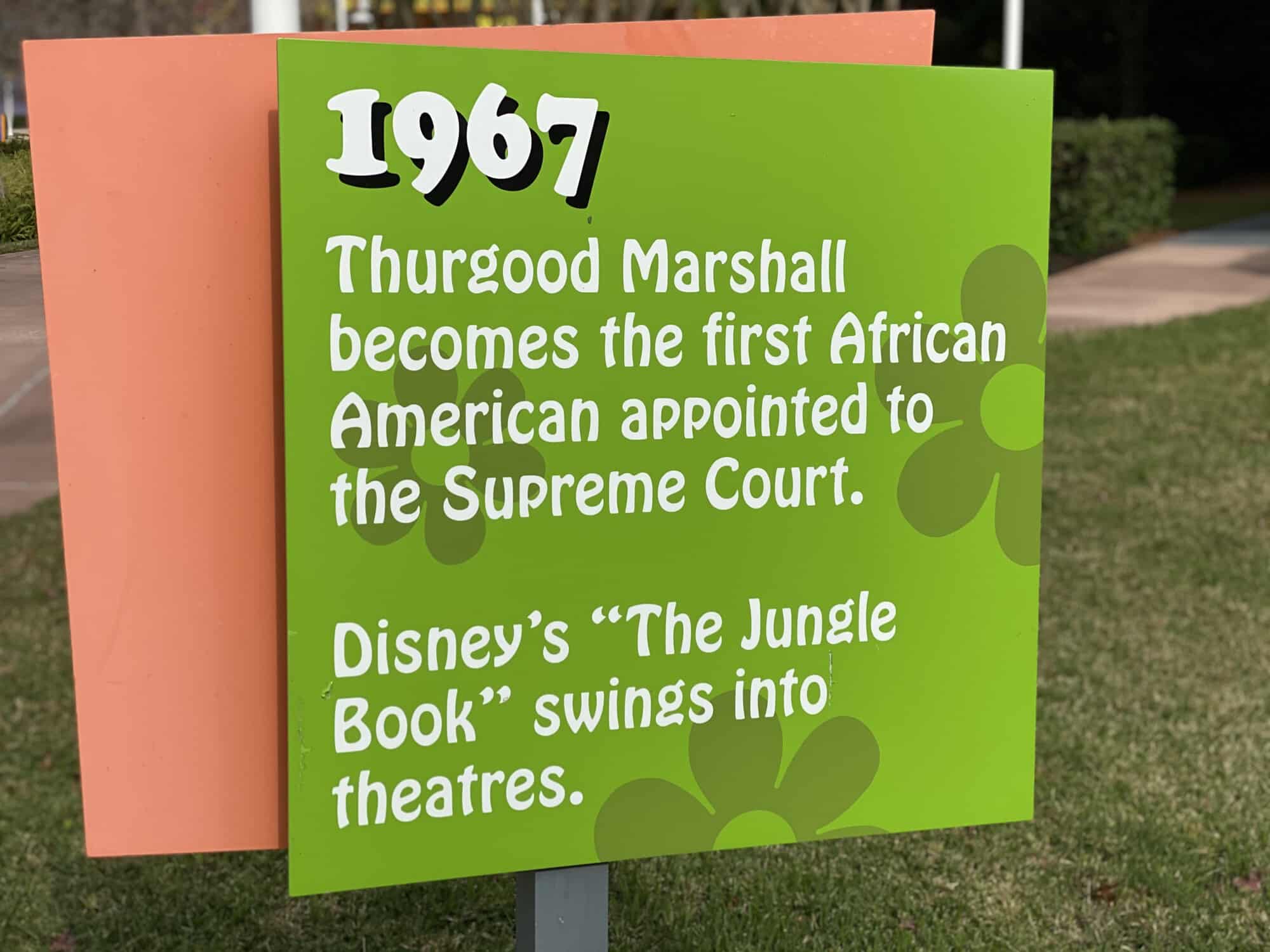 Have you stayed at Disney's Pop Century Resort yet?
xo
Cindy

Latest posts by Cindy Simmons
(see all)