Mickey True Original Merch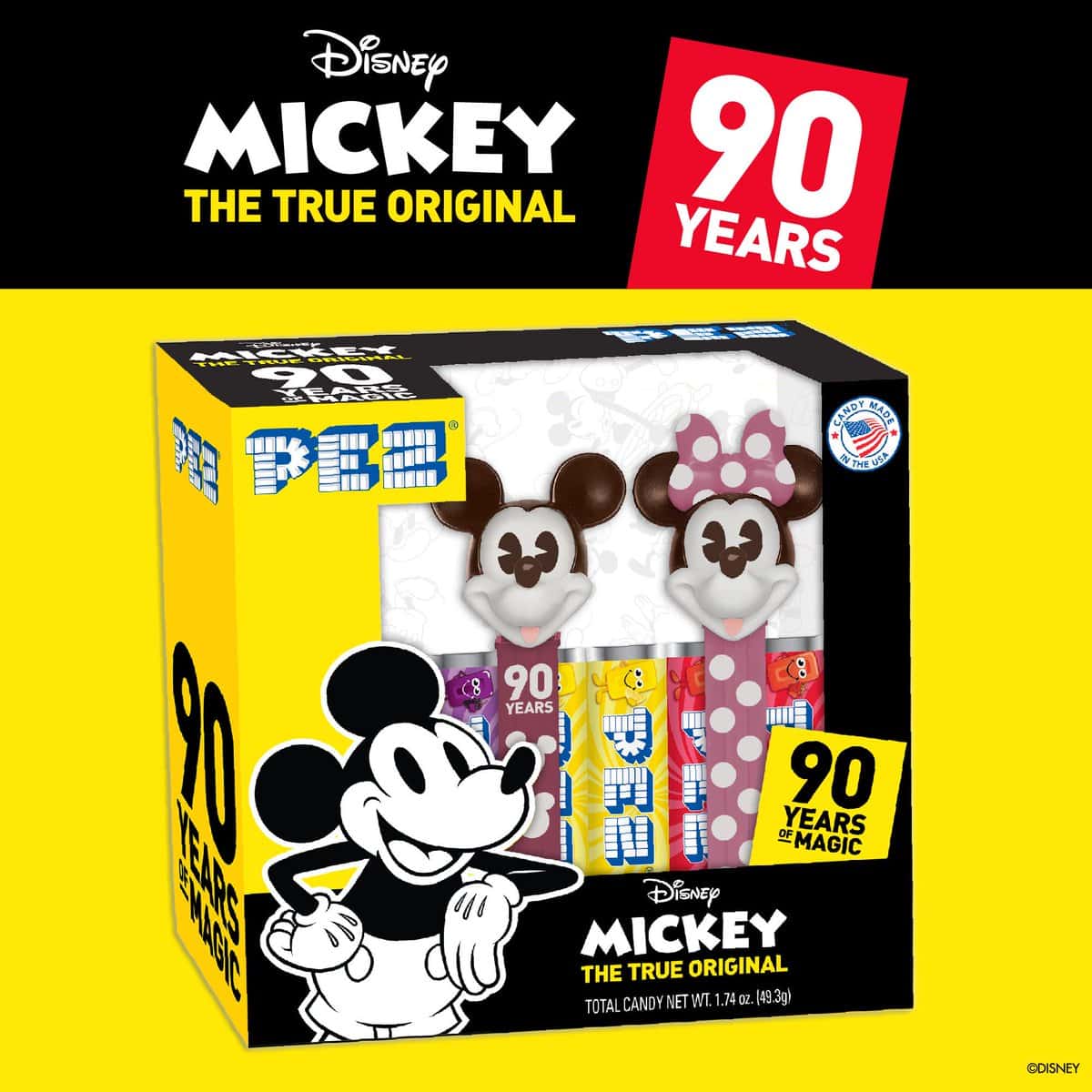 Collectors and Mickey aficionados rejoice! There is no shortage of Mouse Merch rolling out at the parks to celebrate Mickey's 90th Birthday. The buzz around new park products and the lines to purchase said items have been heavily reported on. Many times the demand is so high that the coveted items sell out in an hour and take weeks to be restocked, if they are ever brought back at all; prime example the most recent Haunted Mansion Dooney bags.
It's a real bummer for people who don't live close to the parks, and for those who can't find a shopper in time to fill an order (those 10 limit slots fill up fast), but what about the mouse merch that isn't instafamous? Is it any less collector worthy? I set out to discover what the real deal was on collectibles, especially the Mickey True Original line that has been popping up outside of Disney Parks.

I recently came across a PEZ dispenser celebrating the 90 years of magic. PEZ was invented in 1927 in Vienna, Austria, as a peppermint flavored breath mint. At first, the candy was sold in rolls as "Drops," similar to Life Savers. During the 1930s, the brick-shaped PEZ we know about today was also sold in small tins that protected the candies when kept in the pocket. Customers could purchase refills for the tins, but the multi-colored plastic dispensers we associate with PEZ would not be introduced until after World War II.
During the 1950s, the flavors of the candy were expanded beyond a range of mints to include numerous fruits. And then in the 60's came the characters. Several of our beloved Disney icons made the cut to be produced as dispensers; starting with two of the fab five Mickey Mouse and Donald Duck. Many of these dispensers had character heads as well as additional character images die-cut into their sides, for example, Huey, Dewie, and Louie appeared on the sides of Donald Duck dispensers.
The most sought out collectibles come from the early production days of PEZ. Currently, an early model Snow White PEZ dispenser is fetching for $475 online.  That brings us to the newest Disney PEZ item, surely to become a coveted collectible.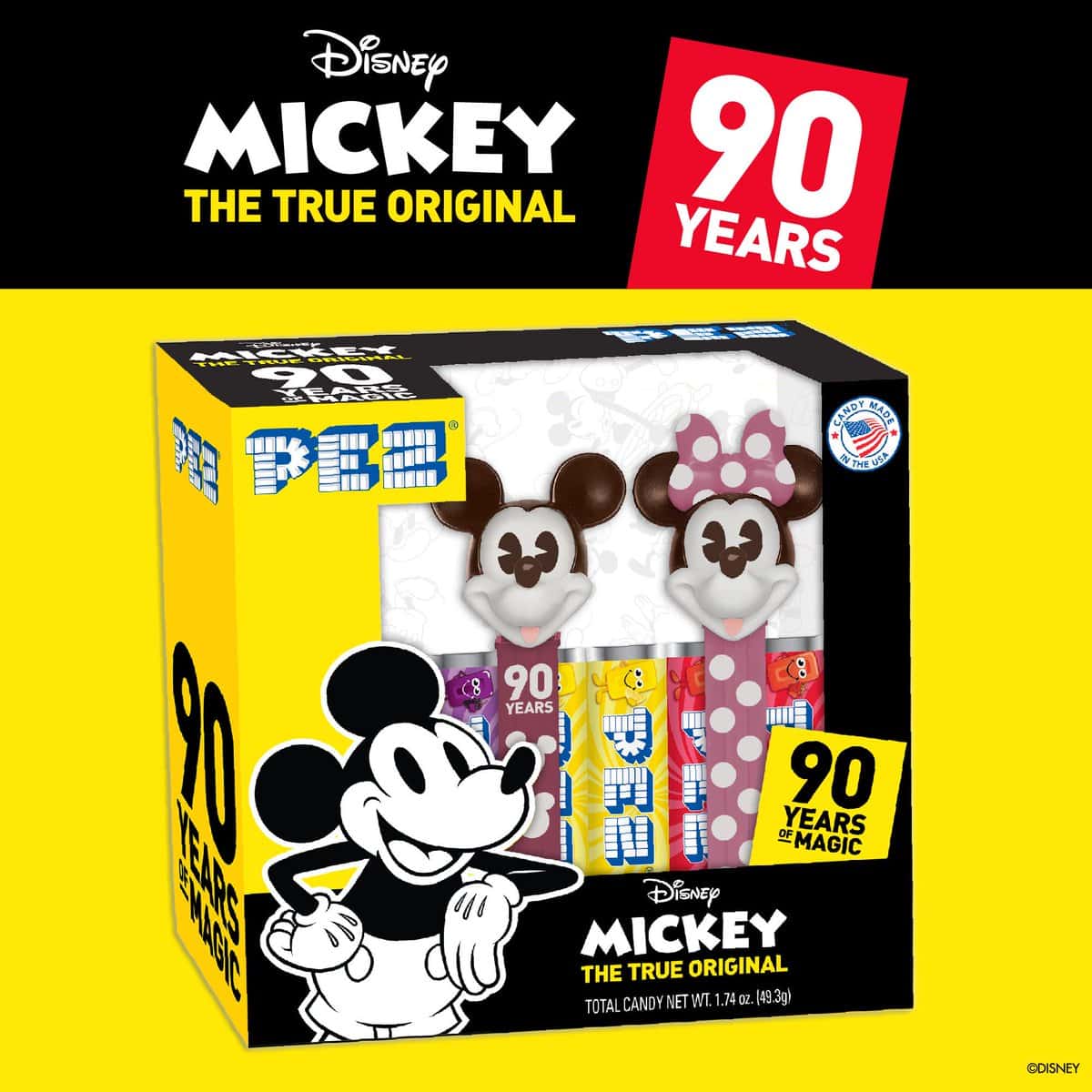 The True Original PEZ candy dispenser comes in a bright yellow and black box with not one, but TWO dispensers. A Mickey and Minnie are part of the set and the box contains an assortment of PEZ candy flavors.
Currently, an unopened box is listed for a minimum of $25.00 online, with the retail price being far below that depending on where you find the dispensers. I saw this set at a local craft store for a fraction of the price. I can only imagine as the years go by that the price to own this piece will continually grow, and Mickey collectors young and old will seek it out as not only a relic of Disney nostalgia, but also PEZ nostalgia.
Share with us Main Streeters, what kind of collectibles have you gotten outside of Disney parks that are worth a pretty penny today?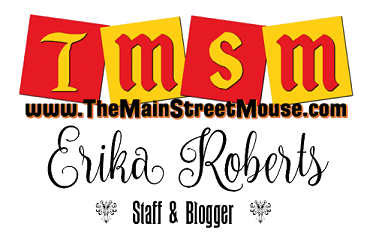 Author:
Erika
Erika Roberts has been a Disney kid for as long as she can remember, but her love of visiting Disney Parks started after just one ride in a Doom Buggy. She couldn't run to guest relations fast enough to offer up her soul in return for an Annual Pass. Since then Disney has taken all of her money, but has given her the most cherished memories; from watching her Nona's face light up with happy tears as we strolled down Main Street on her first visit (she was 84 at the time), to her very own engagement on Halloween in front of the Haunted Mansion.
Erika is excited to be on the TMSM team and where Disney Parks are concerned, you won't catch her dead on It's a Small World. If she asks to ride that, this is a clear indication that she is in danger and you must send help. You will, however, catch her performing Random Acts of Disney (R.A.D's), park hopping with her amazing group of impressively talented and kind friends (usually in some themed attire), hanging out by The Haunted Mansion, and ugly crying during fireworks… then begging for a Mickey Premium Bar to eat her feelings…this is a judgment-free bio.
Otherwise, Erika works for the State of Florida and is actively involved in her community. Erika believes in empowering others and spreading kindness to people from all walks of life. Erika also makes custom designed Disney inspired ears, etched glass, gifts, and accessories. You can check out, like or follow her work on FB, which also links to my shop's Instagram: www.facebook.com/imagineering.emporium. She looks forward to getting to know everyone and sharing the magic of Disney!