Attention foodies!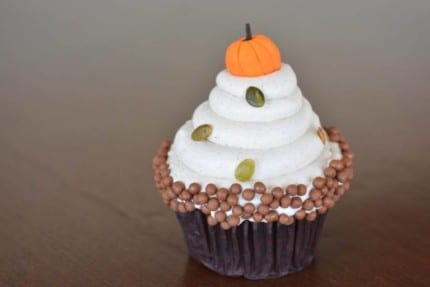 The Contempo Cafe at Disney's Contemporary Resort is one of our favorite places to eat on Disney property.  One of the things we always check out is the dessert case, and the amazing cupcakes they offer.  Disney Family's website has a cute cupcake recipe idea, straight from the Contempo Cafe, and I thought we'd share it with you! Here's how you make your own Pumpkin Cupcake~
Pumpkin Cupcake Recipe:
2 cups sugar
1 cup (2 sticks) unsalted butter
2 cups all-purpose flour
2 teaspoons baking powder
2 teaspoons ground cinnamon
1 teaspoon baking soda
1/2 teaspoon nutmeg
1 teaspoon salt
4 eggs
1/2 cup canned pumpkin puree
2 teaspoons vanilla extract
2 (8-ounce) blocks cream cheese
Pre-heat your oven to 350°F. Line two muffin pans with paper liners; set aside.
Cream the sugar and butter in an electric mixer bowl at medium-high speed for about 4 minutes.
Meanwhile, sift together the flour, baking powder, cinnamon, baking soda, nutmeg, and salt. Set aside.
Add the eggs one at time, allowing for each one to fully incorporate after each addition, scraping the sides of the bowl after each addition.
Add the pumpkin puree and vanilla extract, mixing until combined (about 1 minute).
Add flour mixture in two additions on low speed. Turn the mixer to medium speed; mix 2 minutes until completely combined.
Pour batter into lined muffin pan, filling wells 3/4 full.
Bake approximately for 20 minutes, or until cupcakes spring back when lightly pressed.
Allow cupcakes to cool completely before frosting.
Cream Cheese Filling Recipe:
1 tablespoon unsalted butter
1 tablespoon confectioners' sugar
3 tablespoons sour cream
1 teaspoon vanilla extract
Cream the butter, confectioner's sugar, and cream cheese in the bowl of an electric mixer until smooth (about 4 minutes).
Add sour cream, mixing to combine.
Add vanilla extract, mixing until completely incorporated (about 2 minutes).
Set aside for filling cupcakes.
Cinnamon Buttercream Icing Recipe:
1 cup (2 sticks) unsalted butter
2 cups cream cheese
4 cups confectioners' sugar
2 teaspoons vanilla extract
4 teaspoons ground cinnamon
Cream the butter and cream cheese with an electric mixer until fluffy; add confectioners' sugar in 4 additions. Beat on medium-high speed for about 4 minutes, scraping sides of the bowl as needed, until light and fluffy.
Add vanilla extract and cinnamon, mixing to combine (about 1 minute).
Put into a piping bag or a heavy-duty re-sealable plastic bag; cut off tip of bag and set aside.
Cupcake Assembly:
Remove the center core of each cupcake by cutting into the center of the cupcake with a small serrated knife, 1/4 inch from the edge, at a 45-degree angle. Cut about 1/3 of the way through cupcake, being careful not to cut all the way to the bottom. Gently move the knife in a circle, creating a cone-shaped piece. Gently remove the center from cupcake and reserve. Repeat with remaining cupcakes.
Put cream cheese filling into a piping bad, and cut a small hole in the corner. Squeeze filling into the hollow centers of cupcakes. Place centers on cupcakes, upside down, so the flat side is touching the filling.
Pipe cinnamon buttercream icing onto cupcakes, fully covering cones.