From the Disney Parks Blog and written by: Alex Dunlap
Today is National Pretzel Day, and I am SO ready to get my hands on some salty, twisted dough. Pretzels are among my favorite snacks and, if it's a Mickey Pretzel, I am HERE FOR IT! Mickey Pretzels are a staple snack for any guest visiting a Disney park, and can be found in every park at both Disneyland and Walt Disney World Resorts. They often come with a delicious cheese sauce but they also go well with a little yellow mustard, if I do say so myself…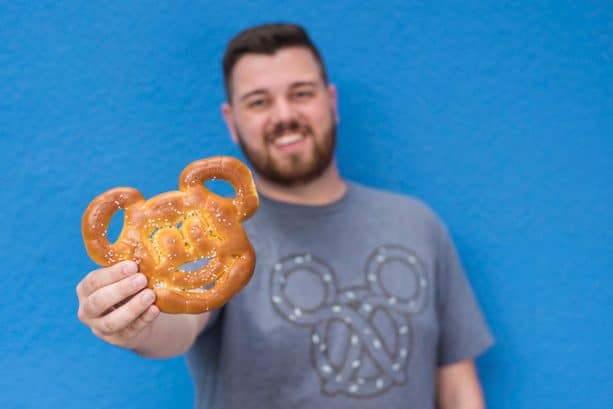 However, Mickey Pretzels aren't the only pretzels you can get at Disney Parks. At Walt Disney World Resort, you can find a few pretzels around World Showcase at Epcot, like the Chocolate Pretzel at Midnattsol Bakeri in Norway. There's also the Jumbo Pretzel in the Germany courtyard. It's offered at the Bier and Pretzel Cart, which is where you can also find my personal favorite beverage, Schöfferhofer Pink Grapefruit Beer – it goes great with the pretzel!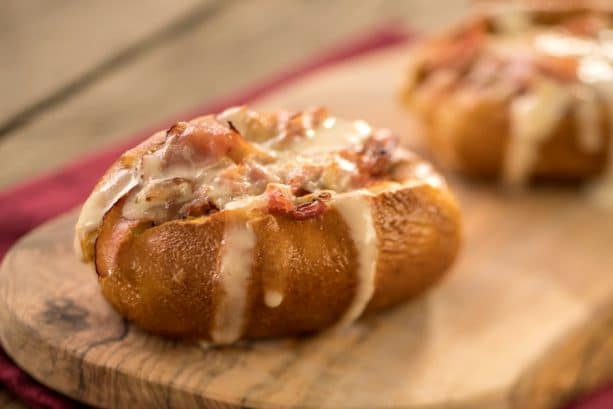 For the Epcot International Flower & Garden Festival, there's even Toasted Pretzel Bread topped with Black Forest ham and melted Gruyère cheese, currently available at the Bauermarkt: Farmer's Market Outdoor Kitchen in Germany.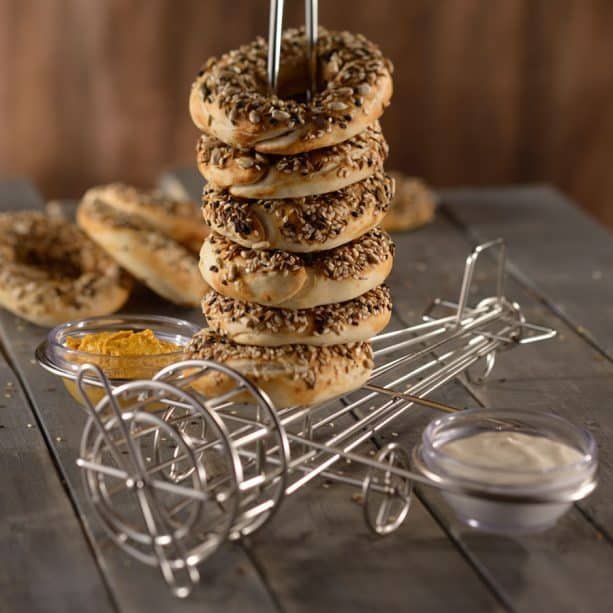 Traveling to Pandora – The World of Avatar at Disney's Animal Kingdom? Then stop by Pongu Pongu to taste a Colossal Pretzel served with beer cheese fondue or cheese sauce. Or head on over to Jock Lindsey's Hangar Bar at Disney Springs to try the Air Pirate's Pretzels. This flight of "everything" pretzels comes with spicy German mustard and beer-cheese fondue.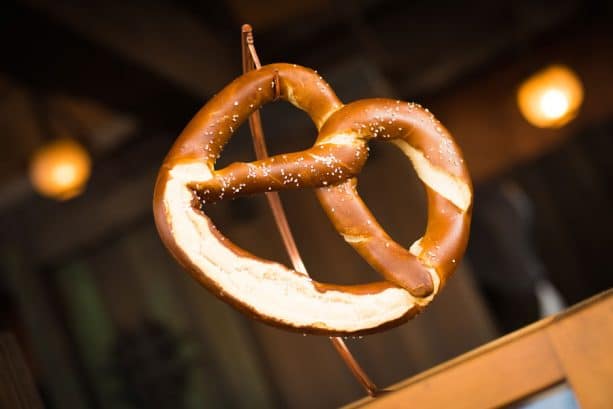 If you're in Magic Kingdom Park, blast off to The Lunching Pad in Tomorrowland to find a savory Pepper Jack Warm Stuffed Pretzel. And in Fantasyland, Prince Eric's Village Market is serving up a Pretzel Royale. You can even get some Beer Cheese Sauce to go with it!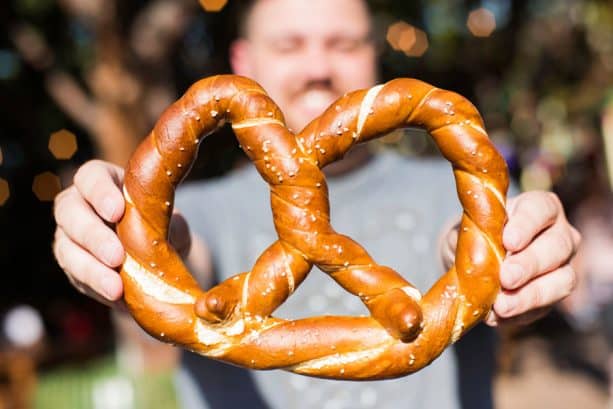 At Disneyland, drive on over to the Cozy Cone Motel at Disney California Adventure park to try some yummy Pretzel Bites with cheesy sauce, or take a stroll to Bayside Brews on Paradise Pier to get your hands on a Jalapeño Cheese-filled Pretzel or a Cream Cheese-filled Pretzel. Sonoma Terrace even offers a Bavarian Pretzel for you to enjoy while lounging and sipping on refreshing beverage.
In Disneyland park, cinnamon-lovers will be excited to try the Cinnamon Pretzel, available at the pretzel carts in front of "it's a small world" and in Frontierland. Troubadour Tavern in Fantasyland also offers Pretzel Bites with cheese sauce, and you can find the Jalapeño Cheese-filled and Cream Cheese-filled Pretzels at Refreshment Corner on Main Street, U.S.A.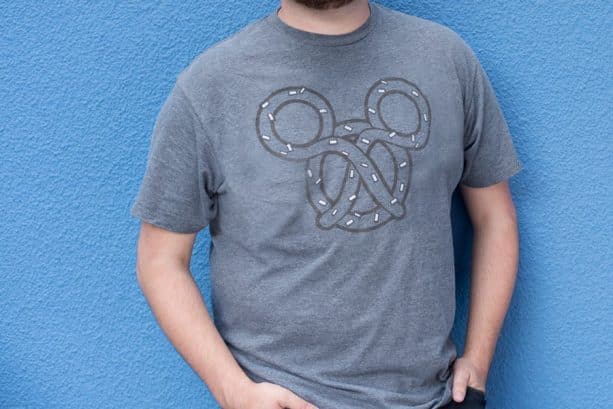 "But wait, Alex, I'm a Mickey Pretzel SUPER FAN just like you, and I just need more ways to express my love of pretzels!" – every guest ever.
WELL, do I have great news for you – you can sport a fabulous Mickey Mouse Pretzel T-shirt, like the one I'm wearing here! The kiddos can even join in on the fun with a Disney Parks "Here for the Snacks" T-Shirt. These can both be found on Shop Disney Parks.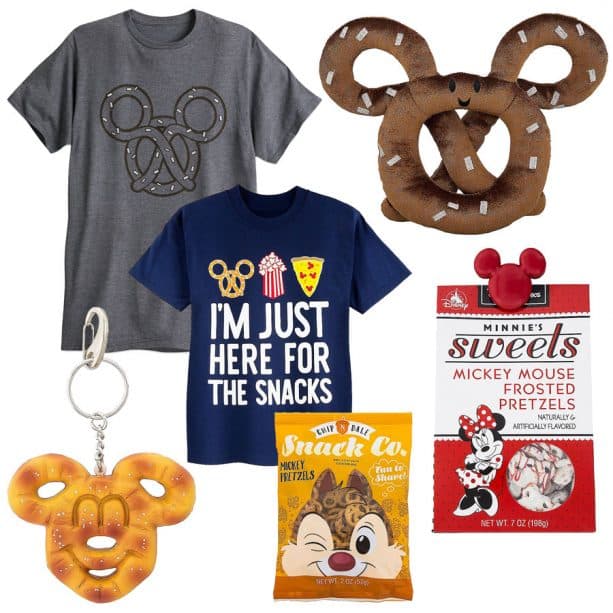 And that's not all – there are also some items that are available in-store only, like the Mickey Pretzel Keychain and the 10-inch Mickey Pretzel Plush! HOW COOL ARE THOSE? Of course, if you're getting hungry while you're shopping, you can also find various kinds of pre-packaged pretzel snacks such Minnie's Sweets Mickey Mouse Frosted Pretzels, Chip 'N Dale Snack Co. Mickey Pretzels, and more! All of these items, including the t-shirts, can all be found at various merchandise locations throughout our parks and resorts.
So put on that Mickey Pretzel T-shirt, get a Mickey Pretzel, and celebrate National Pretzel Day with us! And be sure to share any cute pretzel pics you get with the hashtag, #DisneyEats. Happy snacking!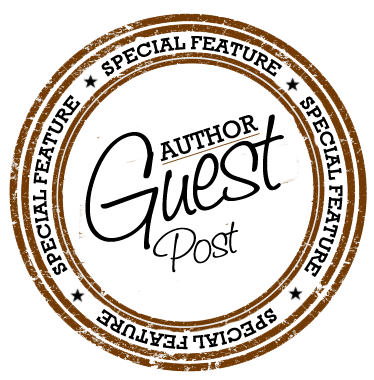 Latest posts by Guest Blog
(see all)