Tuesdays With Corey – The Italy Pavilion
So here we are again casually making our way around the World Showcase. If you've been keeping up for the past couple of weeks then you've been with us as we stopped and ate churros while watching a mariachi band in Mexico. We then made our way over to Norway and learned a little about Viking folklore. Our next stop was China where we admired and discussed the architecture. Next we hopped over to Germany where everyday is Oktoberfest, now we are making our fifth stop in Italy. At first glance the pavilion doesn't seem to be that striking. It's also a little on the small side compared to some of the other pavilions but as usual, if you take your time and look around, you're bound to find a hidden jewel that may cause you to fall in love with this small, quaint pavilion.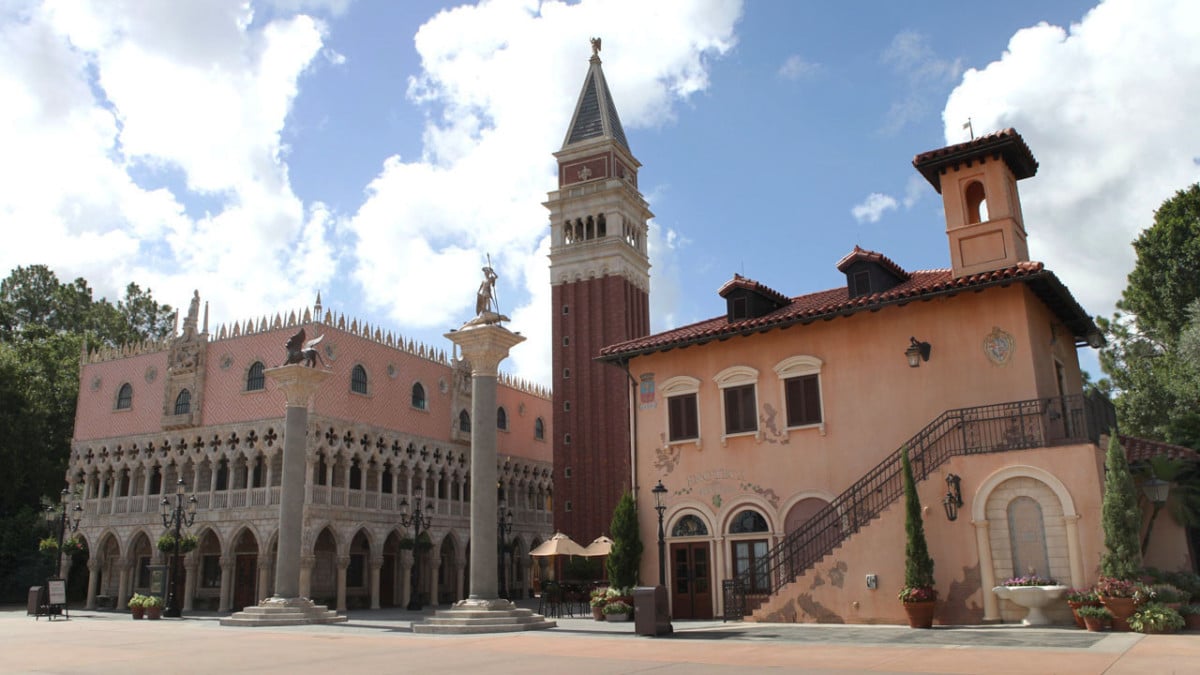 As we make our way from Germany and into the Italian pavilion look over to the right along the water. You'll find the Isola del Lago (Isle of the Lake) built into the lagoon along with two bridges that are occasionally used for private events. But just a heads up, if the bridges are not being used, it's a great place for viewing Illuminations. If you walk around this area, you're bound to see some gondolas in the water. The pavilion is fashioned after the city of Venice and the gondolas, in my opinion, give you the impression that you're really there. Although not all of Italy looks like Venice, the Imagineers thought that the distinctive style of Venice was the most recognizable.
Now as you turn and walk into the pavilion, something that may catch your eye are two large columns. On the right column, you'll see a statue of Saint Theodore of Amasea who can be seen slaying a dragon.  Not much is known about this Saint other than he was martyred in the 4th century.  Most stories about him are folklore.  In one such story a dragon terrorized the surrounding area of Amasea.  St. Theodore was able to defeat the dragon using only a cross.  Looking to the right of the St. Theodore column and you'll see another column with a statue of a lion that is noted to be the guardian of Venice.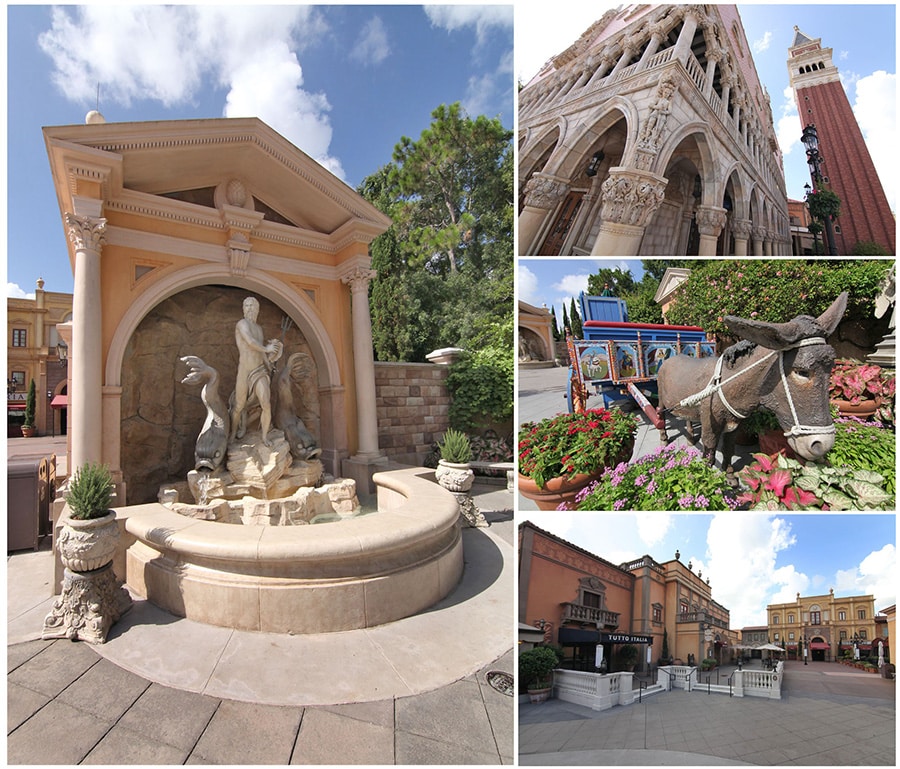 Another spectacular structure that catches the eye is the Doge's Palace. This replica is based on a landmark that is a classic in the city of Venice; it was built between the 9th and 16th centuries. Originally it was residence to the Doge of Venice.  For over 1000 years, the Doge was the leader and chief magistrate over the Republic of Venice.
Another eye catcher walking into the pavilion is the Campanile clock-bell tower that is built one-fifth of the original size.  Not only is it probably the most recognizable landmark in the Italian pavilion, it's one of the most recognizable in Venice. The original bell tower is located in the Piazza Sam Marco or St. Marks Square in Venice and stands at 323 feet tall.  The replica, which stands within the Italy pavilion, also includes a statue of the Archangel Gabriel.
One of the most popular types of cuisine is Italian food and the pavilion has a few options to satisfy that palate.  One of them is Tutto Italia Ristorante.  This restaurant replaced L'Originale Alfredo di Roma Ristorante in 2007.   Tutto Italia is the place to check out if you have a hankering for classic spaghetti, steak, or a cannoli. If a little Italian sweetness is your thing, then head over to the quick service Gelati stand and dive into gelato layered between two chocolate chip cookies.  Another very popular table service restaurant is Via Napoli Ristorante e Pizzeria. The most popular item here is definitely the pizza that is cooked in one of three wood-burning ovens, these ovens are named after volcanoes in Italy. But pizza isn't the only thing served here, you can experience different types of Italian wines, beers, and coffee. Also within this pavilion you will find the Tutto Gusto Wine Cellar where you can relax and enjoy over 200 Italian wines and beers.
There are two different acts that perform within the pavilion. One is Sbandieratori Di Sansepolcro, which is a group of renaissance costume wearing flag throwers. The other is Sergio the juggler, who will juggle various objects and also perform as a mime.
If shopping is more of your forte, then the Italian pavilion doesn't lack. One of the shops is Il Bel Cristallo. Here you can purchase items such as Murano glass, crystal, leather handbags, and Italian clothing. There is also La Bottega Italiana where you can get the latest cookware and Italian foods. And last but not least is La Gemma Elegante. This in my opinion is one of the best places in the pavilion. Here you can buy Venetian masks created by Giorgio Iurcotta who moved from Venice to Florida to carry on the family business.
So there you have it, the Italian pavilion in a nutshell. I hope you have enjoyed this stop along the World Showcase tour.
Author:
ctucker773
Corey Tucker has been a writer, moderator, and an admin, amongst various other roles with the TMSM for over 8 years. When he's not playing with radiation at his day job at a nuclear plant, he can be found hanging out with friends and family and possibly planning another trip to Walt Disney World. If you frequent the site very often (or at least on Tuesdays) then you've probably heard of the world famous blog posting "Tuesdays with Corey", that's him. Every Tuesday he has a blog about foods, history of the parks or whatever he feels is pertinent at the moment. So if you don't currently read his blogs, please start. It's been known to change lives…really it has.