Disney Knows No Age ~ My Thoughts, plus Main Streeter Input!
Too old for Disney? Never!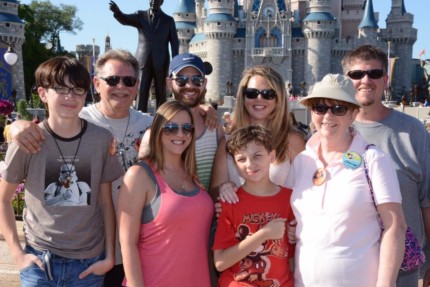 I don't know about you, but as I get older, I put things into perspective a little differently. My mom says that the older you get, the faster time goes by, and I'd have to say that's true. Even though I know how old I am, sometimes I have to actually remind myself of that number, because most days I sure don't feel my age. I think Disney plays a part in that. When you're a Disney fan, or a Disney park goer, I feel that age is sort of checked at the door, so to speak. We all can be kids again, and that's a great thing. This week, I asked a question in our private FB group TMSM Fan Nation, a question regarding age and Disney. Something along the lines of whether or not you feel your age, especially where Disney is concerned…. We got a lot of great responses, and I wanted to share a few of them with you! Here we go~
Holly B. ~ I don't feel my age especially at Disney. My teen girls aren't embarrassed by me yet so I think I'm winning!
Theresa V. ~ The first time we went to Disney I was 31. My girls were embarrassed because I got pics with characters and actually cried. I told them that everyone one is a child once you walk through the turnstiles.
Joe D. ~ I know I never feel my age – I'm going to be 43 and I feel like I'm in my early 20s – being at Disney gives that feeling of wonder and excitement like when you are a kid running downstairs to open up your Christmas presents that Santa left you.
Leon G. ~ My first time at WDW I was 20. Only the Magic Kingdom. Moved faster from ride to ride. Now I'm 64 and love Disney as much as ever. I'm a little slower and there's so much to see now it takes us about a week to see all we want to see. Some things twice. I'll never stop going as long as I can get around. Long live the kid in us.
Beth C. ~ I agree. There is no age. It is truly magical. It's the only place my mom and I never argued so it has to be magical for all ages!
Carrie R. ~ No, I do not feel my age (49) at Disney! I can keep up with our 20 year old girls. I get giggly when i see the characters too!
Jackie K. ~ People ask me all the time (or rather, tease me) about why we go to Disney so much. It's hard to explain but you just feel a different type of fun and excitement there. You're in your own little (or not-so-little) world; no "adult responsibilities" like work, bills, etc.; and you really do feel like a kid again (especially now that we take our son). I know not everyone feels the same "magic" we all know and love, and some people won't ever feel that way, no matter how much you try to explain it. But I think Disney brings out the kid in us all. I know it does for me! And I consider us to be extremely lucky to be able to go as often as we do and share the fun with our son.
Robert C. ~ I don't feel an age. I love going and meeting the characters and riding the rides and such BUT my body reminds me how old I am when I'm sore and cramping for days.
Morgan W. ~ Age is just a number it is all about what is in your heart. My husband and I are in our early 30s and have been together since our mid-twenties. We have made a point to visit one of the parks every year since we started dating. Regularly we are asked "aren't you too old?" And "why would you want to go there, you don't have any kids?" Truth is we are big kids at heart and going to the parks takes us back to our childhoods. I just gave birth to our twins and we cannot wait to take them on their first trip to the parks.
Melissa C. ~ Do you mean like when I wanted my 77 yo Mom to take me to WDW for my 45th birthday at Christmas. We went to the MCMCP, I insisted on meeting the Seven Dwarves and she insisted on meeting Anna and Elsa. Although we had just seen them in June!
Cuppy J. ~ While age is a number, fun, excitement, and enjoyment are not. They are available regardless of age, and Disney provides that. They put you in an amazing mood. At 52 just hugging a character is euphoric! And excites me to know, that the person inside is told to hug anyone, and they do. I've never met a character that would not hug me. It makes me feel young, and invigorated.
Christine C. ~ Being over 60 hasn't changed my level of excitement or fun. In fact, memories, nostalgia and new experiences all blend together to make each trip unique.
Cathy B. ~ My first time at WDW was 6 years ago. I was 60 years old. We go now every 2 years. I walk down Main Street and I feel like a 8 year old kid. I almost cry when I see the castle. I hope I never grow up.
Susie B. ~ For me, and I'm only 23 so what do I know, it is more about a mind set and nostalgia than a number like age. The days of less responsibility, less stress, comfort, and safety to be whoever you want to be. That ability to freely express yourself like children do should be a mindset we always carry, but I think I get a fresh dose of it from anything Disney.
Chris F. ~ My wife and I are in our mid forties, and one of my closest friends is in his late sixties. We all become big kids as soon as we enter the property. There is just something about Disney that brings the kids out in all of us. We also love hugging the characters, that brings a huge smile to all of our faces.
Amanda L. ~ I have been thinking about this question all afternoon. When I am at a Disney park I have no age! I can just be myself with no age requirements or expectations or limitations attached.
Jenniffer W. ~ I'm 40, but have yet to feel 40. Still feel like I'm 20. Except of course when I'm at Disney and then I feel like I'm 5!
So as you see, there are many out there who agree with me on this whole age thing. There were too many responses to put them all here, but feel free to join our FB group TMSM Fan Nation at https://www.facebook.com/groups/TmsmFanNation/ to read more and talk to other like minded Disney friends! What about you? Do you feel your age, and how does Disney play a part in that? Tell us about it in the comments! ~M
Michele Atwood is the Owner/Editor of The Main Street Mouse and it's subsidiaries and author of the book "Moving to Main Street U.S.A." Michele also contributes Disney news to the Joe Kelley Morning Show on 96.5 WDBO in Orlando. She and her family made the move from Michigan to the Orlando area to pursue their Disney dreams. Michele is a life long Disney fan, and has two sons who have followed suit, each going on their first Disney trip before their first birthday's. Part of the goal Michele has for The Main Street Mouse is not only to keep members informed, but to create somewhat of a Disney Family by relating to others through personal experiences and opinions. Also, Michele is making it a priority to share stories of inspiration and hope to other Disney Fans in an effort to share the Magic and hopefully make a difference in the lives of others.