From the Disney Parks Blog and written by: Pam Brandon
Disneyland park, Disney California Adventure park and the Hotels of the Disneyland Resort are all in on the frightfully delightful family fun during Halloween Time at Disneyland Resort, September 15 through October 31.
There are plenty of ways to celebrate this happily haunted season, so we're giving you this compendium of Halloween-inspired treats and eats to help you navigate both parks and the hotels. There's everything from Mummy Macarons to candied apples and Creole-spiced shrimp with cheese grits. Chart your course!

Disneyland Park
Main Street, U.S.A.
Main Street cappuccino cart: Assorted Halloween-inspired donuts
Carnation Café: Spicy Chicken Sandwich – Sriracha-glazed fried chicken topped with Pepper Jack cheese and slaw on a brioche bun
Jolly Holiday Bakery Café

Mickey-Shaped Mummy Macaron – A white chocolate macaron with white chocolate drizzle and chocolate-salted caramel filling
S'mores Bar
Fantasyland
Red Rose Tavern: Enchanted Maize Flatbread with mozzarella, roasted corn, pickled red onions, Parmesan, spicy lime aïoli and chopped cilantro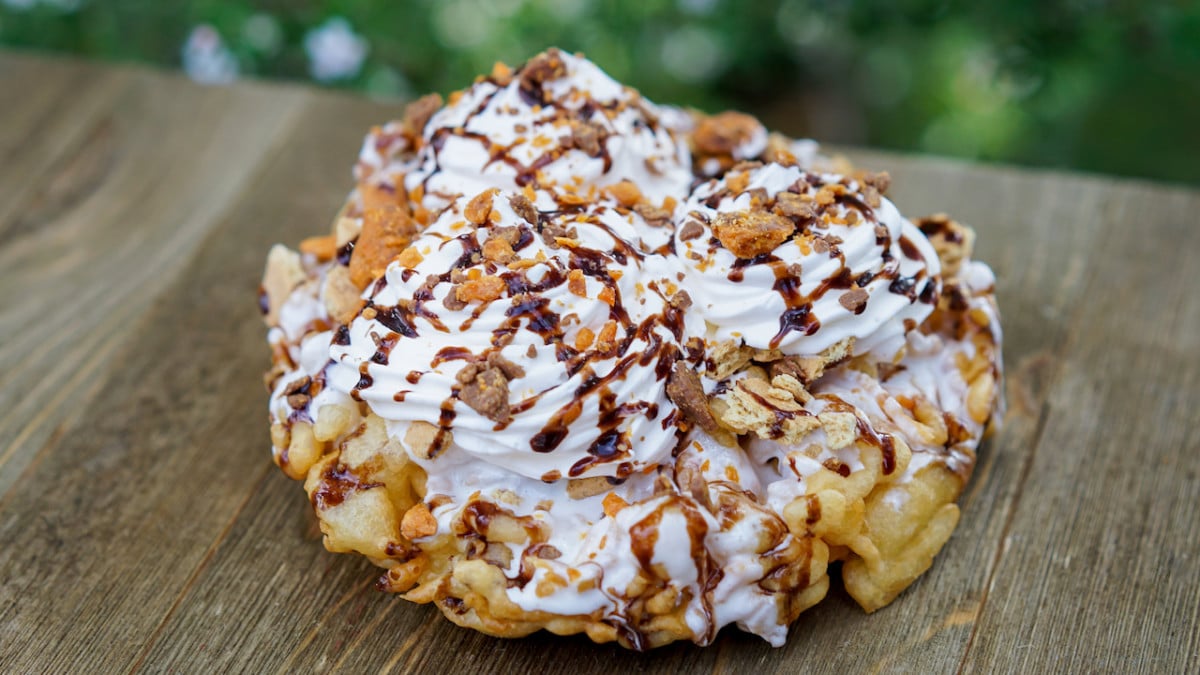 Frontierland
Rancho del Zocalo Restaurante: Barbacoa Torta and Chips with seasoned beef, guacamole mayo, refried beans, tomato, lettuce and cotija cheese
The Golden Horseshoe: Chocolate Cowboy Bark
Stage Door Café

Chocolate Cowboy Bark
Campfire S'Mores Funnel Cake with chocolate-chile ganache and toasted marshmallow sauce, garnished with graham cracker crumbs and crushed peanut butter candy
New Orleans Square
Café Orleans: Shrimp & Grits with Creole-spiced shrimp and cheese grits, spiced sausage-fava bean-corn relish and shrimp sauce
French Market Restaurant: Oogie Boogie dessert – A dark chocolate cup filled with layers of dark chocolate mousse, green pound cake and chocolate cookie crumbles with gummy worms
Mint Julep Bar: Dreamsicle Beignets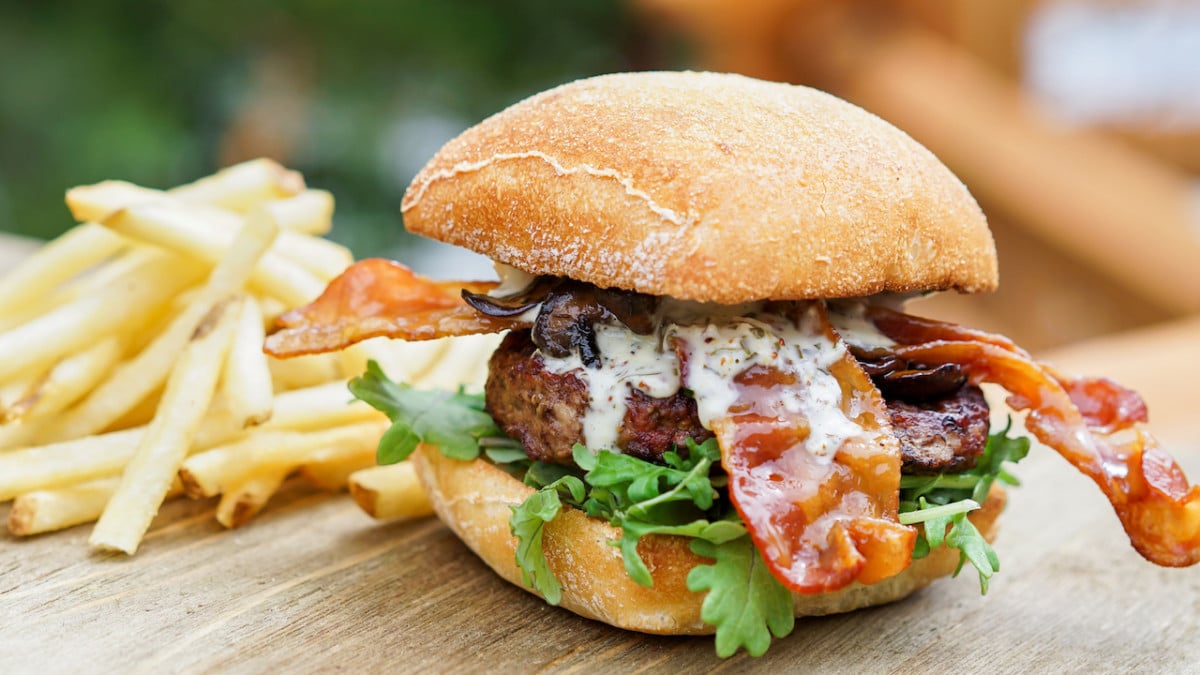 Critter Country
Hungry Bear Restaurant

Bison Blue Cheese Burger with candied bacon, sautéed mushrooms, baby kale and blue cheese tarragon sauce on a whole wheat ciabatta with fries
Milk and Hunny Funnel Cake
Adventureland
Bengal Barbecue: Lamb Kofta – Lamb with tzatziki sauce, spinach and pickled onions on grilled pita bread
Tomorrowland
Galactic Grill: Spider Parfait
Redd Rockett's Pizza Port

Meatball Pizza with sliced meatballs, marinara, olives, roasted red peppers and pepperoncini
Spider Parfait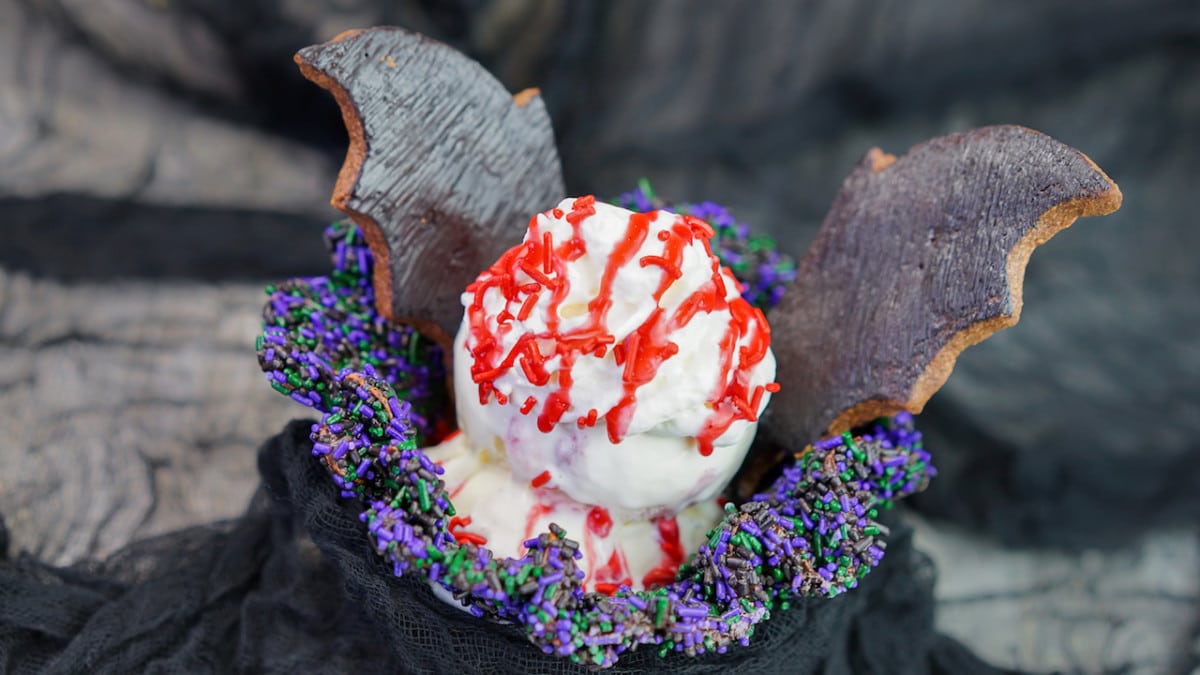 Disney California Adventure Park
Buena Vista Street
Fiddler, Fifer & Practical Café: Sleepy Hollow Cupcake
Clarabelle's Hand Scooped Ice Cream

Bat Wing Raspberry Sundae -White chocolate-raspberry swirl ice cream with raspberry splatter, blood-red sprinkles, whipped cream and Bat Wing cookie
Spider Silk Ice Cream Sandwich – A black macaron with charcoal-tart cherry spun ice cream topped with popping candy and raspberry sauce

Carthay Circle Restaurant and Carthay Lounge: Poison Apple-Tini – Crown Royal Apple, Dekuyper and cranberry juice with Green Poison Apple glow cube
Grizzly Peak
Smokejumpers Grill: Green Apple Spell Lemonade with cherry drops
Pacific Wharf
Pacific Wharf Café

Pumpkin Raisin Bread Pudding
Bacon Cheddar Ale Soup
Anchor Blood Orange Blondie
Sierra Nevada Oktoberfest
Pacific Wharf Distribution Co.: Karl Strauss Oktoberfest Handcrafted Beer
Boudin Bread Cart: Pumpkin-shaped bread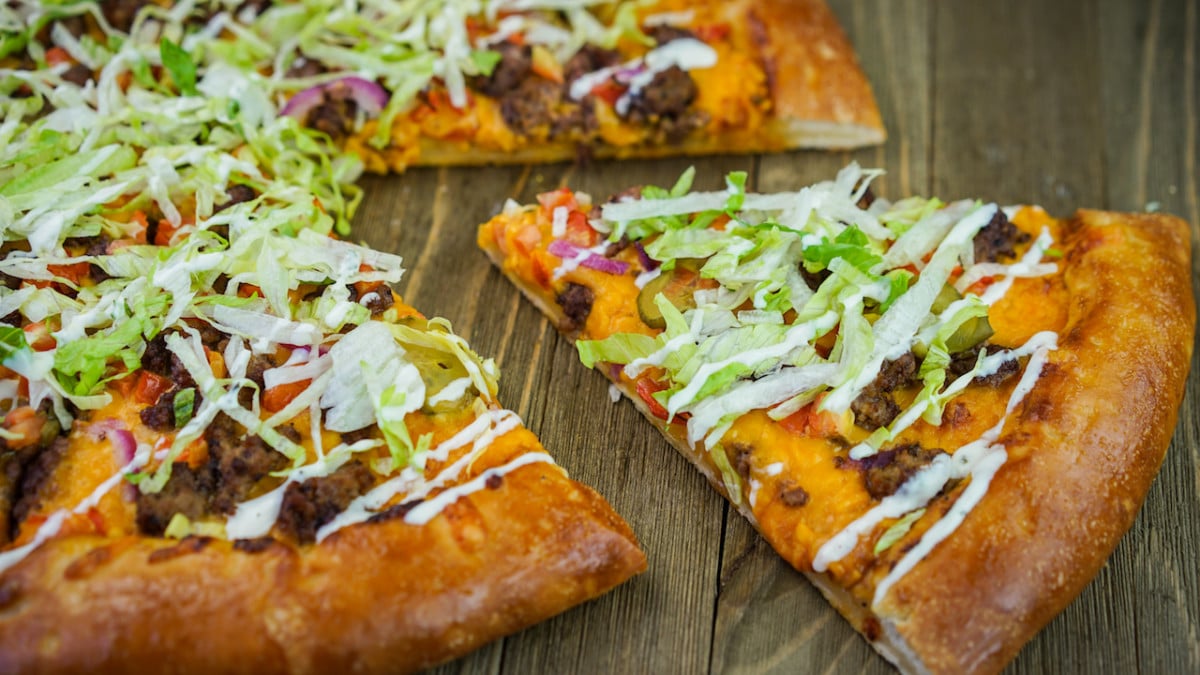 Paradise Pier
Boardwalk Pizza & Pasta

Cheeseburger Pizza (September)
Anti-Vampire Pizza (October)

Bayside Brews: Karl Strauss Oktoberfest Handcrafted Beer
Paradise Pier Ice Cream Company

Vanilla-orange swirl ice cream
Orange ice cream

Corn Dog Castle: Spicy Pepper Jack Cheese Stick dipped in corn batter, drizzled with blackberry sauce and topped with sweet pineapple salsa, pickled serranos and crushed cheese puffs
Cove Bar

"Ghost"-ly Pepper Nachos – Ghost pepper-marinated flank steak with green tortilla chips, topped with ghost pepper cheese sauce, black beans and avocado-tomatillo salsa
Halloween Specialty Cocktail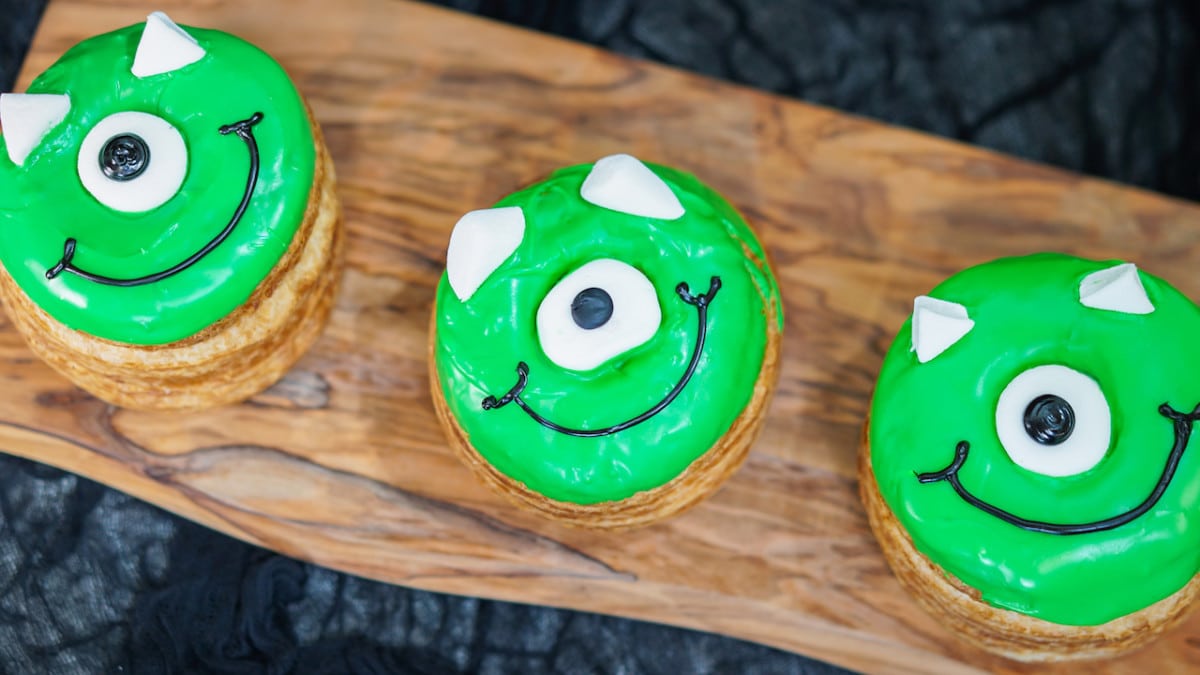 Hollywood Land
Award Wieners

Gladiator Funnel Cake Fries topped with diced mangoes in a passionfruit-orange-guava sauce, whipped cream and chile-lime sugar
In celebration of "Thor: Ragnarok" – A hero-size all-beef hot dog on a "lightning struck" black bun with apple slaw, beet & onion slaw and a mighty serving of mustard crema and green onions, served with our "award worthy" Filmstrip Fries
North Coast PranQster Golden Ale
Barq's Red Cream Ale (non-alcoholic)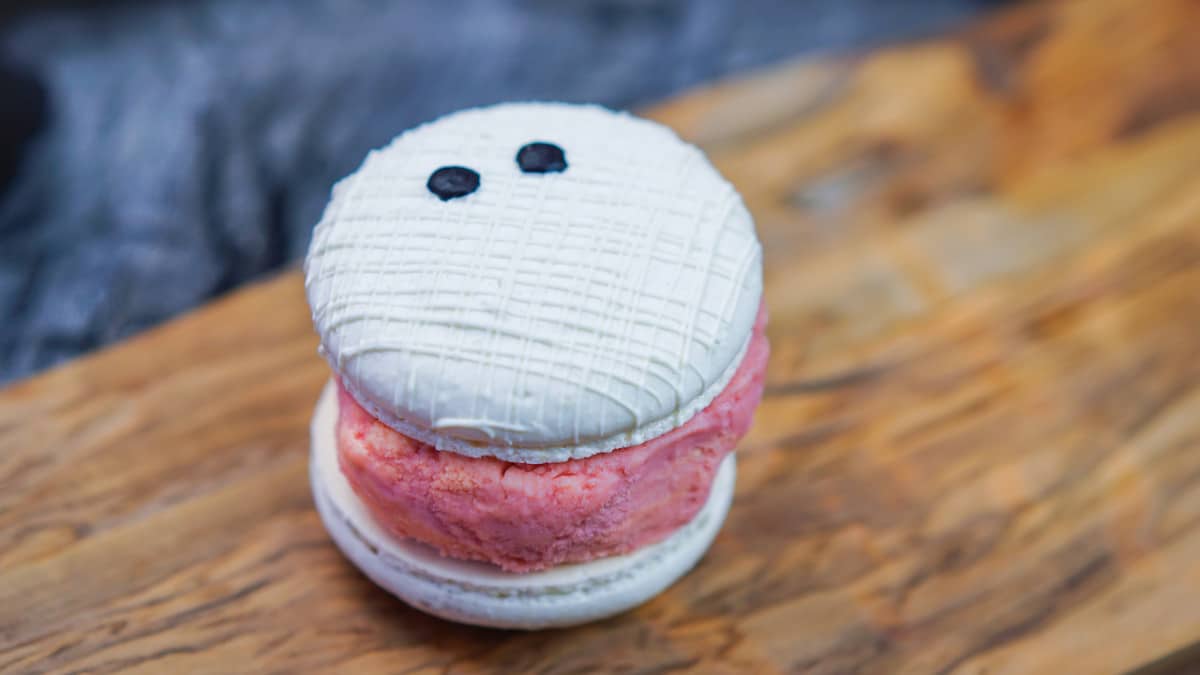 Schmoozies

Monstermallow Donut – Flaky donut with marshmallow filling
Mummy Macaron Ice Cream Sandwich – Almond macaron shell with dark chocolate "eyes" drizzled with white chocolate and filled with rainbow sherbet
Caramel Apple Smoothie – Fresh apple, caramel and ice cream
Studio Catering Co.: Dragon's Breath Tacos – Pork belly tacos, Korean barbecue sauce, kimchi slaw and Sriracha aioli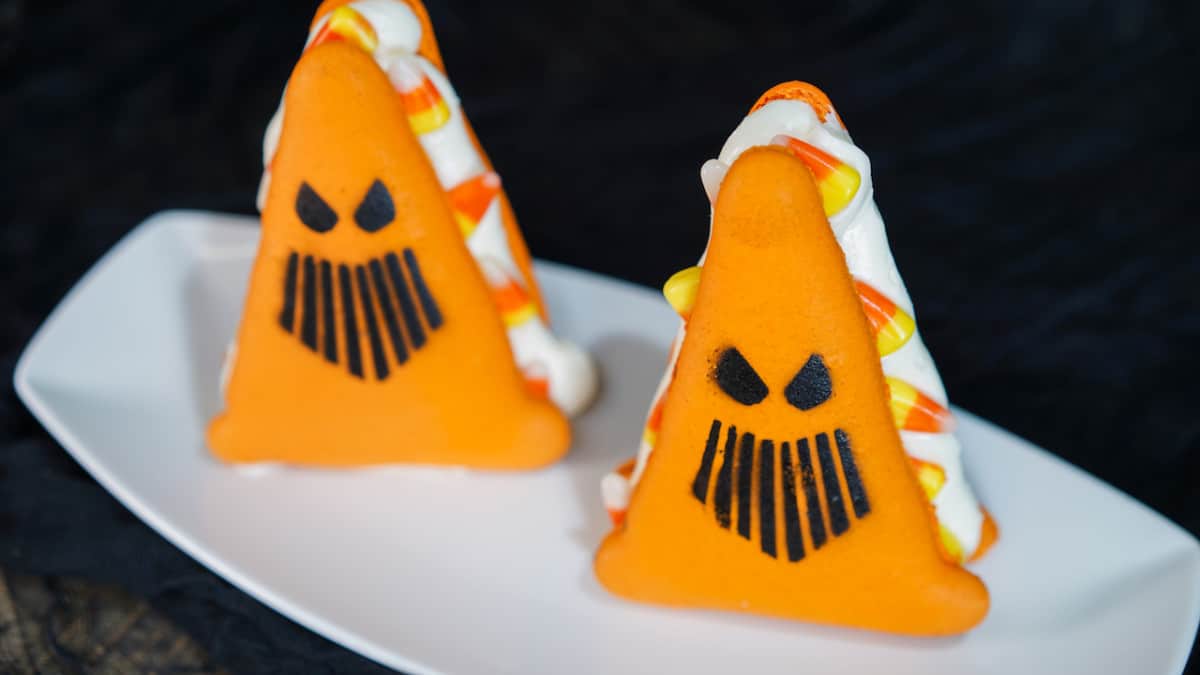 Cars Land
Flo's V-8 Café

Car-achnid Pot Pie – Chicken pot pie with dried cranberries and butter-crust spider
Grape "Ghoul"-ant Shake
Mini Candy Cone Pie – A cream pie with vanilla, butterscotch and white chocolate pudding

Fillmore's Taste-In: Vampire Mater Bread
Cozy Cone Motel

Slow Burnin' Mac & Cheese Cone – Fresh-cooked pasta with spicy red pepper cheese sauce topped with crushed chile-cheese puffs, served in a Black Cauldron Cone
Spoke-y Cone Macaron filled with marshmallow buttercream and candy corn
Junkyard JamBOOree Mix – Choice of flavored popcorn with optional "nuts and bolts" (e.g., green M&M's, candy corn, chocolate-covered pretzels, Boston baked beans, etc.)
Disneyland Hotel
Steakhouse 55: "Trick or Tea" served noon to 3 p.m. from September 30 through October 30
The Coffee House: Caramel apple cider
And for just a little sweet treat throughout the Disneyland Resort – at the Hunny Spot in Pooh Corner and Candy Palace on Main Street, U.S.A., in Disneyland park; and Trolley Treats at Disney California Adventure Park:
Candied apples, cake pops, and crispies featuring popular characters such as Mickey Mouse, Minnie Mouse, Jack Skellington and Disney Villains including the Evil Queen, Malificent and Oogie Boogie.
Pumpkin fudge
Pecan praline fudge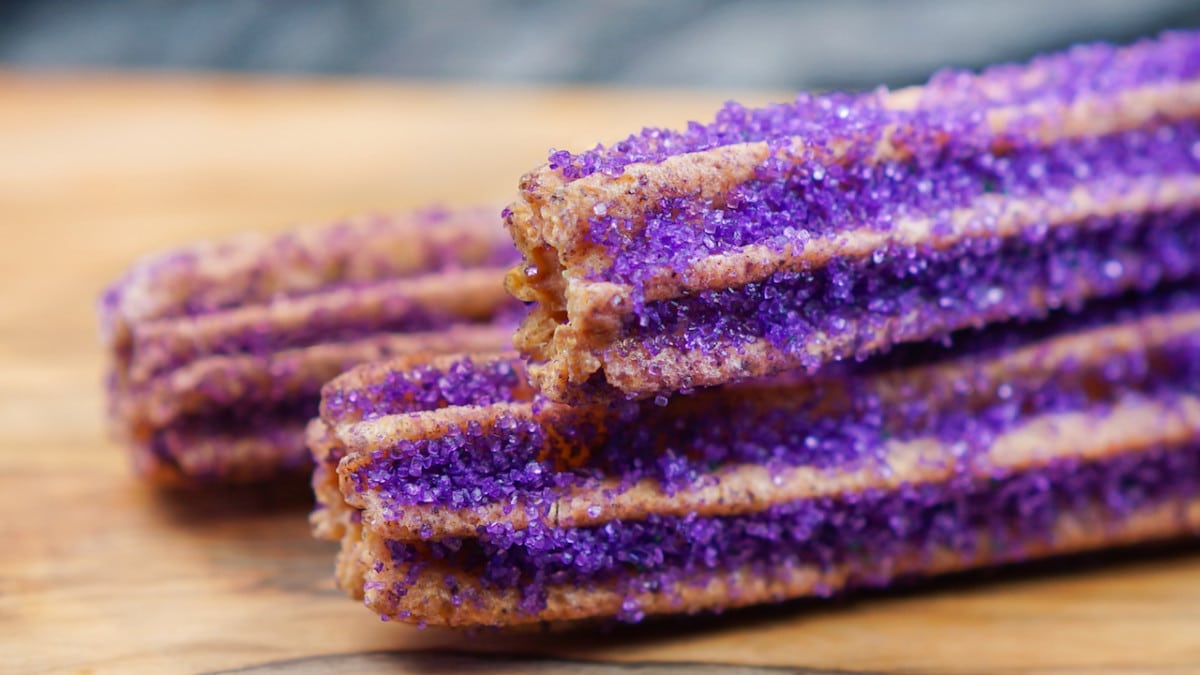 Churro Carts in both Disneyland park and Disney California Adventure park:
Purple, green and orange-colored churros
Sour Watermelon Churro (only in Frontierland and New Orleans Square in Disneyland park)
Graham Cracker Churro with Marshmallow-Chocolate Dipping Sauce (only in Critter Country in Disneyland park)
Galactic Churro (only in "a bug's land" at Disney California Adventure park)
Throughout Disneyland Resort:
Candy corn cotton candy
Pumpkin muffin
Pumpkin spice latte
Pumpkin cheesecake
Bat cookies
Mickey Bat cookies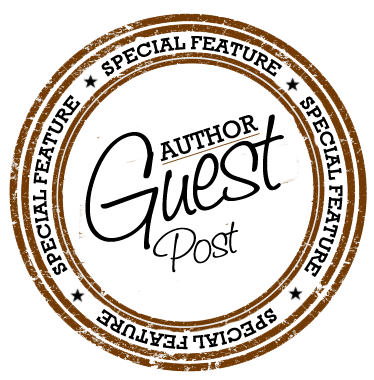 Latest posts by Guest Blog
(see all)