TMSM Explains: D23 The Official Disney Fan Club and The D23 Expo
With the 2017 D23 Expo just around the corner we are preparing to hear several questions from our readers when we start to share updates. Whenever a large D23 event is around the corner we hear things like  "What is D23???" "How do I join D23?" "What is the D23 Expo? Who can go, when and where is it?" So in honor of the 2017 D23 Expo, which is being held July 14-16, 2017 at the Anaheim Convention Center. Tonight TMSM Explains would like to explains "D23 The Official Disney Fan Club and The D23 Expo."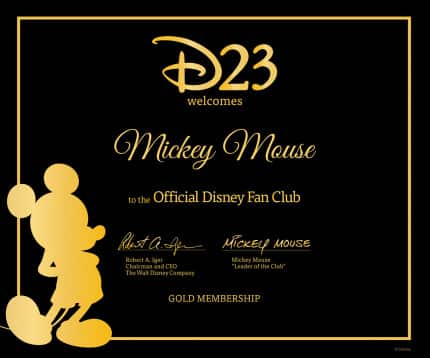 D23 is the official Disney fan club. This unique Disney offering allows Disney fans a chance to experience the history and future of the Disney company in a unique manner.  On March 10, 2009 Bob Iger announced the official Disney Fan Club, D23. D23 is a concatenation  of Disney and 1923, the year Walt Disney arrived in Hollywood and founded the Disney company. The first year of D23 membership was $75 per person, membership included the quarterly publication "Disney twenty-three", a membership card, decorative membership certificate, member gift, and access to special D23 events.  In 2010 the Silver level (which was discontinued in the Fall of 2014) was introduced at $35 per person, this level excluded the magazine. In 2013, several months before the 2013 D23 Expo, a free membership level was introduced which allowed members access to the D23 member content online, but did not provide them with a membership card or other items. Currently D23 offers paid
Gold
and
Gold Family
 membership options, the difference between the two is the card holder can take guests with them to special ticketed D23 events however, all attendees still need to purchase tickets to those events.
General Membership
, which is the free level, still receive D23's weekly e-newsletter D23 FanFare and other select perks.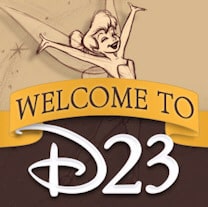 Current Gold have opportunities to attend special events in Anaheim, Burbank, Orlando, and on occasion other US Cities. Events like tours of "D23 Day at the Walt Disney Studios and Archives", special events at Disney Broadway Musicals, tours at other special Disney events and more are offered to members. Other special D23 events include "Destination D", the D23 expo and the D23 Fanniversary series.
D23's website has always been a place full of Disney Archive information. The site features classic comics, "This Day in Disney" a daily history area, and the Archives area. Members also have access to the member's section of D23.com. This area has information on member discounts at places across the United States and in the Disney Parks.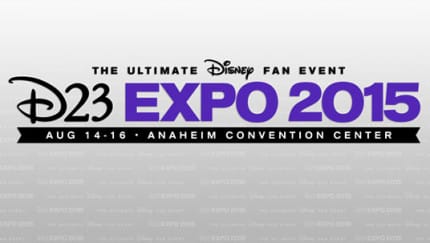 One of the main events that D23 puts on is it's bi-yearly D23 Expo. The first Expo was held in August of 2009 in Anaheim at the Convention Center. The Expo features pavilions that showcase things like Imagineering, Parks History, Disney Consumer Productions, items from the Disney Archives, Disney Interactive games and fun, and more. The Expo also releases special merchandise sometimes only available at the Expo, and other times the Expo is used to premiere special Disney Parks and Disney Store Merchandise.
The biggest thing at Expo though is the presentations. This year there are three main halls that will have presentations on Disney's upcoming live action films, animated films and park information. At the movies presentation it is not uncommon for stars of the film to appear. Also the Disney Channel pavilion allows younger guests the opportunity to see some of the current Disney Channel stars perform, and of course there are photo ops. For those who are more interested in the history and evolution of the Disney Company and the Disney Parks the Imagineering track of talks allow guests to hear stories from Disney Icons like Bob Gurr, Marty Skylar and Mary Blair.
Though D23 offers D23 Gold (and through 2015 Silver) members a chance to buy their Expo tickets up to 12 months in advance at a discount, and a special entry line to the expo show floor and select talks, anyone can buy a ticket and attend the Expo.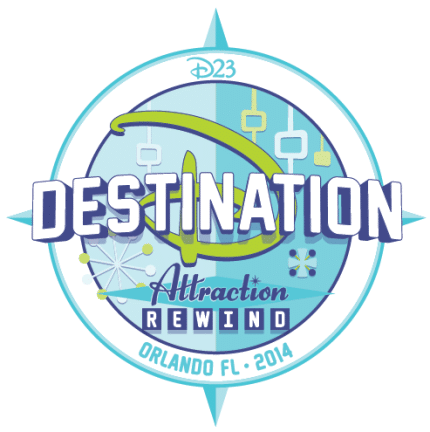 D23's other event is "Destination D" tends to be held on even numbered years with a few exceptions. In 2010 and 2011 "Destination D" was held in Anaheim, and moved to Orlando in 2014. 2016's Destination D has yet to be announced. Destination D is a much smaller version of the D23 Expo that tends to focus on a central theme in it's presentations. In 2010 "Disneyland '55" was the theme, in 2011 it was "75 Years of Disney Animated Features" and in 2014 the theme was "Attraction Rewind" focusing on Disney's involvement in the 1964 World's Fair. This year's Destination D is "Amazing Adventures which is a celebration of Disney landmarks of the past, present, and future."
Destination D events also usually host a pop up Imagineering Shop.