TMSM Emporium Promotion ~ Disney for the home!
We are having a promotion in our TMSM Emporium to save you some money on your purchase. If you make any purchase in our Emporium and use the coupon code SUMMER, you will save 25% off your entire order.  Each of these coasters is made of a 4″ x 4″ ceramic tile with a cork backing to protect your furniture.  The image is attached to the tile and then coated to protect the image from moisture or heat.  These coasters are a great conversation piece and an excellent gift for that special Disney fan.
We recently added a new set of coasters in honor of the new nighttime fireworks show from the Magic Kingdom, Happily Ever After.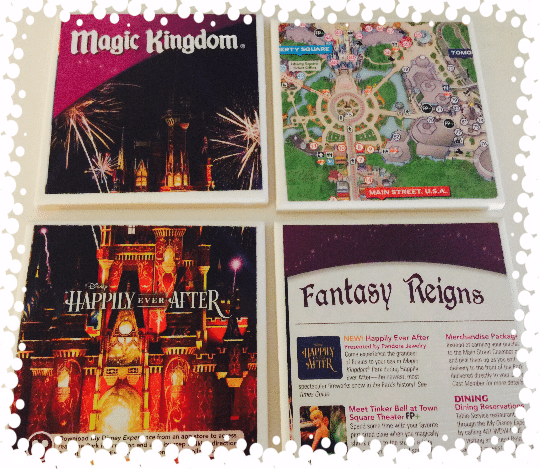 This new set features the full cover of the park map, the writing about the show and also the hub area of the map showing Cinderella Castle.
One of our most popular sets has always been the Walt Disney World park map set.  This set features a picture of each of the Walt Disney World parks.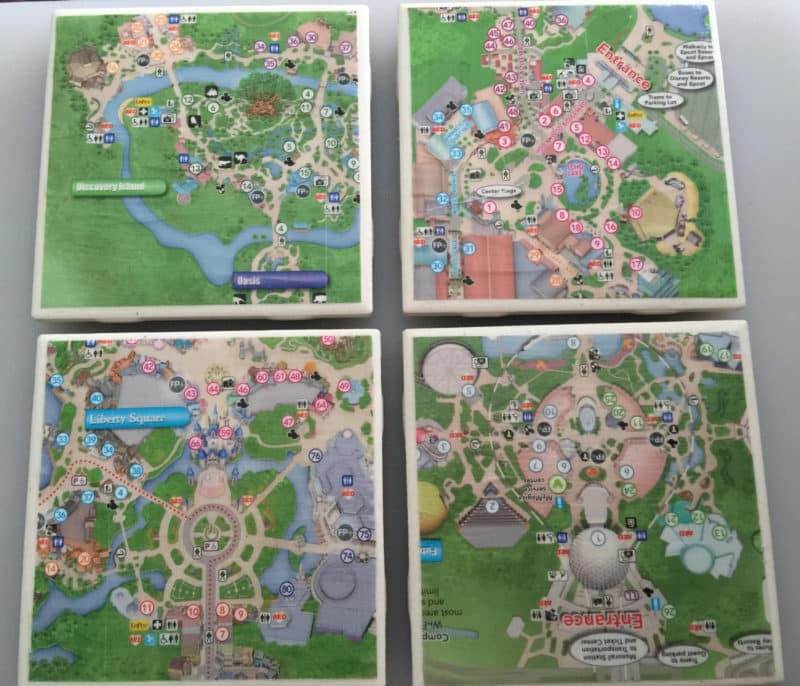 We have so many other sets, sure to make any Disney fan smile.  We have both the classic attraction poster set for Disneyland and Walt Disney World.  The Disneyland set includes Big Thunder Mountain Railroad, Mr. Toad's Wild Ride, the Disneyland Railroad and 20,000 Leagues Under the Sea.  The Walt Disney World set features the posters for Space Mountain, Tomorrowland People Mover, Country Bear Jamboree and the Haunted Mansion.  Speaking of the Haunted Mansion, we have two different sets that feature familiar images sure to remind you of the Disney iconic attraction.
We also have a Tangled set, Harry Potter set from the Universal Orlando map and so many others.  If for some reason you don't see a specific set you are interested in, message info@themainstreetmouse.com with your ideas of what you like and we can create a set for you.
Please visit https://www.etsy.com/shop/TMSMemporium today and remember to use the coupon code SUMMER to take advantage of the promotional price.