Tuesdays With Corey ~ Traveling Without Kids To WDW
Time and time again I've heard the same thing, "But Disney World and Disneyland are for kids." I've heard it from friends, co-workers and people who have actually been there, but didn't know that there's a whole other side of Disney for us adults. Sure most kids love and adore it but why can't adults have an "adult good time" without kids every once in a while. So for those of you who don't know what to do when the kids are not around, I hope this little article helps you out. These are my favorite things to do without kids when I go to the World.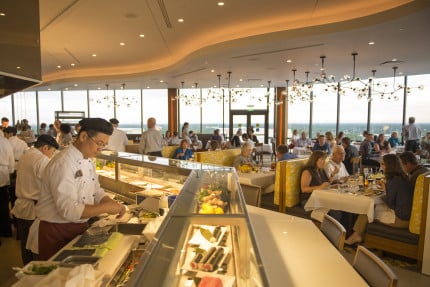 1. The Food and Wine Festival – Every year for the past 19 years EPCOT has offered a culinary adventure to satisfy almost any palate. Here you can take your time and stroll through the World Showcase sampling wines and fine cuisines from different areas throughout the world such as Australia, New Zealand and Scotland.
2. Jellyrolls – If you happen to be taking a nightly stroll with your significant other around the Boardwalk at night, then you need to head over to the 21 and over piano bar, Jellyrolls. Here you can experience not one, but two piano gurus who will play your requests as you sing along to the hits of yesterday and today.

3. California Grill – People often ask me what is the one place to eat with your significant other and my reply is California Grill. There will be kids there but they are not running around like they often do at character meals. For a little something special, try to book it when you'll be there for Magic Kingdom's Wishes. It's definitely worth it.
4. Grand Floridian – Nothing says adults only and romance like the Grand Floridian resort. Just one look and you can see why it's not as kid friendly as Art of Animation or POP.
5. Tours – Disney offers a lot of tours that kids can take part in, but they also offer some that requires guests to be 16 and older. Tours like The UnDISCOVERed Future World at EPCOT, the Keys to the Kingdom tour and Backstage Magic actually will take you behind the magic and show you how Disney does some of the things they do so well.
6. The Spa Treatment – Why not go for a couple's spa treatment. Several resorts have spas such as the Mandara Spa at the Swan and Dolphin, the Grand Floridian Spa and Senses Spa at Saratoga Springs.
7. Carriage Rides – If taking a ride with that special someone is something that tickles your fancy, then head over to Fort Wilderness Resort & Campground or Port Orleans. Here you can pay around $45.00 for a 25-minute carriage ride around the resorts.
8. The Parks – Why not?! Why can't an adult enjoy the parks without kids? I've done it for years and will continue to do it. And I'll not have a guilty conscience while doing it.
Author:
ctucker773
Corey Tucker has been a writer, moderator, and an admin, amongst various other roles with the TMSM for over 8 years. When he's not playing with radiation at his day job at a nuclear plant, he can be found hanging out with friends and family and possibly planning another trip to Walt Disney World. If you frequent the site very often (or at least on Tuesdays) then you've probably heard of the world famous blog posting "Tuesdays with Corey", that's him. Every Tuesday he has a blog about foods, history of the parks or whatever he feels is pertinent at the moment. So if you don't currently read his blogs, please start. It's been known to change lives…really it has.