From Steven Miller, Merchandise Communications Manager, and posted on the Disney Parks Blog.
New artwork for iPhone 7 and iPhone 7 Plus was recently added to the D-Tech on Demand stations at Disney Parks. At these stations, guests can create and personalize phone cases for select phone models.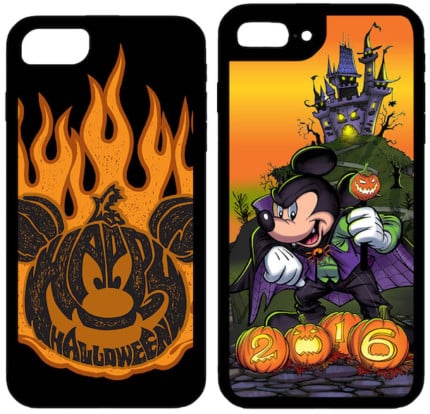 Some of the new artwork includes the two Halloween-inspired designs shown above.
These new D-Tech on Demand phone case designs can accommodate both iPhone 6 / iPhone 6 Plus and iPhone 7 / iPhone 7 Plus models.
We'll release pre-packaged cases for iPhone 7 / iPhone 7 Plus in select merchandise locations starting in early October.
Guests visiting Disneyland Resort can find D-Tech on Demand at D-Street in Downtown Disney District. You can also create Star Wars-inspired cases at Star Wars Launch Bay in Tomorrowland atDisneyland park.
At Walt Disney World Resort, D-Tech on Demand is found at the Marketplace Co-Op in Disney Springs Marketplace, Tomorrowland Light & Power Company in Tomorrowland at Magic Kingdom Park, and Star Wars Launch Bay Cargo at Disney's Hollywood Studios (the latter location only offersStar Wars-inspired designs).