Today In Disney History ~ July 10th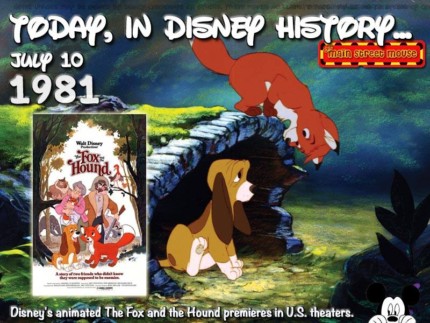 The Fox and the Hound is a 1981 American animated buddy drama film produced by Walt Disney Productions and loosely based on the novel of the same name by Daniel P. Mannix. The 24th film in the Walt Disney Animated Classics series, the film tells the story of two unlikely friends, a red fox named Tod and a hound dog named Copper, who struggle to preserve their friendship, despite their emerging instincts and the surrounding social pressures demanding them to be adversaries. Directed by Ted Berman, Richard Rich, and Art Stevens, the film features the voices of Kurt Russell, Mickey Rooney, Jack Albertson, Pearl Bailey, Pat Buttram, Sandy Duncan, Richard Bakalyan, Paul Winchell, Jeanette Nolan, John Fiedler, John McIntire, Keith Coogan, and Corey Feldman.
The Fox and the Hound was released to theaters on July 10, 1981 (on a double bill with the featurette Once Upon a Mouse) to financial success. At the time of release it was the most expensive animated film produced to date, costing $12 million. It was re-released to theaters on March 25, 1988. A direct-to-video midquel, The Fox and the Hound 2, was released to DVD on December 12, 2006.

TMSM Today in Graphic by Sherry Rinaldi DeHart; Wiki