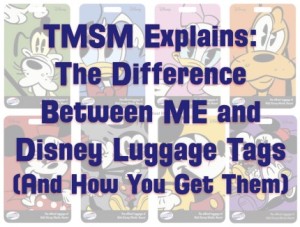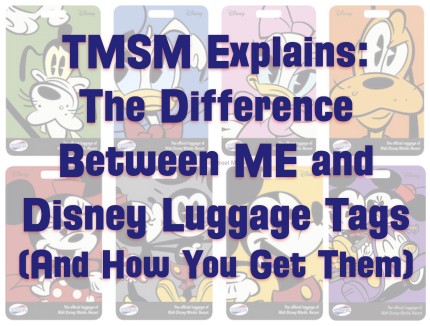 We see a lot of confusion about what the difference is between Magical Express tags and the decorative luggage tags that come with select Disney Travel packages in the Disney community. We also see a large amount of confusion about who gets those cool decorative tags. Hopefully tonight's TMSM Explains helps resolve a good amount of this confusion.
Magical Express Tags
Magical Express luggage tags are those yellow sticker tags that arrive in the mail in their own package. These tags are used to alert the luggage handlers at MCO that your checked bags need to be pulled to go to a Walt Disney World Resort. The tags are issued by Disney and mailed to your home around 30 days or less from your check in. If by about 10 days from check in you haven't receive your tags call Disney to check on them.
Worst case if you don't ever receive tags it is ok if you don't HAVE to go get your bags, Disney can still do it for you. Just take your luggage claim information to the ME Desk and they will get your luggage from your airline's unclaimed baggage team.
Please remember that Disneyland does not offer a Magical Express service like they do in Florida, so Disneyland guests will not receive luggage tags for their checked airline luggage.

American Tourister Luggage Tags
Recently Disney partnered with American Tourister making them official luggage of the Disney Parks. A part of this amazing partnership was that American Tourister became the manufacturer of Disney Park's complimentary package luggage tags. Qualifying guests of Walt Disney World and Disneyland resorts can receive these tags for free, but only if they meet certain package requirements. Just remember these tags can not be purchased in park.

Walt Disney World Tags:
In the United States when you book a Magic Your Way Package (which is a room/ticket or room/ticket/dining package) after your balance is paid in full you will receive your decorative American Tourister tags. Originally the decorative tags arrived in the mail with your Magic Your Way Booklet, but as of 2015 this is no longer the case as they now come in the mail with your MagicBands. Originally this "mailing in the MagicBand box" option was confusing guests as they weren't quite sure where to look to find their tags. But realizing this was creating confusion, Disney decided to help out guests. Those guests that qualify for the decorative tags will now notice a "lift here for luggage tags" tab in their MagicBand Box that when pulled helps life the grey tray out of the box. Guests who have opted out of MagicBands, or who aren't having them mailed to their home, will receive luggage tags at the front desk of their Resort hotel.
Not sure what color tag you will get? Easy! Your tag color will match your MagicBand.
Please note that if you book a room ONLY and then add tickets and dining you will  NOT get these tags.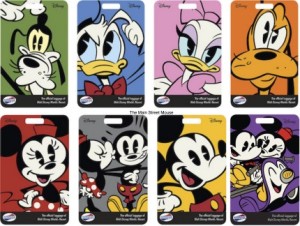 Disneyland Tags:
If you book a qualifying room and ticket package at a Disney owned hotel they will be mailed with your final package 30 days or less out with your tickets etc. Unlike the eight styles offered at Walt Disney World, Disneyland only has one design, but their tags are thicker. Currently their tags are 60th Anniversary themed.