Disney in the City ~ Confessions of a Grown Up Disney Princess
Here's another example of the series I do each month for our magazine, The Main Street Monthly!  I hope you enjoy it! For more, you can get any issue for $1.99 at www.themainstreetmonthly.com/store!
Disney in the City ~ Confessions of a Grown Up Disney Princess

By Michele Atwood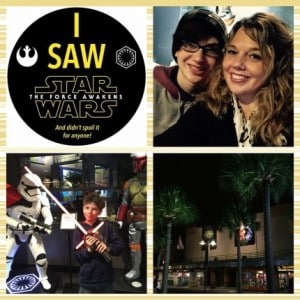 A few months back, I talked about being dragged around Disney Springs on the "Force Friday" event that they had going on. As a refresher, Force Friday was the debut of Force Awakens merchandise for the upcoming Star Wars film. Even Starbucks was in on the action with Star Wars themed drinks, it was really something to see. Back then, I had some heavy eye rolling going on, I can't lie. All the boys in my life were hyped up for the new Star Wars movie, and I truly didn't get it. Sure, I watched the movies when I was a kid, but honestly, I wasn't head over heels crazy for it all. However…. I'm a good sport most times, and I like to go with the flow. I had told myself when the new movie comes out, I'm going to go see it, to hopefully get some understanding on why the following for this franchise is so huge. Research, if you will!
So, in December, the night before the nation wide release, we managed to score tickets to the Force Awakens. The men in my life, aka the husband and kids, were really excited to get to the movie theater. They were looking for Star Wars shirts to wear, and wanted to get there early in case there was a crowd. We didn't go see it at Disney Springs because we knew it would be much more crowded there. Instead, we went to a theater that was roughly 20 minutes from Disney, in hopes that we could get better seats and such. When we arrived, the parking lot was packed. I wasn't too surprised. What DID surprise me though, was what I saw when we walked into the theater. To my surprise, there was a merchandise booth set up, other tables around with different Star Wars themed info on them, and characters. Now, when I say characters, I don't mean like Mickey Mouse, but guys walking around dressed like Storm Troopers and Jedi's and such. Crazy! I've never seen that at the movies before, it was quite an experience.
We stood in the long line to get snacks, and headed in to find seats. The theater was already crowded, but at least there wasn't a line to get in. The show still had about 20 minutes or so till it began so we had time to relax and people watch. I think everyone at the show had Star Wars attire on, it was unlike anything I've ever seen. When the show began, the infamous Star Wars scroll writing came on and the crowd cheered! I'm by far not a geek girl, so my thought was "are you kidding me?" Nope, not kidding, people were stoked. So I decided to lose the princess attitude and just enjoy it. I didn't understand some of the references, but I knew which ones were important by the reaction in the crowd. When something would happen, you'd hear various hoots and hollering, so I assumed that was significant to the story. A pivotal scene happened, I won't spoil it, but people in the audience just yelled and gasped. My husband included. I knew what was going to happen because I accidentally saw a spoiler online, but you could tell others had not. People were so emotional during that movie, just incredible. All in all it was a good movie. I walked out of there not disappointed at all, which is big for me. The following week we went back home to Michigan for the holidays, and took my parents to see the Force Awakens, so yes, I saw it twice. Go me!
With Disney taking such an important part in the promotion of Star Wars, I know I had to give it a shot. The Star Wars Launch Bay at Hollywood Studios is actually pretty cool, I like it. As I said in our What's in Store section, Watto's Grotto has become one of my favorite stores over there, it's great. So what does that mean for me? Am I becoming a Star Wars geek? Umm….. no, not exactly. I'm looking forward to what's coming at the Studios. I like the merchandise. I'm enjoying seeing my boys get excited over something that's family friendly and nothing for me to worry about. You know kids these days. Actually, I'm looking forward to the next movie too. What the heck?
I guess the lesson I learned, is to not knock something until you try it. The Star Wars franchise is something that started when I was a kid, and now my own kids get to experience it. That's not a bad thing. There aren't many things that appeal to people of all ages, but Star Wars sure does. It expands across members of your family no matter how old they are. It was kind of cool too taking my parents to see the Force Awakens, as I remember watching the early movies with them when I was little. Who would of thought I'd get to see more stories of the franchise with them AND my own kids? That's pretty awesome. So the moral of my story, even girly girls can get into things like this if we give it a shot. If I can flip flop my opinion, anyone can! Give it a go, you might actually like it! May the Force be with You ladies! ~M
Michele Atwood is the Owner/Editor of The Main Street Mouse and it's subsidiaries and author of the book "Moving to Main Street U.S.A." Michele also contributes Disney news to the Joe Kelley Morning Show on 96.5 WDBO in Orlando. She and her family made the move from Michigan to the Orlando area to pursue their Disney dreams. Michele is a life long Disney fan, and has two sons who have followed suit, each going on their first Disney trip before their first birthday's. Part of the goal Michele has for The Main Street Mouse is not only to keep members informed, but to create somewhat of a Disney Family by relating to others through personal experiences and opinions. Also, Michele is making it a priority to share stories of inspiration and hope to other Disney Fans in an effort to share the Magic and hopefully make a difference in the lives of others.