Ways To Not Totally Blow Your Diet At Disney! (New Years Resolution help!)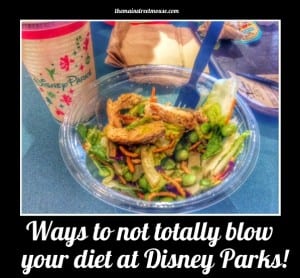 Most people don't like to use the word "diet" in the same sentence as the word "Disney" but I'm going to anyway… let me explain. When I was visiting Disney Parks yearly for vacations, all bets were off when it came to eating healthy. I would eat as much junk food and such as I wanted to, and truthfully, that was fun. Being that I'm a local now, and visit the parks more often, I can't eat like that anymore. Special occasions, yes, but not on the regular. Also, it's a new year, and a lot of people have vowed to lose some weight in 2016, it's the most popular resolution out there! So, is it possible to visit a place like a Disney Park, and still behave when it comes to food? Sure there is! It's not always easy, but it's do-able!

I know there are many diets out there that people try, so everyone is different in what they're looking to accomplish. Me, I'm on the high protein/low carb plan. That's a HARD one to do at Disney, I won't lie! However, I'm always looking for ways to stay on track and still enjoy my visit at the same time. There aren't a ton of salad options at WDW, but there ARE some. The ABC Commissary at Hollywood Studios has a great Asian Salad with Chicken (featured in the picture above). That one is probably my favorite walk up salad across the board. Other places with decent salad are Pecos Bills and Cosmic Rays at the Magic Kingdom, Pizzafari at Animal Kingdom, and The Electric Umbrella at Epcot. At Downtown Disney, Earl of Sandwich has AWESOME salads, like the BBQ Chicken salad and the Thai Chicken salad. I've never had a bad salad at Earl of Sandwich. The hard part is not getting one of their amazing sandwiches, or one of their yummy good brownies. Will power…. sigh. It takes so much.
As for getting drinks, of course Disney serves Diet Coke and Light Minute Main Lemonade. You can also get free ice water at the walk ups at the parks. Now, sometimes the ice water has a mineral taste to it, but there's a way to fix that. I sometimes keep packets of lemon juice in my purse, and add that to the cup of water to make it taste better. Also, you can keep packets of Splenda or some type of artificial sweetener with you and add that to the lemon water as well to make your own calorie free lemonade. Just an easy little trick that doesn't cost you anything extra!
Disney allows you to bring in your own snacks to the parks, and I try to remember to pack an extra snack or two when we're going to be gone all day. I usually bring packs of almonds or a protein bar to help get me by between meals. A lot of walk up snack places throughout the parks carry healthy options as well, like veggies and dip and different fruits. Don't forget, the ice cream stands have sugar free fruit bars too. Sure, it's not as good as a Mickey Premium Bar, but at least you get to have a treat when others in your group get one. Another way to cut calories is to order a kids meal at a walk up instead of ordering the full size option. Every little bit helps when you cut back, and the CM's don't mind if you order a kids meal, we never had a problem. If you don't want a kids meal, or a salad, Cosmic Ray's has a grilled chicken sandwich that you can get with green beans instead of fries, and it's actually pretty good! I did that on the night of the Christmas Party because I knew they were serving free cookies and hot chocolate, so I wanted to be good with dinner! It's the little things!
Healthy options are not super easy to find, but they ARE there if you look. Dieting while at Disney isn't a popular thing normally, but if you are going to the parks and want to still behave, there are ways to do it. It's hard to resist all the amazing food at Disney Parks. They make it hard to turn away the sweets, especially when walking past the Confectionery or past an Ice Cream Shop or Bakery. If you have the will power and make a plan for your day, you can still have a fun time at Disney and not totally blow your diet. Don't forget, all the walking your're doing at the parks is good for you and burns calories as well, so if you do cheat here or there it's not a huge deal. So, I wish you luck, fellow dieters, on sticking to your healthy eating while at Disney! It's not always easy, but it can be done! If you have healthy tips for eating at Disney parks, please let me know, we'd love to hear it! ~M
Michele Atwood is the Owner/Editor of The Main Street Mouse and it's subsidiaries and author of the book "Moving to Main Street U.S.A." Michele also contributes Disney news to the Joe Kelley Morning Show on 96.5 WDBO in Orlando. She and her family made the move from Michigan to the Orlando area to pursue their Disney dreams. Michele is a life long Disney fan, and has two sons who have followed suit, each going on their first Disney trip before their first birthday's. Part of the goal Michele has for The Main Street Mouse is not only to keep members informed, but to create somewhat of a Disney Family by relating to others through personal experiences and opinions. Also, Michele is making it a priority to share stories of inspiration and hope to other Disney Fans in an effort to share the Magic and hopefully make a difference in the lives of others.