TMSM's Adventures in Florida Living ~ Faith, Family and Friends (and a successful meet up!)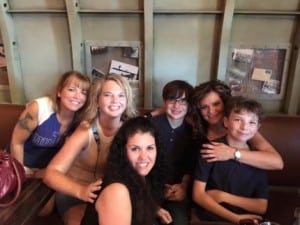 This weeks Florida Living blog is going to be a busy one, I have so much to tell you, so let's get right to it. As you know, our big TMSM Meet Up was last Saturday at the Magic Kingdom. I have been busy getting ready, in addition to preparing to have house guests, as my two closest friends from Michigan were coming to stay with us. I've been so stressed, I just wanted things to turn out ok, and needed to make sure everything was done. We were having our TMSM Staff over for a party Friday night as well, so that was even more preparation. I thought the girls were flying in on Friday, but to my surprise, they actually got here Thursday night! My friend Lorraine was nice enough to go pick up my girls, Michelle and Paula, from the airport to surprise us at Disney Springs! It was so nice to see them a day early! We were all happy! (pic above)

Friday was party day. Since most of our staff was coming, we wanted to be able to give them a nice dinner and thank you gifts, just as a way to show our appreciation for all they do to support us. The help we get from our writers and admins means everything to us, and I so wish I could do more for them, but this was a good start. Before I knew it, our house was filled with friends. Sure, we talked about the site and meet up, but mostly we just visited, ate some good food, and had a nice time. Actually, this was the first big party we've had since moving to Florida last year. We don't know a lot of people here, and having staff in town for the meet up weekend was the perfect time to do so. These folks are the most good hearted, supportive, positive people we could even have working with us. We are blessed for sure.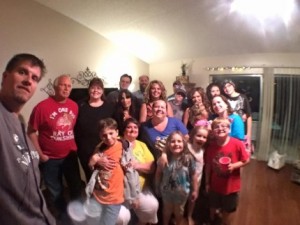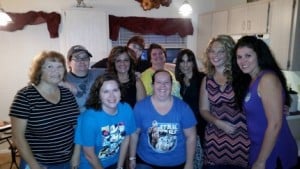 The next morning, we were up early getting ready for the Meet Up at the Magic Kingdom. I was a little nervous, but also excited to get there. I'm going to do a full write up for tomorrow JUST about the meet up, but I have to say for now, it was better than I dreamed it would be. I was praying for a decent turn out and for people to have fun. What I got was so much more. We had roughly 140 people show up throughout the day, and everyone had a fabulous time. I was sure to greet everyone who came, give out some prizes and lots of hugs, and still try to show my Michigan friends a good time too, since they don't get to Disney often. After the group picture in the evening, we hung around in a smaller group. We watched Wishes and Celebrate the Magic, rode the Seven Dwarfs Mine Train, and hit Monsters Inc Laugh Floor, where I actually got picked to participate. The monster was trying to read my mind. That's never happened, and it was hysterical, and the end of a great day! My heart was full of joy, it's hard to explain.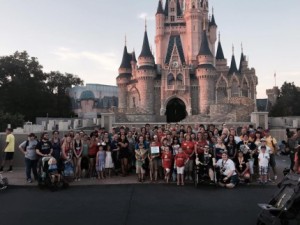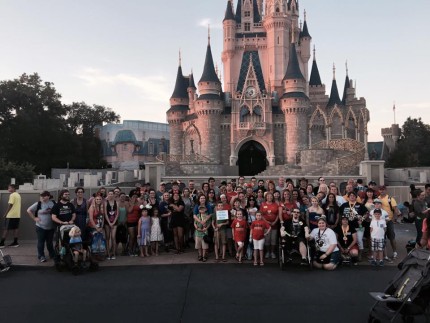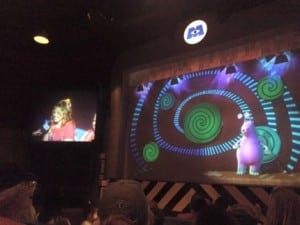 Sunday we were all exhausted. We just hung out in our pajamas most of the day, then the girls wanted to go back to Disney Springs to get some souvenirs before heading home. We met up with more friends, shopped, and had dinner at Planet Hollywood. Before I knew it, Monday was here, and it was time to take Michelle and Paula back to the airport. The weekend that I had been planning for for months was over. Truthfully, it felt like how you feel after Christmas. All the planning, anticipating, etc…… once it's over, you're just tired. Now it's time to get the magazine done and ready to go out November 1st, and also get ready to go home for my brothers wedding. See, one event gets done, and we're already working on the next thing, it never ends! All in all, the past week has been wonderful. I can't wait to tell you all about the meet up in greater detail, so be sure to check back tomorrow!
So, that's it for this week's Florida Living update. I thank you all for keeping up with us each week! I also want to thank everyone who supports our efforts across TMSM and the magazine. Without our readers, we're nothing, and each of you are a blessing. Until next week, sending you lots of hugs, love and pixie dust! See ya real soon! ~M
Get TMSMonthly for only $1.99 at www.themainstreetmonthly.com/store
Michele Atwood is the Owner/Editor of The Main Street Mouse and it's subsidiaries and author of the book "Moving to Main Street U.S.A." Michele also contributes Disney news to the Joe Kelley Morning Show on 96.5 WDBO in Orlando. She and her family made the move from Michigan to the Orlando area to pursue their Disney dreams. Michele is a life long Disney fan, and has two sons who have followed suit, each going on their first Disney trip before their first birthday's. Part of the goal Michele has for The Main Street Mouse is not only to keep members informed, but to create somewhat of a Disney Family by relating to others through personal experiences and opinions. Also, Michele is making it a priority to share stories of inspiration and hope to other Disney Fans in an effort to share the Magic and hopefully make a difference in the lives of others.