Exclusive: Never-Before-Seen Aladdin Behind the Scenes Footage
From the Disney Insider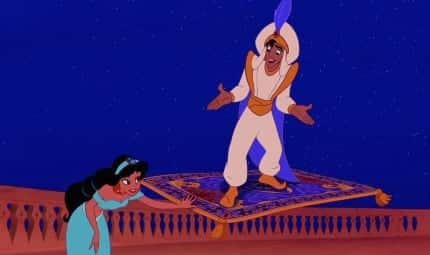 One of our favorite panels from this year's D23 Expo was the presentation devoted to the timeless wonders of animated classic Aladdin. During the panel (which was stocked with appearances by members of the film's voice cast as well as key creative principles including visionary directors Ron Clements and John Musker) rare behind-the-scenes footage of the film was showcased, including a bit of footage of Disney Legend Linda Larkin (the voice of Jasmine) in the recording booth. It was charming and illuminated the collaborative spirit of the movie, as you can see Larkin interacting with Clements and Musker and generally having a wonderful time.
The footage had never been seen before the D23 Expo panel and hasn't been seen since … until now.
We are so thrilled to exclusively debut the behind-the-scenes footage, with new material that wasn't seen at D23 Expo, right here on Disney Insider. It's also a great way to get a unique perspective on a film that you've undoubtedly seen countless times before. In short: it's a look at whole new world of Aladdin.
Aladdin
will be released on Digital HD and Disney Movies Anywhere on September 29 and will be available on Blu-ray on October 13.
Co-Owner / Webmaster / Business Relations / PT Writer
As co-owner and co-creator of The Main Street Mouse. Working in a technical support position for 18 years, it was time for a change. As the Webmaster and Project Planner, I spend most of my time researching everything from the latest Disney News, technology advances and of course keeping up on all the Marvel news that comes out. I never considered myself a writer but I've come to like blogging and sharing news with all. I feel blessed everyday that I get to spend my days working with my best friend and love of my life while we continue to grow and expand what started as a hobby all those years ago.