Top 11 Apple Treats from Disney Parks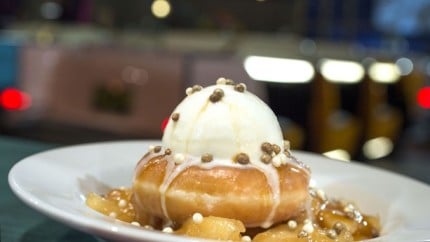 From Rachel Brent, Food & Beverage Marketing Communications Coordinator and posted on the Disney Parks Blog.
Growing up, autumn meant an annual field trip to a local farm to pick apples. There's no denying that pumpkin is having a moment right now, but I wanted to pay tribute to the other fruit that makes me think of crisp fall leaves – the apple. We love to enjoy apples on salads, in baked goods and on top of fluffy pancakes. Here are our top choices for yummy apple treats at Disney Parks and Resorts:

Apple Crisp a la Mode – Hollywood Scoops, Disney's Hollywood Studios
Perfect for the Florida heat, this treat features cinnamon apples topped with old-fashioned vanilla ice cream, caramel sauce and streusel.
Cinnamon-Apple Baton – Troubadour Tavern, Disneyland park
This flaky, twisted pastry is filled with apples and cinnamon.
Apple Strudel – Sommerfest, Epcot
Apple Strudel that would make my German Oma proud, this is the real deal smothered with vanilla sauce.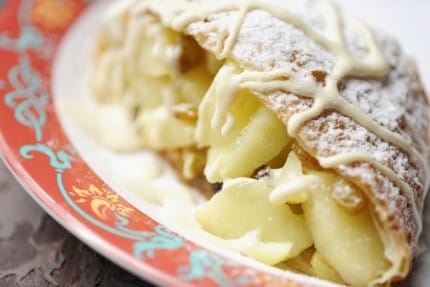 Apple Walnut Cake – California Grill, Disney's Contemporary Resort
A new addition to the California Grill lineup—heirloom apple, fig and cherry compote, roasted white chocolate mousse, apple-caramel sauce, candied walnuts and brown sugar ice cream make one deliciously decadent dessert.
Flo's Signature Apple-Cheddar Pie-O-Rama – Flo's V8 Café, Disney California Adventure
Apple and cheddar are the new peanut butter and jelly, they just go together.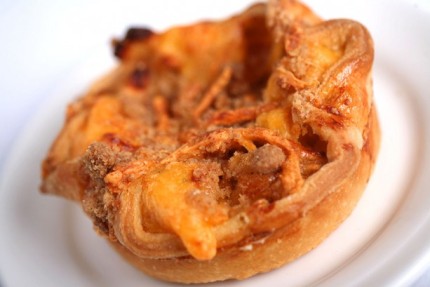 Caramel Apple Crumb Pancakes – Trattoria al Forno, Disney's BoardWalk
Served with bacon or chicken sausage, these pancakes are a sweet way to start your day.
Red's Apple Freeze – Cozy Cone Motel, Disney California Adventure
Get your kicks on Route 66 with Red's Apple Freeze… souvenir sipper optional. Ka-chow!
Warm Glazed Doughnut – Sci-Fi Dine-In Theater Restaurant, Disney's Hollywood Studios
This doughnut is stacked with cinnamon apples, and topped with vanilla bean ice cream and caramel sauce… out of this world!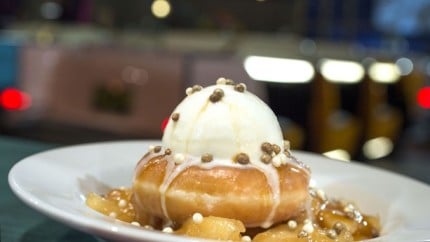 Apple Granola Pancakes – Carnation Café, Disneyland park
The crunchy granola and fluffy pancakes make a perfect combination of texture.
Fried Herb and Garlic Cheese – 50's Prime Time Café, Disney's Hollywood Studios
Served with raspberry sauce, grapes and apples, this dish shows off the apple's savory side.
Apple-Cranberry Pie Cupcake – Contempo Café, Disney's Contemporary Resort
A vanilla cupcake with apple-cranberry pie filling and cream cheese frosting, look for this limited-time sweet over the Thanksgiving holiday.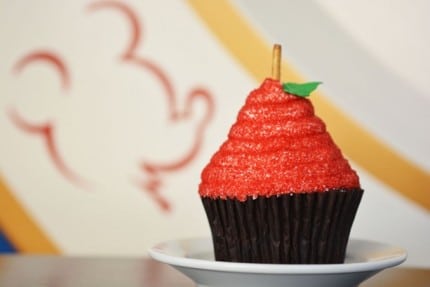 Have you 'fall'en in love with a Disney Parks treat? Let us know in the comments below!
Co-Owner / Webmaster / Business Relations / PT Writer
As co-owner and co-creator of The Main Street Mouse. Working in a technical support position for 18 years, it was time for a change. As the Webmaster and Project Planner, I spend most of my time researching everything from the latest Disney News, technology advances and of course keeping up on all the Marvel news that comes out. I never considered myself a writer but I've come to like blogging and sharing news with all. I feel blessed everyday that I get to spend my days working with my best friend and love of my life while we continue to grow and expand what started as a hobby all those years ago.