Saturday started a bit hurried for us because the night before I didn't write the recap like I should have and so I ended up doing it in the morning…. But that was OK because my guess that the lines would be better to get into the center were right. They moved everyone attending the Hall D23 talk into the queue for the Hall early. Lines for the Disney Store were still out of control and we still haven't even bothered to go into it.
We started the day at Mary Skylar's One Little Spark talk about how to become an Imagineer. One of my favorite moments from this talk was the video of Richard Sherman singing a special song for Marty at Marty's retirement. I have to say this is why the talks presented by the Imagineers at D23 Expo are my favorite to attend because you get to see behind the Disney curtain in a magical way.
Sadly, I had to slip out of that talk early to make it to check in for the Disney Broadway's The Originals performance. BUT oh what a show! For those of you who haven't seen Ashley Brown, James Monroe Inglehart or Josh Strickland on Broadway, I highly recommend you get the original soundtracks for Mary Poppins, Tarzan and Aladdin on Broadway. After I sat down a CM came up and asked if I would mind scooting in one seat so that a young lady who had to leave early could sit there so she could "scoot out early" and of course I said no problem. She and I struck up a conversation for a few minutes, and I asked her if she knew what she was in for. Drew and I had actually had the honor of seeing another version of this show on the Disney Wonder in May as part of the DVC Member Cruise. I had really hoped Josh would be performing ""My Strongest Suit" from Aida again, and James would perform "Friend Like Me" and honestly I adore Ashley's voice so she could have sung just about anything and I would have been happy. James and Josh didn't let me down!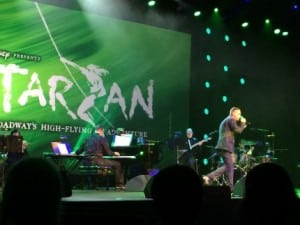 During this time Drew had actually run over to the Live Action movie presentation and was live tweeting to all of you following TMSM's Twitter. The announcement of the new Star Wars Lands of course STOLE yesterday's show.
We then walked around the show floor for a bit, and stopped over and saw the booth our friends at The New Zealand Mint have this weekend. If you are at the Expo head over and visit these amazing people who flew in all the way from New Zealand to attend the Expo and share their amazing Disney coins with Disney fans. They even have an exclusive card in their new Scrooge McDuck coin. After that we grabbed some lunch with our friend Paul because the most exciting part of the day was coming up and we didn't want to get all "hangry" during the afternoon events.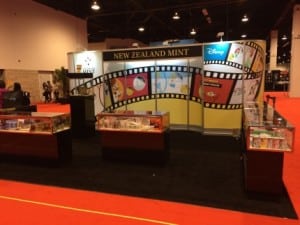 The Parks and Resorts talk was AMAZING. If you followed us on Twitter or on Periscope where we streamed the ENTIRE presentation live, you know the news. But just in case you missed it the short recap is Star Wars events are coming to both parks soon, but Disney knows building the new lands won't be quick. So while we wait, updates to Star Tours and Jedi Training Academy are coming. Seasons of the Force is coming in 2016 to both parks, this special event will be limited run where Disneyland's Space Mountain will become Hyper Space Mountain. Hollywood Studios is also getting a new Toy Story Land which will have a Little Green Man ride and a Slinky Dog Coaster (for those that follow our Mythbusters Series you'll remember we mentioned that we don't report rumor because as we know it tends to be wrong. Well friends the rumor that Cars Land is coming to Hollywood Studios can officially be put to rest as Toy Story Land is the correct answer to "What new Pixar Land is coming to Florida?" The amazing new attractions coming to Animal Kingdom were touched on by Joe Rhode and Anna and Elsa moving to Epcot when the Norway expansion is complete was confirmed as well.
After Parks let out we attended the Debunking Myths , Revealing Secrets of Disney Animation presented by friend of TMSM Keith Lapinig and his co-workers Doug Engalla and Tom Pniewski. This talk as I am sure you all guessed was right up my alley and I loved it. We even Periscoped some of it. We also learned the Disney Animation Research Library has a social media presence on Facebook and Twitter.
After that talk we roamed the floor some more, spread the TMSM with some amazing groups, made friends, and even received an autographed copy of "The Wisdom of Walt" from the author Jeff Barnes that we will be Rafflecopter-ing off on our Facebook in the next few weeks, so keep an eye out for that!!! We also stopped by the Disney Chase Visa booth and checked out the new Star Wars Yoda, Droids and Darth Vader cards in person. Of course just like on Friday we had the honor of meeting several Main Streeters, and seeing some amazing costumes too!!!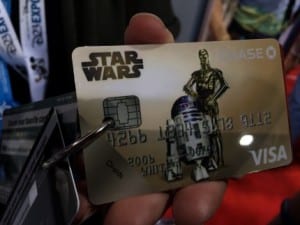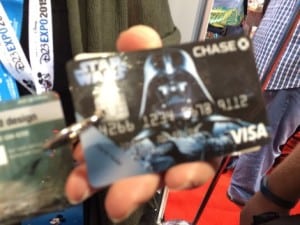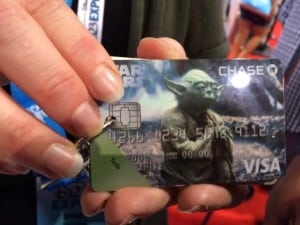 Disney Chase has added two new member's perks to their already impressive list of perks. Starting in the Fall 2015 in Disneyland and in Early 2016 in Walt Disney World Disney Chase card holders can take advantage of a new special Star Wars Imperial Meet 'N' Greet only available to members. This is on TOP of the existing Meet 'N' Greet already being held at Epcot and California Adventure, meaning card holders will have TWO private member photo events they can participate in! Also they will be able to take 10% off  purchases of $50 or more on select Star Wars merchandise at both park,  you will need to present and use your card to take advantage of this deal.
Today Drew will be attending the Disney Interactive Presentation, so keep an eye on our Twitter for news from that. I will be popping over to the Maker booth at 10am to see Brian Hull, and we will be checking out a lot more! Keep an eye on TMSM's Twitter and Periscope through out the day so you don't miss anything fun and don't forget to take advantage of TMSMonthly D23 sale!