TMSM's Adventures in Florida Living ~ Halloween is Creeping in!
Happy Wednesday Main Streeters! It's time for our weekly check in, lets chat! Wow, can you believe how fast August is moving along? I sure can't! Next week we have open houses for the boys for school, getting ready this week for all that's to come, and it's a little depressing. Where has this summer gone? It went too fast! The Magic Kingdom already has Halloween merchandise, and I even saw a Christmas outfit for Duffy! I'm not ready yet! I do however, love the Halloween decorations that go up at the Magic Kingdom, so that is something to look forward to! TMSM was invited by Disney to cover the upcoming D23 event this weekend as media, which is exciting! No, it won't be me who is covering, we have Autumn going, I'll be home getting ready for school and taking care of last minute things for the boys. No worries though, TMSM will be represented well, and we are grateful for Disney inviting us!
Around here, we've been laying low somewhat. I'm still getting over being sick last week, so we didn't do much. Oh, remember the little black snake I mentioned last week? Well, he came back again for a visit. I swear, living in Florida is SO different that being a Northerner. We never had snakes come visit like a stray cat asking for food before! Yes, we were all creeped out, but thank God, I haven't seen him since Friday. Watch, now that I said that, he'll be on the porch when I open the door! There's always something new to adjust to, seems like every week something comes up!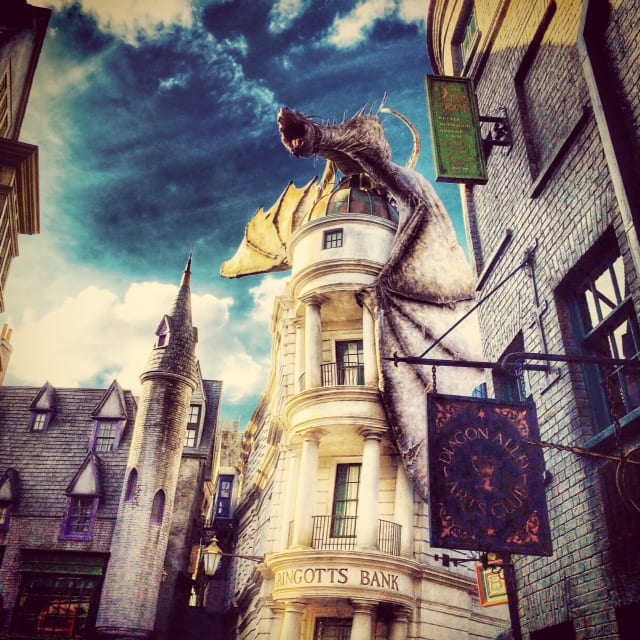 I felt bad, being sick has really taken the wind out of my sails, and the kids have been stuck in the house a lot, so I decided to give going out a chance. Saturday, we went over to Universal Studios to walk around a bit, take in some Harry Potter fun, and just have some family time. I did pretty good, I made it a few hours before we had to head home. I wanted the kids to have some fun time in before school starts, regardless of how I felt. I know you fellow Mom's can relate…. we put our kids before ourselves, it's part of the job I suppose. They had a good time, so I didn't mind!
Last night, we went to the Magic Kingdom for a few hours, I had some shopping to do, plus I wanted to get a closer look at the new Halloween merchandise at the Emporium. My brother is getting married in the Fall, and he and my soon to be sister in law are having their wedding shower this weekend. I can't make it to the event, but I had to go shopping to be sure to send some Disney Magic their way! That's the hard part of living down here, I feel like we miss out on so much. However… my family knows we can't always be there, and we do try our best to see them as much as we can. I'm looking forward to their wedding, that I won't miss! So after getting shower gifts, we walked around, went on a few rides, and came home. It was SO humid last night, you could feel the thickness in the air walking around the park. I know that's par for the course in Florida, but my gosh, sometimes it's rough! I can't complain though, any visit to Disney is a good one. The kids enjoyed the few hours we were there, and I did too. I'm trying to savor those moments while I can, again, not looking forward to school starting!
So that's it for this weeks adventures. I have back to school errands to run, so I'm sure the busy days are just beginning! I thank you for keeping up with our Florida fun each week, and appreciate you reading and giving feedback. It's like chatting with friends from all over the world, and it does my heart good every time we do this! Until next week, sending you blessings, hugs and pixie dust! See ya real soon! ~M