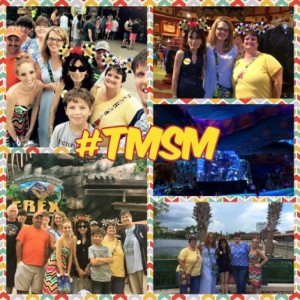 It's Thursday, and time for our weekly feel good article! This week is about Main Streeter kindness, and from my heart. As you know, we just got back into town from spending time with family and friends back home in Michigan. I missed Florida, but upon driving back here, I realized that I'd be missing something important….. friends and family. Of course I'd have more friends back in Michigan since I grew up there, so that's expected, but it's a little lonely down here in Florida sometimes. Work keeps us busy, but every now and then it would be nice to have people to call up and say, "hey, lets hang out!" We get this opportunity though, when we are able to meet up with Main Streeter friends, and that's what we did last Sunday.
We had been back to town less than a week, busy working on the magazine, but were invited to meet up with friends at T-Rex at Downtown Disney for lunch. I wanted to make time for this, because it's not something that happens all the time. We headed out and met up with some friends we met through the site, our own TMSM Super Fans Janet and Cindy, and our honorary Super Fan, Fran and her family. We always try to see Fran when she's in town, since she's from New York and only see her every few months. The others live in Florida so it's a little easier. Anyhow, we all sat at a huge table, and really enjoyed each others company, had lots of laughs, took lots of pictures…. it was a great time. I was happy to be invited. Feeling homesick already, this get together is just what I needed…. and it made me realize something.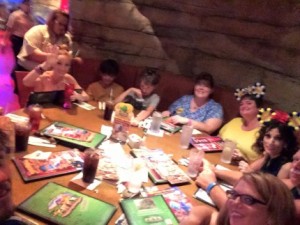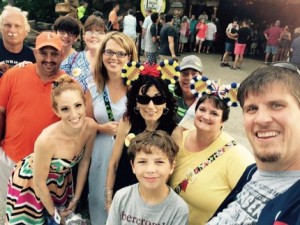 Even though we are still adjusting to being the new kids in town, it really isn't all that bad. Sure, we have a lot of alone time, but we have made so many great friends through TMSM. I ran TMSM from Michigan for 4 years and really didn't get to meet anyone who followed along in person. Since moving to Florida, I've met so many people face to face finally, and it's been a good thing. These people who we used to call Super Fans have truly become Super FRIENDS instead! There's a lot of people who extend extra kindness to my family and I, and we're very blessed to have that. We are doing our big TMSM Meet Up again this year in October, on the 17th at the Magic Kingdom. I'm really excited to be able to meet more Main Streeters, it's something that fills my heart up, and usually makes me cry! Happy tears though!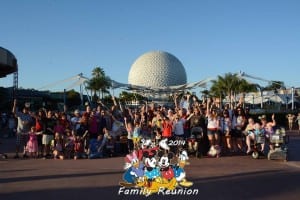 TMSM is so much more than a website, group and now a magazine. It's a Disney Ohana! We are Disney Family, through and through. I think that's what separates us from the rest. Anytime I feel down about things that happen or when work gets hard, I'm quickly reminded of the positive aspects of the job and how many people love us and rely on us for their daily Disney fix! It's a job that I never imagined I'd have, but God gave me such a gift with TMSM, and the people who have come into our lives because of it. Thank you, all of you, for being part of our Ohana! Until next week, do something kind for someone, put a smile on a strangers face if you can… you never know who could use the extra kindness! ~M