Training for the 2016 runDisney races has officially begun! Those who, like me, are running the Disney World Marathon, either as a stand alone race or part of the Dopey or Goofy challenge, this week starts week 4 of our 29 week training program.
Addie did a great job covering how to pick a training program back in October and even though this article will repeat some of her key points, I would highly recommend reading that article, because the key to a successful and enjoyable race is a good foundation and proper training.

Please remember, neither Addie or myself are medical or sports professionals and you should always consult with a doctor before starting any intense exercise regimen, as well as using common sense and listening to your body's cues while training.
A Solid Foundation
The RunDisney Website has training programs for every event except the 5Ks. And unless you are running the Marathon, none of the training programs for 2016 races start until September (Disney World and Star Wars Half Marathons) or October (Princess Half Marathon) for beginners and experienced runners.
Just because the official program hasn't started, that doesn't mean you can't start training. If you are brand new to running this is a perfect time to start an 8 week couch to 5k program, or a 14 week couch to 10k program (which is the same 8 weeks of C25K, plus another 6 weeks to get you to the 10k distance). If you have been running but this is your first half marathon, use the time between now and when training starts to either improve your speed, or build a stronger base for those longer distances. To improve your speed you can either follow training programs designed for that (I'm a fan of Nike's 8 week Fastest Mile program or by following a program like C25K, but pushing yourself to run faster than you usually do. To help build a foundation on miles, I would recommend getting an early start on whatever distance you will be running for your runDisney event. For example: After I registered for the Dopey in April, I knew I needed to get used to running more miles, so even though the Dopey training plan didn't officially start until June 30, I spent the entirety of May and June following the first 2 month of the training plan, then started back over at week one once the plan officially started.
Understanding Galloway's Training Plans
All of RunDisney's training plans are written by Jeff Galloway, a former Olympian who recently celebrated his 70th birthday by running his 200th marathon! He has developed a method of training and racing based on run/walk intervals. With Galloway's plans you never run the entirety of a race (this is the point where lots of beginners breathe a big sigh of relief, because the idea of running the entire 13.1 miles of a half marathon is daunting). The principle behind this method is that by running and walking in intervals you can maintain a more consistent pace throughout the whole race and not get as fatigued in the later miles than if you were to run until you couldn't run anymore, then walk to the finish line. It is not only an ideal program for beginners and intermediates, but elite level athletes have noted success and improvement of their times by following this same method.
And the key to the entire program is the Magic Mile.
The Magic Mile*
For some reason, the Magic Mile ends up being a source of confusion for people new to the Galloway plan. Admittedly I didn't understand just from reading the Dopey training plan. It took doing some research on Galloway's website, as well as reading discussions from others confused by the Magic Mile to actually understand what it was, how it worked, and how to properly run one.
The Magic Mile is a single mile run used to predict your pace and finish time in perfect race conditions.
For this mile you do not do run/walk intervals, you run the entire mile at a comfortable and sustainable pace without stopping (DO NOT run all out or as fast as possible). At the end of the mile note your time. Take that number and multiply by 1.4 if you are running a challenge (Dopey, Rebel, Glass Slipper, etc) and by 1.3 if you are just running a single race. The resulting time will be your predicted pace per mile.
With one exception, which we will discuss in a moment, only run a Magic Mile when instructed to do so on your training plan. After running your first Magic Mile, your goal with each subsequent magic mile should be to beat your previous best Magic Mile time.
Depending on the training plan, Magic Miles are run approximately every two weeks.
Choosing your Intervals
Although Galloway doesn't suggest this, I recommend starting your training plan by running a magic mile about 2 days before you start training (that way you have a day of recovery between running your magic mile and running your first training run). Multiply by the appropriate number (1.4 for challenges and 1.3 for individual races) to get your projected race day pace per mile. Take that number and find it on the below chart (this is from the Glass Slipper training plan, but all challenges and most individual race plans have this on the first or second page of the training plan) rounding to the nearest whole minute.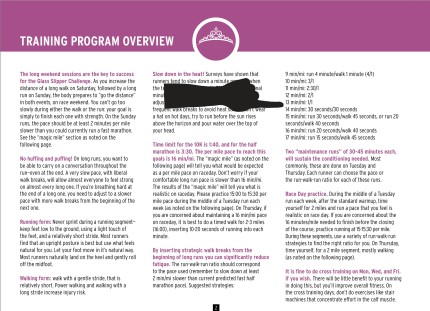 (For a complete copy of the Princess training overview see the end of article)
The corresponding run/walk interval is what you should train at. If your magic mile results in a pace time that ends in the 25-35 second range, I would recommend rounding up to the next minute for your pace range, however if you find that a struggle, drop down one level and run at the lower intervals).
As your Magic Miles improve, adjust your training pace accordingly.
The Anatomy of a Training Week*
Galloway's system training consists of 3 runs per week, unless you are training for a challenge, in which case you will have extra days of running (and possibly even a few days of just walking) as you get closer to the end of the training plan.
Tuesdays and Thursdays are 30-45 minute runs, depending on the program. Most runners refer to these as "maintenance runs." These runs are the perfect time to work on improving your speed/pace. Galloway recommends that on your Tuesday runs that you intersperse your standard intervals with a few of the next level. For example: Week 1, I do 1 min/1min run/walk intervals. On Tuesday of week 2 I add one or two 2 min/1 min run/walk intervals to the mix, keeping my Thursdays at 1/1. Week 3, I add a few more 2/1 intervals. Once I reach the point where I'm doing more 2/1 intervals than 1/1 intervals, then I just start doing all my runs at the 2/1 intervals. Thursdays are about running in a way that simulates race day. Follow the run/walk intervals for your current projected pace (as predicted by your Magic Mile) for the entirety of the run.
Your weekend run (usually run on Saturdays) is your long run. This is where you work on increasing your mileage. When you run your long run, you should decrease your pace by about 2 minutes per mile, and follow the corresponding run/walk intervals for that time. Remember, your long runs are about the distance, not the speed, so don't worry if you are slower than 15-16 minutes per mile on these runs. (Once you have finished mastering distance then you can focus on working up to the required speed.) The long runs vary in length, usually alternating between a short distance (about 3-4 miles) and increasing longer distances. So you might run 3 miles one week, then 4 miles the second week, than 3 miles again the following week, followed by a 5.5 mile run. The distance will keep increasing until you are running the distance of your race.
There can be a bit of flexibility in your schedule, you do not have to run on the days Galloway recommends, the key is to just get the 3 runs in. But avoid running back to back days unless you already are used to running nearly every day, as your muscles will need time to rest and recover to give you optimal performance. And try to avoid skipping runs whenever possible, especially the long runs, as those are key to a successful event. A missed weekday run here or there will not be the end of the world, but it should not be a habit, because there is nothing worse than the feeling of struggling through an event because you were under trained.
Galloway Running Program  from runDisney

Star Wars Half Marathon Training Programs
BEGINNER RUNNERS– (For those who have been running for less than six months)-  (20 weeks)  schedule
EXPERIENCED RUNNERS
Time Improvement: (20 weeks) schedule
To Finish in the Upright Position: (18 weeks) schedule
Star Wars 10K Training Program
EXPERIENCED RUNNERS To Finish in the Upright Position: (18 weeeks) schedule
Star Wars Rebel Challenge Training Programs
EXPERIENCED RUNNERS To Finish in the Upright Position: (20 weeks) schedule 
Disney Princess Half Marathon Training Programs
TMSM is very excited to publish the "Racing Disney" runDisney series by Addie Clark and Tali McPike. Please keep an eye out for more of their amazing and informative articles! If you missed of the articles in this series make sure you check them at www.themainstreetmouse.com/tag/addie/ andwww.themainstreetmouse.com/tag/tali/
If you are planning on running in a runDisney event and have questions, or have participated and want to talk about your experiences make sure you visit our runDisney Forum at http://goo.gl/RLB5ka
*Disclaimer: The information provided within this article is for informational purposes only. The author is not a licensed physician, or medical professional and the subject matter contained in this training program is not intended as a substitute for advice from your physician or other health care professional. You should not use the information included in this material for diagnosis or treatment of any health problem.
TMSM strongly recommends that you consult with your physician before beginning any exercise program, or if you have or suspect you might have a health problem that could worsen or otherwise be affected by participating in this athletic program. If you engage in this exercise or exercise program, you agree that you do so at your own risk, are voluntarily participating in these activities and assume all risk of injury to yourself.
Latest posts by Tali McPike
(see all)