Paul Rudd Talks Becoming Ant-Man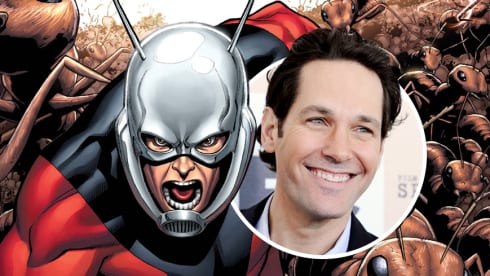 From the Disney Insider
We cannot tell you how much we love Marvel's Ant-Man, opened in theaters (everywhere) Friday. It's unrelentingly entertaining and inventive, easily fitting into the larger Marvel Cinematic Universe puzzle but also standing alone brilliantly on its own. It will probably remind you the most of the first Iron Man, mostly because it's a character that you might not have heard of, but will quickly become one of your favorite superheroes (maybe ever). Much of this has to do with the lead performance by Paul Rudd as Scott Lang, a former criminal and estranged father who finds himself uneasily teaming with the original Ant-Man, Hank Pym (played by Michael Douglas), to steal back the technology that allows him to shrink to the size of an insect. It's basically a heist movie set inside the Marvel Cinematic Universe and it's an absolute blast.

A couple of weeks ago we got to sit down with Rudd and talked about what it was like assuming the mantle, continuing with the character, and finally being cool in his son's eyes. Watch the video below and be sure to watch Ant-Man this weekend. You're going to love it as much as we do.

Co-Owner / Webmaster / Business Relations / PT Writer
As co-owner and co-creator of The Main Street Mouse. Working in a technical support position for 18 years, it was time for a change. As the Webmaster and Project Planner, I spend most of my time researching everything from the latest Disney News, technology advances and of course keeping up on all the Marvel news that comes out. I never considered myself a writer but I've come to like blogging and sharing news with all. I feel blessed everyday that I get to spend my days working with my best friend and love of my life while we continue to grow and expand what started as a hobby all those years ago.