Release from D23.com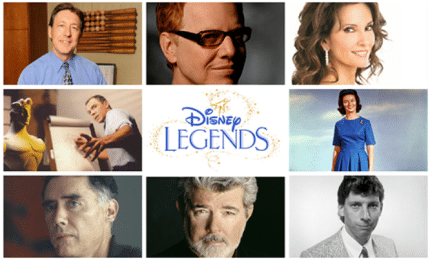 For 28 years, The Walt Disney Company has proudly honored those who have made significant contributions to the Disney legacy by naming them Disney Legends. Today, Disney announced the talented people who will be celebrated in a special awards ceremony at D23 EXPO 2015.

Star Wars creator George Lucas, composer Danny Elfman, All My Children star Susan Lucci, and animator Andreas Deja are among the honorees for 2015. The Disney Legends Awards ceremony will take place at 10 a.m. on Friday, August 14, in Hall D23 at the Anaheim Convention Center and will be hosted by Disney Chairman and CEO Bob Iger. The ceremony will also include special musical performances.

"The Disney Legend Award is our highest honor, and we are incredibly proud to recognize these eight talented individuals who have contributed so much to the world of entertainment and the Disney legacy," Bob Iger said. "Their vision and dedication to their work have brought joy to audiences around the globe and earned them a place in Disney history."
The 2015 Disney Legend Award honorees (listed alphabetically) are:
GEORGE BODENHEIMER, who retired from his role as Executive Chairman of ESPN in May 2014, enjoyed a remarkable 33-year career that began in the company's mailroom in 1981. Working his way through the ranks, he became executive vice president of sales and marketing in 1996, before being named the network's fifth president in 1998. He held that role until 2012, when he stepped down from day-to-day operations.
ANDREAS DEJA is a link to Disney's past and one of the greatest animators of its modern era. Deja is known for his rich portraits of villainy, having animated Gaston for Beauty and the Beast, Jafar for Aladdin, and Scar for The Lion King. He has also brought life to heroes such as mighty Hercules, the precocious Lilo (Lilo & Stitch), regal King Triton (The Little Mermaid), wise Mama Odie (The Princess and the Frog), and loveable Tigger (Winnie the Pooh). In 2007, he was awarded the prestigious Winsor McCay Award for his contributions to the art of animation.
EYVIND EARLE, one of the greatest of Disney artists, brought his unique style to a number of memorable projects but perhaps the purest realization of his vision remains the visual styling and backgrounds for the Disney classic Sleeping Beauty. Earle's career with Disney began in 1951, working on background artwork for Peter Pan. He created the look of the 1953 animated short Toot, Whistle, Plunk and Boom, which won an Academy Award® for Best Short Subject, Cartoons in 1954. His most noticeable contribution, however, remains his work on Sleeping Beauty. The film's eye-catching look, in its design and backgrounds, are the perfect representation of his unique style.
DANNY ELFMAN provided the songs and score for Tim Burton's The Nightmare Before Christmas, for which he also provided the singing voice of Jack Skellington. He also scored several Disney films including Alice in Wonderland, Avengers: Age of Ultron, Dick Tracy, Dead Presidents, Flubber, Good Will Hunting (Oscar® Nomination: Best Score), A Civil Action, Instinct, Frankenweenie, and Oz the Great and Powerful. Elfman also wrote the theme for ABC's Desperate Housewives and penned the music for the Mystic Manor attraction at Hong Kong Disneyland. His music is featured in Disneyland's annual Haunted Mansion Holiday. His upcoming Disney projects include Alice in Wonderland: Through the Looking Glass.
GEORGE LUCAS, whose Star Wars films made him one of the most successful filmmakers of all time, is also a longtime Disney fan who has left an indelible impression on Disney parks. His first project with Disney was Captain EO, the 1986 3-D spectacular starring Michael Jackson and directed by Francis Ford Coppola. Star Tours and Indiana Jones Adventure at Disneyland, as well as Indiana Jones Epic Stunt Spectacular at Disney's Hollywood Studios, Indiana Jones et le Temple du Péril in Disneyland Paris, and two blockbuster Indiana Jones Adventure attractions at Disneyland and Tokyo DisneySea, round out Lucas' timeless work in conjunction with Disney.
SUSAN LUCCI portrayed Erica Kane on ABC's fabled soap opera All My Children for 41 years, a role that TV Guide deemed unequivocally the most famous character in the history of daytime television, earning Lucci 21 Daytime Emmy® nominations to which she won the prestigious Emmy for Best Actress to an industry-wide standing ovation on her 19th nomination. Shortly thereafter, she received her Star on the Hollywood Walk of Fame, presented to her by Bob Iger, Chairman and CEO of The Walt Disney Company. The iconic actress has also appeared on ABC's Dancing with the Stars and Hope & Faith, as well as Disney Channel's That's So Raven. Lucci currently stars in the international hit Lifetime series, Devious Maids, produced by ABC Studios, as the wealthy and effervescent socialite, Genevieve Delatour.
JULIE REIHM CASALETTO, who began her Disney career as a tour guide, became Disneyland's first Ambassador in 1965—a role created to help Walt, who found it increasingly difficult to attend all the events to which he was invited. As Disneyland's first Ambassador, she was chosen "as a personification of Disneyland's world-famous spirit of friendliness and happiness." She became the template upon which decades of Ambassadors would pattern themselves.
CARSON VAN OSTEN helped bring Disney characters to life in a variety of media, all around the world, for three decades. During Van Osten's tenure, he oversaw creative content for motion picture tie-in advertising, many Disney publications, and also established some of the first licensing style guides for Disney Consumer Products. The talented artist designed logos for Mickey Mouse's 50th and 60th birthdays, the Walt Disney Studios logo and water tower design, and the Disneyland Hotel clock tower "Mickey" logo in Paris.
Each honoree receives a two-foot-tall bronze Disney Legends sculpture that signifies the imagination, creativity, and magic they have brought to the Company. Disney Legends Award recipients will also participate in a handprint ceremony at the end of the event, and their bronze prints will be displayed in the Disney Legends Plaza at the Company's Burbank headquarters.
Admission to the ceremony will be on a first-come, first-served basis and is included in the price of a ticket to D23 EXPO 2015.
Including this year's honorees, a total of 257 Disney Legends have been named. Past Disney Legends include Tim Allen, Robin Williams, Julie Andrews, Howard Ashman, Regis Philbin, Annette Funicello, Peter Jennings, Angela Lansbury, Steve Martin, Alan Menken, Hayley Mills, Fess Parker, Sir Tim Rice, Dick Van Dyke and Barbara Walters. With the inaugural D23 EXPO in 2009, thousands of Disney fans were able to enjoy the Legends Awards ceremony for the first time. Honorees that year included Robin Williams, Beatrice Arthur, Estelle Getty, Rue McClanahan, Betty White, Tony Anselmo, Bill Farmer, Harry Archinal, Don Iwerks, and Leota Toombs Thomas.
Tickets for D23 EXPO 2015 are $74 for a one-day adult admission and $54 for children 3–12. Tickets for members of D23: The Official Disney Fan Club are $65 for a one-day adult admission and $48 for children. Multi-day money-saving tickets are also available. D23 Members can save as much as $112 off the price of admission, based on the purchase of four three-day tickets at the D23 Member rate. For more information on tickets and the ticket pricing structure for D23 Members and general admission, visit D23EXPO.com.
Source D23.com