New Cash Registers and Floor Plan at the World of Disney Store!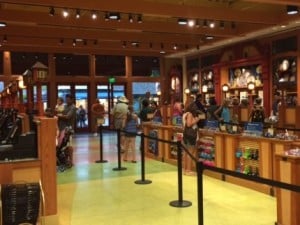 Last night after seeing a movie, my family and I went walking around at Downtown Disney. The World of Disney store is a favorite that we always stop into. I usually to go Basin first, then go in the doors on the side of World of Disney, but as I headed over, I saw that things have changed, and the doors said "exit only" on them.
The kitchen area has been moved from that spot, and the whole section is check out registers now. Instead of one long counter with just a couple registers, they added many new ones, all along each side of the room. This will be great for busy times, having so many registers there, but I will admit, I was surprised to see the change. The mugs and such are in the back of the store now, where the Women's section used to be, and the Women's section is in the front of the store currently.
There is construction going on in the area, and the store is expanding, so I'd assume the new floor plan is temporary. In addition to the mugs and women's wear, the Boy's toy area and the Men's department have also swapped places. The jewelry and Girl's departments are still in the same spots. It's so strange to see things in different locations after so many years of the same layout, but I'm excited to see what's next. Stay tuned!